Futuristic city a microcosm for China's high-quality urban development
Xinhua | Updated: 2023-04-01 16:24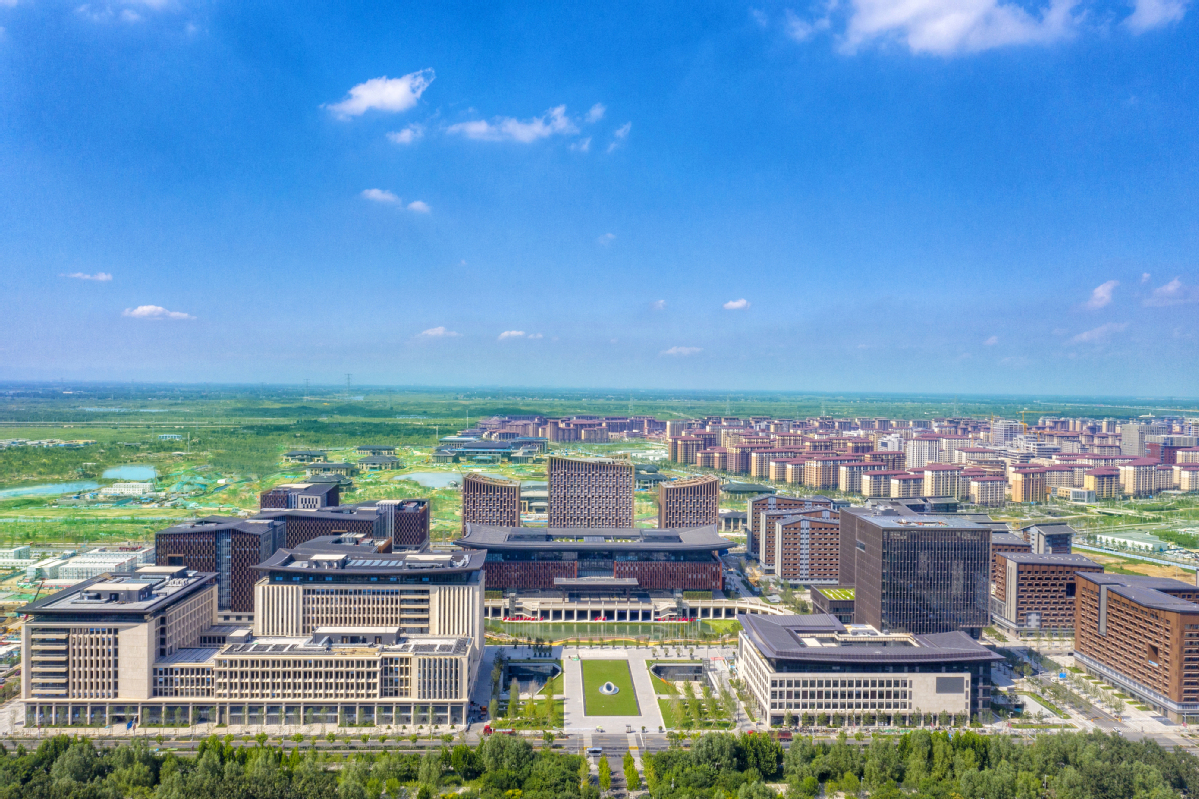 SHIJIAZHUANG -- In the Xiong'an New Area of North China's Hebei province, red-and-silver driverless buses criss-cross on the new asphalt roads. Confronted with such a futuristic scene, it is hard to believe that, just six years ago, this whole area was farmland.
Among the fans of this new reality is 25-year-old Xie Ying, who works for Yuexiang Xiong'an Science and Technology Co Ltd, a company behind the driverless buses.
"As Xiong'an develops, it may become an example for China's future cities," said Xie proudly.
Dubbed a "city of the future," Xiong'an New Area marks its sixth anniversary on Saturday.
On April 1, 2017, China announced plans to establish Xiong'an New Area, located about 100 kilometers southwest of Beijing. The aim was to build a green city on an area of 1,770 square kilometers, featuring innovation and providing a national model of high-quality development.
Xie is from Xiongxian county, one of the three counties incorporated into Xiong'an. She told Xinhua that during the past six years, she has witnessed great improvement in people's lives.
The driverless bus, which is currently undergoing trials, is one example. "It has improved the efficiency of the transportation network here," she said. "The vehicles equipped with fridges and screens have given passengers a better experience."
According to Zhang Jing, project manager for the driverless buses with Yuexiang Xiong'an, the vehicles can not only recognize traffic lights and road signs, but also reduce speed or stop in case of obstacles.
Like the buses, the "digital roads" are also smart. Xiong'an is now home to 153 km of "digital roads," where sensors on the lamp poles can monitor the number and speed of vehicles, so as to reduce traffic jams.
Supporting facilities, such as electricity, communications, heat, gas, and water supply, are all installed in underground channels measuring 47.6 km long, so as to avoid the cable network above ground and eliminate road blocks due to construction work.
"Xiong'an, which started from scratch, has an unparalleled advantage," said Weng Mengyong, chairman of the China Highway and Transportation Society. "The construction of the smart city ... has set an example for the planning and management of future cities."
The construction of Xiong'an has proceeded at full throttle over the past six years. Comparing pictures of Xiong'an nowadays with those taken six years ago, the difference is immense, with the new site featuring a complex road network, new buildings and rapid growth in enterprises.
At the end of last year, the Xiong'an business service center -- the new area's first landmark urban complex -- was put into use. With a total floor area of 900,000 square meters, the business service center was still an empty plot of land three years ago. Now it is home to more than 40 companies, accelerating the development of industrial clusters involving finance, modern services and the digital economy.
Qi-Anxin Technology Group, a leading company in the cybersecurity industry, was among the first batch of companies to settle in the center.
"Captivated by its innovative environment and a steadfast focus on high-quality development, we find that opportunities are everywhere," said Qi Xiangdong, chairman of Qi-Anxin, who is helping to turn the blueprint of the new area into a tangible reality.
Since China announced plans to establish the city in 2017, the Xiong'an New Area has completed more than 510 billion yuan (about $74 billion) of investment, with a total development area covering 120 sq km and 3,500-plus buildings towering above the land.
Over the past six years, China's centrally-administered state-owned enterprises have set up more than 140 subsidiaries and branches in Xiong'an. They have focused on industries such as information technology, modern life sciences and biotechnology, and new materials, among others.
Attracting talents is the next step.
Zhao Can with the Hebei Xiong'an Urban Construction Co Ltd, under the China Railway Construction Corporation Limited, has received a Xiongcai Card. Xiongcai literally means "talents for Xiong'an," and the card entitles him to benefit from a series of favorable policies.
"The card will be helpful for me to find my kid a good school here and facilitate the household registration," he said.
Zhao has previously worked in Beijing and Baoding in Hebei, but now he has decided to settle down in Xiong'an along with his wife, because "Xiong'an is a young city with great potential."
To date, the first batch of 3,774 people have received their Xiongcai Cards.
"Green" is another buzzword in Xiong'an's grand development plan, as it aspires to become a green city with harmonious human-environment interaction.
The building of Xiong'an New Area was advanced according to high standards and quality requirements, according to this year's government work report.
Since late 2017, Xiong'an has added more than 470,000 mu (about 31,333 hectares) of trees, raising its forest coverage from 11 percent to 34 percent.
Efforts have also been mounted to restore the ecological environment of Baiyangdian Lake, an important wetland in the region. The water quality of the lake has improved from Class V, the worst level in China's water quality grading system, to Class III. There are now 252 species of wild birds, 46 species more than before the establishment of Xiong'an.
"The fundamental significance of Xiong'an is to create a replicable urban model in a non-coastal and non-border region of China. Relying on innovation-driven development, we will forge a new path," said Wu Hequan, an academician with the Chinese Academy of Engineering.
It is the wish of Xie Ying that the idea of innovation and high-quality development will be promoted elsewhere in China.
"I hope that in the future, we will see more driverless buses in other cities," she said.