Firms to tap AI for user experience
By FAN FEIFEI | CHINA DAILY | Updated: 2023-04-04 07:52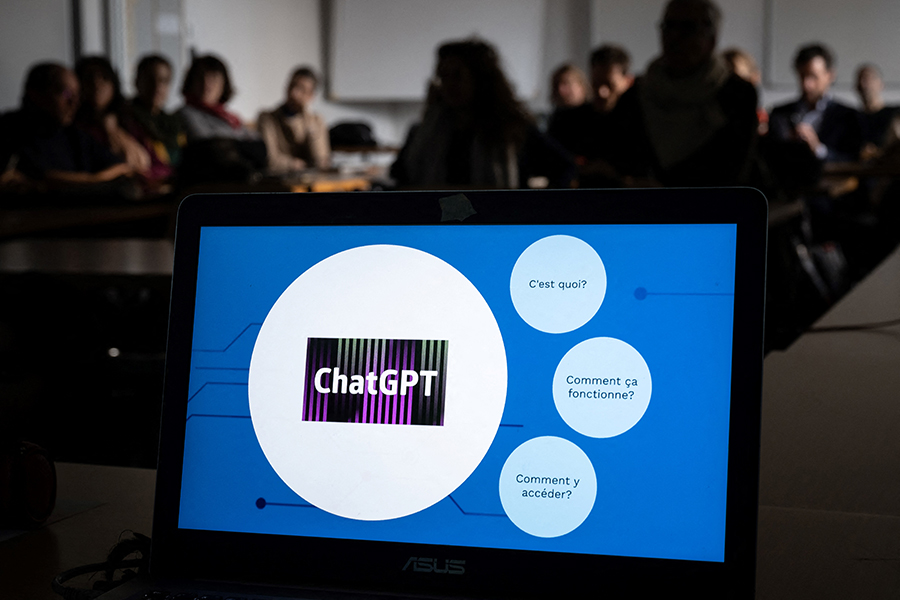 Moves for upgraded products gather pace as ChatGPT fever intensifies
Chinese home appliance manufacturers and automakers are ratcheting up efforts to integrate artificial intelligence-powered chatbots into their products and services, in the hope of providing better human-machine interaction experience, as ChatGPT has taken the world by storm and triggered a new AI wave due to its advanced conversational capabilities.
Industry experts said the application of ChatGPT-related and AI-generated content technologies is likely to bolster the intelligent transformation and upgrade of the traditional household appliance industry and serve as a new engine driving consumption recovery.
Midea Group, a Chinese home appliance maker based in Foshan, Guangdong province, is among the first batch of partners for Ernie Bot, a ChatGPT-like AI chatbot launched by tech heavyweight Baidu Inc in March. Midea will bolster the upgrade of human-machine conversation abilities in the smart home sector through leveraging cutting-edge generative AI technology.
The company said its smart home products and family service robots will have access to Baidu's Ernie Bot, which has showcased its capabilities in fields like literary creation, business writing, mathematical calculation and Chinese language understanding. The two companies will carry out in-depth cooperation in the research and development of AI and frontier technologies.
Hisense Visual Technology Co Ltd, a Qingdao, Shandong province-based home appliance company, has also joined the Ernie Bot ecosystem to integrate Baidu's intelligent conversational technology into its televisions and large-sized displays.
Similarly, Sichuan Changhong Electric Co Ltd is accelerating steps to promote the application of Ernie Bot in its household appliances.
"The emergence of new AI technologies will better facilitate the conversational interaction between human beings and home appliance products. The collaboration between household appliance makers and conversational chatbot developers will speed up the digital and intelligent transformation of China's home appliance industry," said Liu Fei, research director of the consumer electronics department at Beijing-based market consultancy All View Cloud.
Liu noted the iteration and upgrade of product functions and technologies will stimulate consumers' purchasing appetite, and create new revenue growth drivers for home appliance companies. The move also demonstrates the continuous exploration of large language models in the scenario of intelligent content production.
AVC data showed the revenue of China's home appliance sector reached 708.1 billion yuan ($103.1 billion) in 2022, down 7.4 percent year-on-year.
Wang Hongji, general manager of the white goods business department at research company China Market Monitor Co Ltd, said smart home devices' voice interaction function will be further improved and popularized, thanks to the appearance of ChatGPT-like products or services, which are able to understand user's intentions based on given prompts, mimic human-like responses and generate both text and voice content.
Leading Chinese technology companies, such as Alibaba Group, JD, iFlytek and NetEase, are already seeking to develop Chinese-language alternatives to ChatGPT.
Comparable applications are expected to add value to electric and assisted-driving cars. Smart electric vehicle company Jidu Auto, a joint venture established by Baidu and carmaker Geely Holding Group, said it will integrate Ernie Bot into its cars to develop the world's first large language model-powered AI interactive experience for smart vehicles.
Chinese carmaker Changan launched its Yida sedan last month, which is the first mass-produced model in China to feature Ernie Bot. The Yida will improve users' interactivity with itself, Changan said. Other Chinese automakers such as Geely, Dongfeng Nissan and China FAW Group's Hongqi have also participated in the Ernie Bot ecosystem.
Pan Helin, co-director of the Digital Economy and Financial Innovation Research Center at Zhejiang University's International Business School, said more efforts should be made to improve computing power, algorithms and quality of data. Similarly, investment in basic scientific research, including mathematics, statistics and computer science, should be increased, given that Ernie Bot still has some deficiencies in machine learning and natural language processing capabilities.
China International Capital Corp said in a report that generative AI technology of the ChatGPT kind will have broad application prospects in smart speakers and family companion robots, and propel the upgrade of human-machine interaction in smart home devices.