Revised labor rules sought as gig work rises
By Li Lei | China Daily | Updated: 2023-04-04 09:29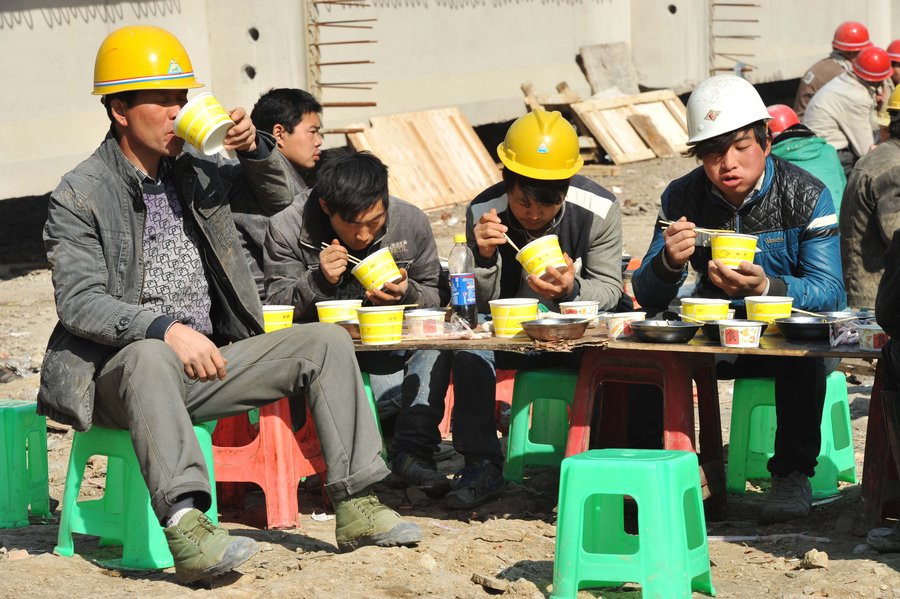 Researcher urges better protection of rights for people with 'new forms of jobs'
Data from a recent survey showed that a growing number of people in China are working in the gig economy, a fact that experts said underscores the dire need to overhaul labor rules to better protect these people from long, grueling work hours, inadequate social security coverage and other issues.
About 84 million of the country's 402 million workers are engaged in "new forms of jobs", which include jobs in the gig economy, according to the Ninth National Survey on the Status of the Workforce. The term has been used in recent years in official documents to refer to jobs that are mostly based online and are less mainstream, such as drivers for car-hailing services, food delivery workers and couriers.
The number of nontraditional workers has become significant enough that the twice-a-decade survey has depicted them as a "crucial component" of the country's workforce. The survey was conducted by the All-China Federation of Trade Unions last year, and its findings were published last month.
However, a labor law researcher has said that the casual nature of their occupations has raised applicability issues of the current labor rules once such workers, who are overwhelmingly male and from rural areas, become involved in labor disputes.
Li Na, a researcher at China University of Labor Relations in Beijing who tracks employment trends, said the steep increase in the number of nontraditional employees means that legislation and policymaking efforts need to play catch-up.
"Gig workers are still not technically 'employees' as stipulated in the labor law. However, they face the same challenges that their mainstream counterparts do in terms of elderly care, work injuries, working hours and salary," she said.
The increase in the gig worker population is the result of disruptions caused by the COVID-19 pandemic, which has led to the widespread shutdown of businesses to curb gatherings and the spread of the disease.
Lu Quan, secretary-general of the China Association of Social Security, said that the gig economy often serves as a reservoir of jobs during hard times. This was especially evident during the nation's outbreak-induced lockdowns when those fired by underperforming employers flocked to platforms such as Didi, the car-hailing service, for temporary jobs.
"However, the other side of the story was that the rise of gig jobs has created a significant challenge to the established social security system, which is closely tied to formal work relations," he said.
Costs associated with China's social security programs are usually shared between workers and their bosses, but survey data showed that 23.6 percent of those holding the "new forms of jobs", which include truck drivers, are not covered by any programs. The percentage is even higher — 30 percent — for out-of-towners.
Furthermore, only about 12.8 percent of all these workers have access to work injury insurance.
In an interview with the Workers' Daily newspaper, an official with the All-China Federation of Trade Unions said gig economy jobs are generally volatile, underpaid and offer poor social security coverage, and those working in the sector struggle to protect their rights because of the murky labor law.
The federation started rolling out such surveys in 1982, with an aim to "give full play to the role of the working class as the main force in revolution, construction and reform", said the official, who was not named.
The latest survey showed that more than 60 percent of gig economy workers had changed jobs within the past three years. Researchers also found that around 75 percent of those workers do not have a university education.
Comparatively, the average length of schooling for all Chinese workers was 13.8 years last year, up from 13.6 years in 2017 and 13 years in 2012, respectively. More than 85 percent hold at least a high school diploma, researchers have found, compared with 84.6 percent six years ago.
Li said the statistics have spoken to the need for gig workers to step up their vocational skills as they age, and in light of rapidly developing technologies that are reducing the need for manual labor, such as artificial intelligence, the need is dire.
"Manual workers would be the first to be replaced by machines, so only by increasing their skills can they avoid becoming jobless," she said.
More than 95 percent of the survey's participants — especially those between age 18 and 40 — indicated that they were willing to pick up new skills.
Li noted that the growing number of nontraditional workers signifies a shift in the younger generation's attitude toward working. Their choice of jobs is becoming increasingly hobby-based, and they are showing a preference for opportunities that offer better work-life balance and flexible time arrangement, such as livestreaming hosts and esports players.
"Traditional job providers can learn from the trend and make adjustments, such as allowing for more flexible work schedules," she said.