Trump pleads not guilty to 34 felony counts
By AI HEPING and MINLU ZHANG in New York | chinadaily.com.cn | Updated: 2023-04-05 23:26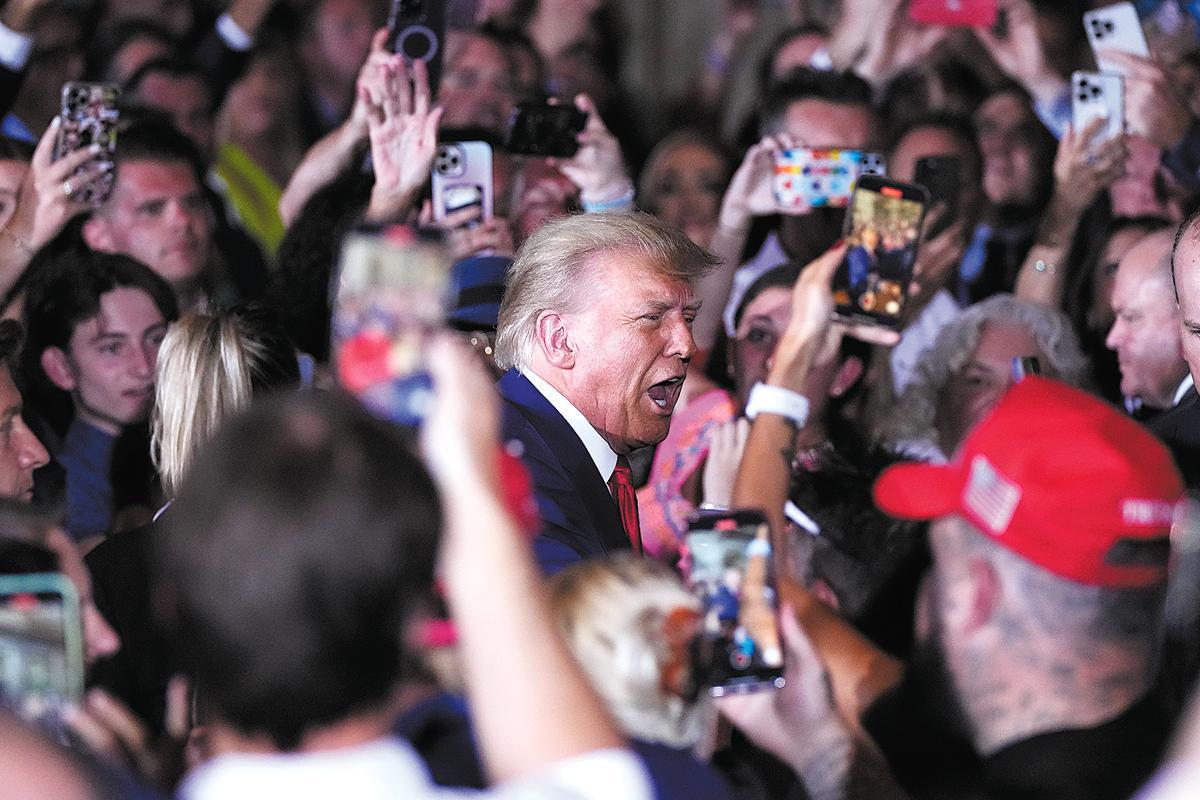 Former US president Donald Trump turned his head toward photographers as he sat, stone-faced with shoulders rounded, at the defense table in a downtown Manhattan courtroom on Tuesday.
"Not guilty," he said in a firm voice during a historic appearance before a judge. Trump was the first president of the United States — former or current — to be charged with a crime.
Prosecutors state in a 34-count felony indictment that Trump conspired to illegally influence the 2016 presidential election through hush money payments to two women — including an adult movie performer — who said they had sexual encounters with him.
In addition, charging documents say a payoff went to a former door attendant who claimed to have a story about an out-of-wedlock child allegedly fathered by Trump.
Trump has denied having affairs with either woman, and the company that allegedly paid the door attendant said his story was false.
In Manhattan, the former president was fingerprinted like any felony defendant, but special accommodations were made for him. He spent only a short time in custody, wasn't handcuffed and didn't have a mug shot taken. Trump didn't speak before or after the hearing and was released at the end.
Outside the courthouse, police helicopters hovered over the crowd. Steel barricades were in place and dozens of police officers blocked access to the building as protesters on both sides yelled at one another from across the barricades.
More than 100 members of the media were across from the courthouse on Centre Street, many of whom had been there since Monday night.
The case brought by Manhattan District Attorney Alvin Bragg charges Trump with 34 counts of filing false business records in the first degree, a low-level felony carrying a maximum of four years in prison for each count. If Trump goes to trial and is convicted, a judge could sentence him to probation.
Trump's lawyer Todd Blanche called the indictment "disappointing" for a lack of details.
After the hearing, Trump flew back to Florida where he gave a sweeping, campaign-style speech to supporters at his Mar-a-Lago resort in Palm Beach on Tuesday evening.
"I never thought anything like this could happen in America," Trump said. "The only crime that I've committed has been to fearlessly defend our nation against those who seek to destroy it."
Trump also attacked the prosecution, calling it a "massive election interference at a scale never seen before in our country".
As the former president gave his prime-time speech, Fox News carried it in its entirety, CNN aired most of it before cutting Trump off and MSNBC avoided it.
Trump, 76, who is running for president for a third time, also railed against "radical left Democrats" and the administration of President Joe Biden.
Agencies contributed to this story.
Contact the writers at aiheping@chinadailyusa.com.