What's driving music streaming in Africa?
By Alexander Ayertey Odonkor | chinadaily.com.cn | Updated: 2023-04-10 09:23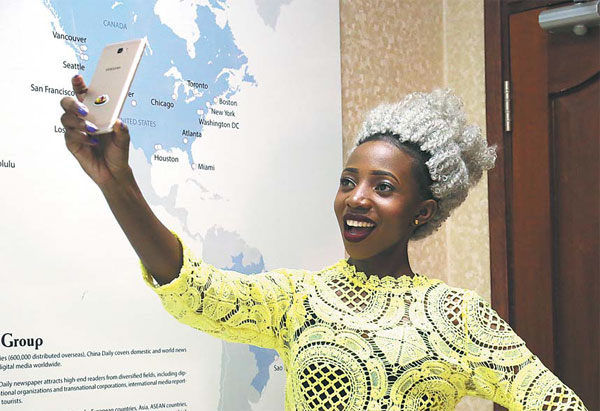 Across the length and breadth of the African continent, music streaming, defined as the process by which music is distributed and consumed over the internet, has seen rapid growth in recent years – the region is experiencing burgeoning music streaming revenue and market volume, projected to rise in the coming years. Data from the market research firm Statista shows that, in 2023, music streaming revenue in Africa is expected to reach US$372.08 million – ultimately, the continent's music streaming revenue is expected to show an annual growth rate (CAGR 2023-2027) of 8.89 percent, resulting in a projected market volume of US$524.10 million by 2027.
In the last few years, Africa's rapidly growing music streaming segment has attracted scores of foreign music streaming service providers – compelling existing companies in the market to considerably increase their footprint across countries on the continent. For example, in the case of Spotify, the world's most popular music streaming platform which entered the South African market on 13 March 2018 – marking the company's entrance into the African market – after exactly 5 years in, Spotify recorded tremendous growth in South Africa, with 21 million user generated playlists and more than 1.2 billion hours streamed since it first launched in the country.
Considering the company's remarkable growth in South Africa, it is certainly not surprising that, at present, Spotify has expanded into 48 other African countries. In a similar fashion, Apple Music, the world's second largest music streaming platform, which used to be available in only 13 African countries, also announced its expansion into 17 additional countries on the continent in 2020 – a growing trend among music streaming firms, record labels and investors across countries in Africa.
Influx of foreign music streaming service providers and other digital platforms into the African market, which has expanded the region's music ecosystem in recent years, strongly indicates that music distribution and consumption in Africa is increasingly changing – mimicking global trends – shifting away from compact disc (CDs) and physical distribution of music to digital streaming.
Over the last few years, Africa's accelerated transition to music streaming, which has transformed the market, once characterized as inconsequential within the global music market, has become an attractive investment destination. Presently being labeled as the future of global music is definitely not an overnight success – in fact, the new wind of change in the music industry that is blowing across the entire continent is not only supported by a large youth population but also mainly attributed to rapidly increasing internet penetration in most African countries – underpinned by rising ICT infrastructure investment, spearheaded by China. As by far Africa's largest foreign infrastructure investor, China's consistent and increased investment, especially in the region's ICT sector over the past two decades, has enhanced internet penetration considerably, driving digitalization in the music industry and various related industries on the continent.
Since the early 2000s, Chinese investment dedicated to developing Africa's ICT infrastructure has been colossal and consistent, significantly filling the vacuum left by Western countries in the region – becoming the continent's largest foreign ICT infrastructure investor. Between 2001 and 2007, Chinese investment in Africa's ICT sector amounted to more than US$3 billion. Over the past two decades, Chinese banks and Chinese telecommunications companies, including China Eximbank and Huawei, have increasingly provided financial and technical support for ICT infrastructure development in Africa, more than any other country – contributing enormously to bridging the region's telecommunication divide – enhancing internet penetration across landlocked and coastal countries, and strengthening internet connectivity in rural and urban areas.
In addition, Chinese smartphone manufacturers including Transsion Holdings, Huawei and Xiaomi, which account for the largest share of Africa's smartphone market, have, over the years, increased availability of affordable and high-performance smartphones in the region – making it possible for millions of people across countries on the continent to own a smartphone. Over the past two decades, these internet infrastructure investments from Chinese enterprises have yielded remarkable results. World Bank data shows that internet penetration in sub-Saharan Africa (SSA) rose from about 1 percent in 2000 to 29 percent in 2020, the highest growth in the world. The rapid mobile phone and internet penetration growth has accelerated digitalization in the music industry and other related industries such as e-commerce and fintech (which is fostering financial inclusion especially in rural communities), driving music streaming and enabling African artists to access new audiences and markets – both within and outside the continent.
During the outbreak of COVID-19 when face-to-face meetings were heavily restricted, artists in Africa increasingly turned to online alternatives such as virtual concerts and music streaming – boosting music streaming and generating income for artists and various participants in the digital music space. The International Telecommunication Union (ITU) revealed that, between 2019 and 2021, internet use in Africa increased by 23 percent. During this period, soaring internet penetration in Africa created an alternative avenue for music streaming, online payments and other digital platforms to thrive.
Considering the positive impact of internet penetration on the music industry, a major source of innovation that spills into other industries and boosts productivity and competitiveness in the economy – it is important for African governments and the private sector to accelerate efforts to bridge the remaining huge internet coverage gap to unlock the full potential of music streaming, leveraging increased cooperation with China and other parties that have demonstrated genuine commitment to ICT infrastructure development in Africa to further improve music streaming across countries on the continent.

Alexander Ayertey Odonkor is a global economist with keen interest in the social, environmental and economic landscape of both developing and developed countries, particularly in Asia, Africa and Europe.
The opinions expressed here are those of the writer and do not necessarily represent the views of China Daily and China Daily website.
If you have a specific expertise, or would like to share your thought about our stories, then send us your writings at opinion@chinadaily.com.cn, and comment@chinadaily.com.cn.