Bali set for recovery but tourists' behavior a worry
By LEONARDUS JEGHO in Jakarta | China Daily | Updated: 2023-04-12 07:13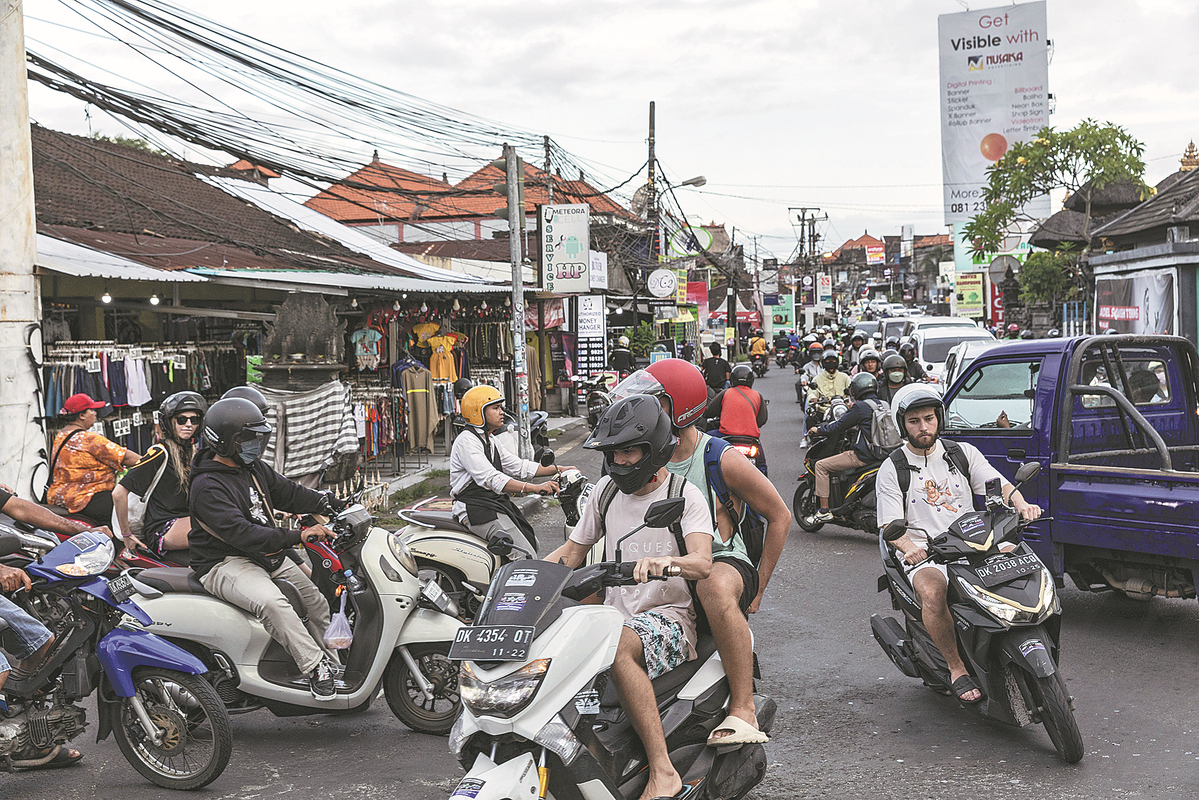 Christine Wibowo and her husband, a couple from the United States, were thrilled about the tourist attractions in Bali, Indonesia.
"If time permits, we will come to Bali again and again. Bali is unique and beautiful. Its people are so friendly," Wibowo told China Daily by phone from Bali.
Tourism has been Bali's most reliable sector over the past few decades. Until 2019, tourism had accounted for over 50 percent of Bali's economy. The island is also known for hosting international conferences, exhibitions and other world-renowned events.
A marketing staff at the four-star Watermark Hotel in Jimbaran, south of Bali's provincial capital of Denpasar, told China Daily that guests of the 143-room establishment came from different countries, including India, China and Vietnam. "A rising number of tourists began to be more visible last month (March)," she said.
Bali's lower-class accommodations are also experiencing a rebound from COVID-19 impact. These include the must-visit, government-supported traditional villages.
On April 6, about 300 tourists, mostly foreigners, stayed in Penglipuran village, a scenic mountainous area about 40 kilometers northeast of Denpasar. Visitors can rent homestays that showcase Balinese culture and religious art displays and dance performances.
Village tourist manager I Wayan Sumiarsa said that during the pre-pandemic times, it would receive 800 guests each day as against the village's capacity of 1,000 people. "I am optimistic their number will continue to rise in the coming months," Sumiarsa said.
However, locals have of late expressed concerns over misbehaving foreign tourists. Local media has reported a long list of tourists' wrongdoings in Bali. They include breaking traffic laws while riding motorcycles without driving licenses or causing road accidents after having drinks.
Locals, including traditional community leaders, have complained about indecently dressed visitors entering holy sites.
Some tourists own businesses on the island, including motorcycle and villa rentals without licenses. One foreigner even falsely claimed to have rented a beach-front plot in North Bali and prevented locals from swimming at that site.
Bali Governor I Wayan Koster has issued a strong warning to such violators. He said that special regulations would be introduced to ban foreign tourists from using motorcycles to go around Bali and that tourists should only use cars or vehicles operated by licensed tourist agencies.
Local officials have taken note of the incidents of unruly motorcyclists and unlicensed motorcycle rentals. Some officials suggested that Bali impose a special tax on foreign tourists like in other countries.
Hotel and travel consultant Alex Armenitsah, however, said that regulations would discourage foreigners from coming to Bali.
"The motorcycle issue has gone viral and has been reported by foreign media outlets," Armenitsah told China Daily from Denpasar.
I Putu Winastra, chairman of the Bali chapter of The Association of Indonesian Tour and Travel Agencies, said the Bali authorities should instead strictly enforce the existing laws that require motorcyclists to have driving licenses and car rental owners to have legal business permits.
The writer is a freelance journalist for China Daily.