IMF: China's rebound can help a slumping global economy
By ZHAO HUANXIN in Washington | China Daily Global | Updated: 2023-04-14 11:14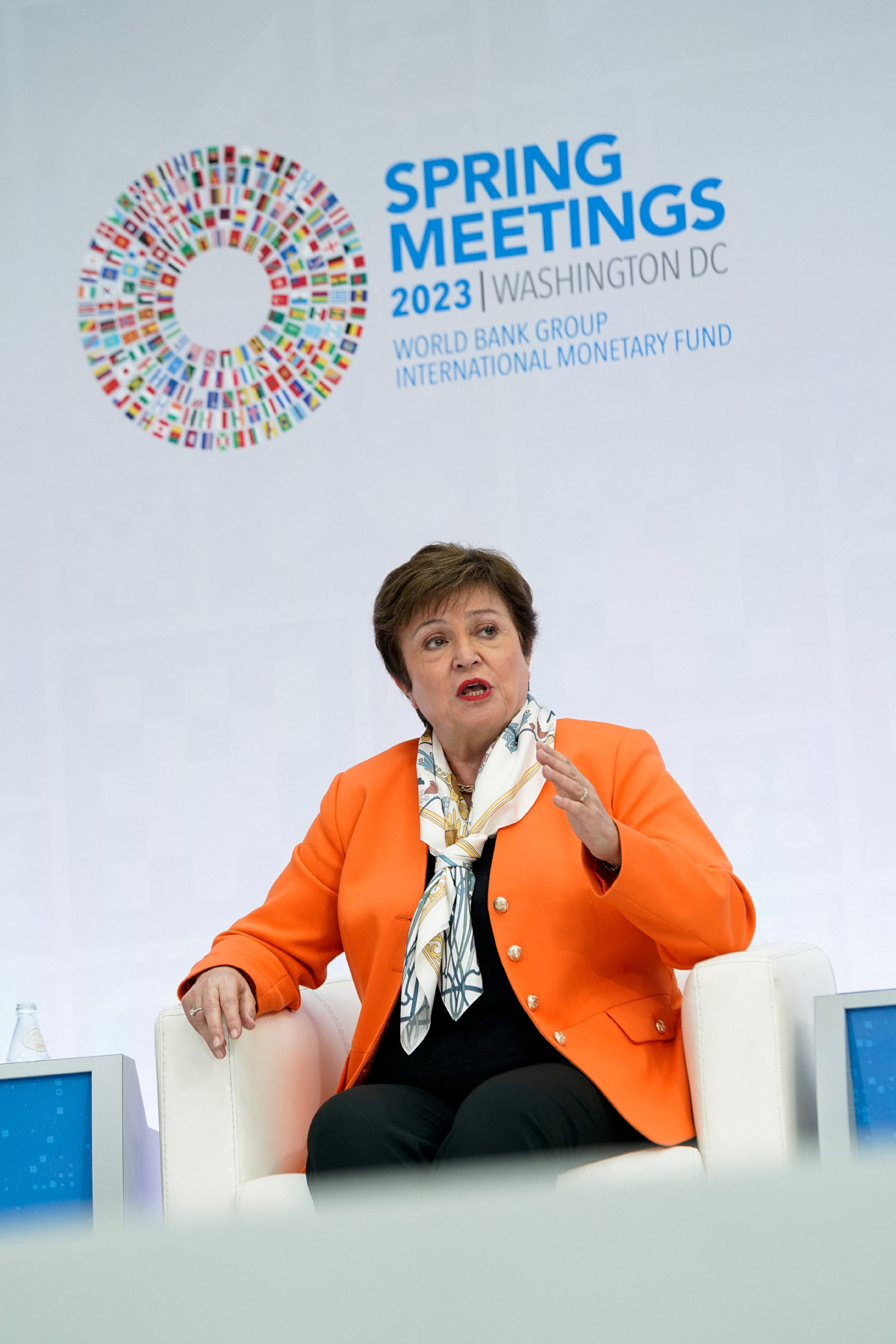 The strong rebound of the Chinese economy is a boon to global growth, the International Monetary Fund chief said on Thursday as she cautioned global policymakers against the risk of supply chain security leading to a new cold war.
The IMF, in its World Economic Outlook released two days ago, forecast China's growth to stay at 5.2 percent this year, a 0.8 percentage point revision to IMF's October projection, as it said the world is experiencing a "rocky recovery".
"We have been pleased to see this rebound of China not only for China, of course for China, but also because of China's role in the world economy," IMF Managing Director Kristalina Georgieva told a news conference at the IMF and World Bank spring meetings that run through Sunday.
"China this year is going to contribute about one-third of global growth. We calculated that 1 percent more growth in China translates into 0.3 percent more growth for the economies that are connected to China," the IMF chief said.
Georgieva, who met with Chinese Premier Li Qiang during her visit in China at the end of last month, said she was encouraged to hear from the Chinese leadership a commitment to constructively engage and to do its part for the countries that are pressed to restructure their debts.
"What impressed me was the Premier Li Qiang's very clear message on China continuing to reopen and pursue reforms that can strengthen the prospects for China's growth," she said.
Georgieva said she also discussed with the Chinese leadership the "significant challenges", including how to manage the real estate sector, where actions are being taken but more may be needed.
At the news conference, the IMF managing director warned global policymakers not to let supply chain security precipitate a new cold war, as security of supplies and the reliable functioning of global supply chains is taking a "new, higher priority seat" in economic discussions following the COVID-19 pandemic and the conflict in Ukraine.
"The question is, can we be more determined to enhance security of supplies but not push the world that far that we are into a second Cold War?" she said. "I believe it is possible."
US Treasury Secretary Janet Yellen last year argued that rather than relying heavily on countries with which the US has geopolitical tensions, US firms should move toward friend-shoring of supply chains to a large number of trusted countries, according to the April World Economic Outlook.
The report explains that "friend-shoring" limits supply chain networks and the sourcing of inputs to countries allied with the home country and trusted partners that share similar values.
On Wednesday, Group of Seven (G7) finance leaders pledged to give low- and middle-income countries a larger role in diversifying supply chains to make them more resilient and sustainable.
Their communique did not mention China by name, but the supply chain language fit in with "friend-shoring" efforts championed by Yellen and other Western leaders to trade more with allies and become less reliant on the Asian manufacturing powerhouse for battery minerals, semiconductors and other strategic goods, Reuters reported on Wednesday.
"I am among those who know what are the consequences of a cold war: It is loss of talent and contribution to the world," Georgieva said.
She said that trade fragmentation resulting from the rising geopolitical tensions could increase financial stability risks, potentially reducing global economic output by between 0.2 percent and 7 percent.
"It's a long way from here to there. So we can rationally accept there would be some cost, there would be some fragmentation but keep this cost low," she said.
To keep the cost lower, institutions like the IMF could help build more common understanding and trust, while policymakers need to "defend the interests of their citizens", Georgieva said.
"If we fail to be more rational, then people everywhere would be worse off. The middle class in each country would pay a price," Georgieva said. "So a bit more cool-headedness would take us a long way."
In another news conference on Thursday, World Bank President David Malpass said China's rebound in growth is a pickup that "adds to global growth".
"It also reflects China's efforts and explicit efforts to have a faster opening process for China and to have the supply chains begin to come back together as they feed into global supplies," Malpass said.
Krishna Srinivasan, director of the IMF's Asia and Pacific Department, noted that China's reopening will provide fresh momentum to the rest of Asia, a dynamic region that would contribute more than 70 percent to global growth this year.
China's boost to Asia's growth will mostly stem from the country's consumption demand rather than investment, according to Srinivasan.
huanxinzhao@chinadailyusa.com