Canton Fair in full swing in spring
By Wu Xueli | chinadaily.com.cn | Updated: 2023-04-17 15:48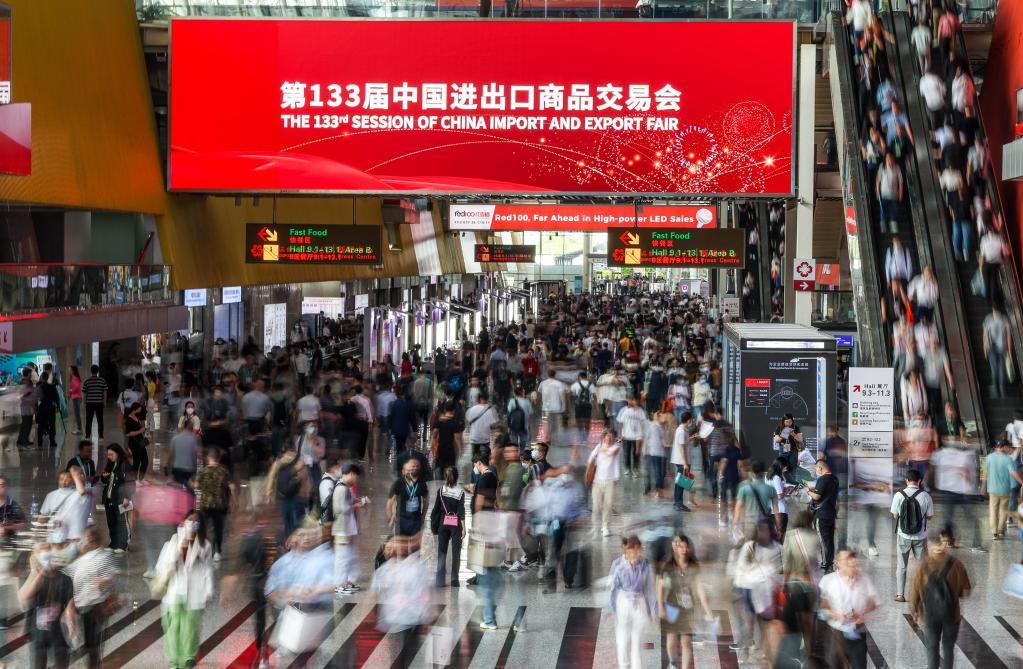 The 133rd China Import and Export Fair, also known as the Canton Fair, kicked off in Guangzhou on April 15. It is split into three week-long phases over the course of a month. Launched in the spring of 1957, the event is currently held twice a year in spring and autumn. As a comprehensive international trading event, it has the largest scale, the most complete exhibit variety, the most diverse buyer source country, the greatest business turnover, and the best reputation in China.
The 133rd Canton Fair is no exception. It has shown more vitality and possibility than ever, resuming the first large-scale offline trade show since the outbreak of COVID-19 three years ago. Specifically, it has achieved the largest scale since 1957, with both the exhibition area and the number of participating enterprises hitting a record high. The total exhibition area increased from 1.18 million square meters to 1.5 million square meters, and the number of booths went from 60,000 to nearly 70,000. Moreover, the number of onsite exhibitors rose from 25,000 to 34,933, with more than 9,000 new exhibitors and 39,281 online exhibitors.
Proudly, I am privileged to have a front-row seat in the event as a staff member of the general management department of the fair, closely witnessing how the fair plays its role in the global economic rebound and trying to grasp some of the newest development trends and focuses.
In a fair that is also known as a barometer of China's foreign trade, it is easy to spot what is trendy in China or even take a glimpse of what might be taking the lead in global trade in the coming few years. In addition to a physical exhibition expansion in size, the 133rd fair rolls out new exhibition sections featuring smart manufacturing, new energy, intelligent connected vehicles, maternal and infant products, and the "silver-haired" economy that caters to senior citizens, to meet the growing and diversifying demand of people. These fields have enormous untapped potential and can be new drives for economic growth.
Furthermore, the fair is steadily undergoing a digital transformation. Before the pandemic, it was held entirely onsite. Since the epidemic began, it gradually adapted its model and moved online. Now, it continues to practice its fully-fledged onsite-online-merged mode with the help of 5G, big data, cloud computing, the Internet of Things, and other new technologies and dedicates to building itself into an integrated, hybrid experience, and an all-weather trade platform that "never ends" to create more business opportunities and a larger stage for global trade.
Apart from digitalization, "green" is also one of the most distinctive features of the fair. Standing at the forefront of "Going Green" as a major trade event, the fair does more than just welcome green and low-carbon company exhibitors and displays 500,000 low-carbon products to promote hopeful changes in manufacturing. For the first time, all lights in the exhibition hall are energy-saving with no or low mercury. When laying out the booths, exhibitors were highly encouraged to use professional profiles and actively participate in the green booth selection. Also, colleagues in my department and I would inspect the exhibition and better manage solid waste that comes from dismantling and changing booths during intervals of different phases.
Personally, attending the Canton Fair is a brand new and rewarding experience for me. As an economics major student, the fair is the best place to learn about foreign trade, see new products, and meet new people. To me, the best part of my job is that I get to visit the booths.
To my surprise, I noticed that many of the exhibitors were unheard. In the past, I always imagined exhibitors at the fair to be all giant and world-renowned. I always know that one of the key roles of the fair has always been to promote imports and exports by providing domestic importers with access to multinational suppliers and exporters with a platform to showcase their products to a global audience. But until I become part of it, I never realized that the Canton Fair also provides a level playing field for both big businesses and SMEs to compete and offer the latter a chance to showcase their quality products and increase their exposure to a global stage.
It was also great fun to sit in an electronically manned fully autonomous aerial vehicle, play VR games, watch TV that can curl, and taste food made by an AI cooker. It was even more touching to see one foreign buyer putting his arm around the shoulder of another buyer and happily taking photos together. Later I heard that they have known each other for 20 years and what a surprise to meet again!
Since its first trade show, the fair has remained true to its original aspiration to serve as an important platform for China's opening to the outside world and dedicates itself to facilitating strong two-way trade flows and friendly exchanges despite the current rising risk of deglobalization. Consequently, both China and the world at large could share the benefits from fruitful results achieved at the Canton Fair. After all, when winter ends, will spring be far behind?
Wu Xueli is from Guangdong University of Foreign Studies.
The opinions expressed here are those of the writer and do not necessarily represent the views of China Daily and China Daily website.
If you have a specific expertise, or would like to share your thought about our stories, then send us your writings at opinion@chinadaily.com.cn, and comment@chinadaily.com.cn.