CPI likely to remain moderate and conducive to growth
By Ni Yueju | CHINA DAILY | Updated: 2023-04-19 07:20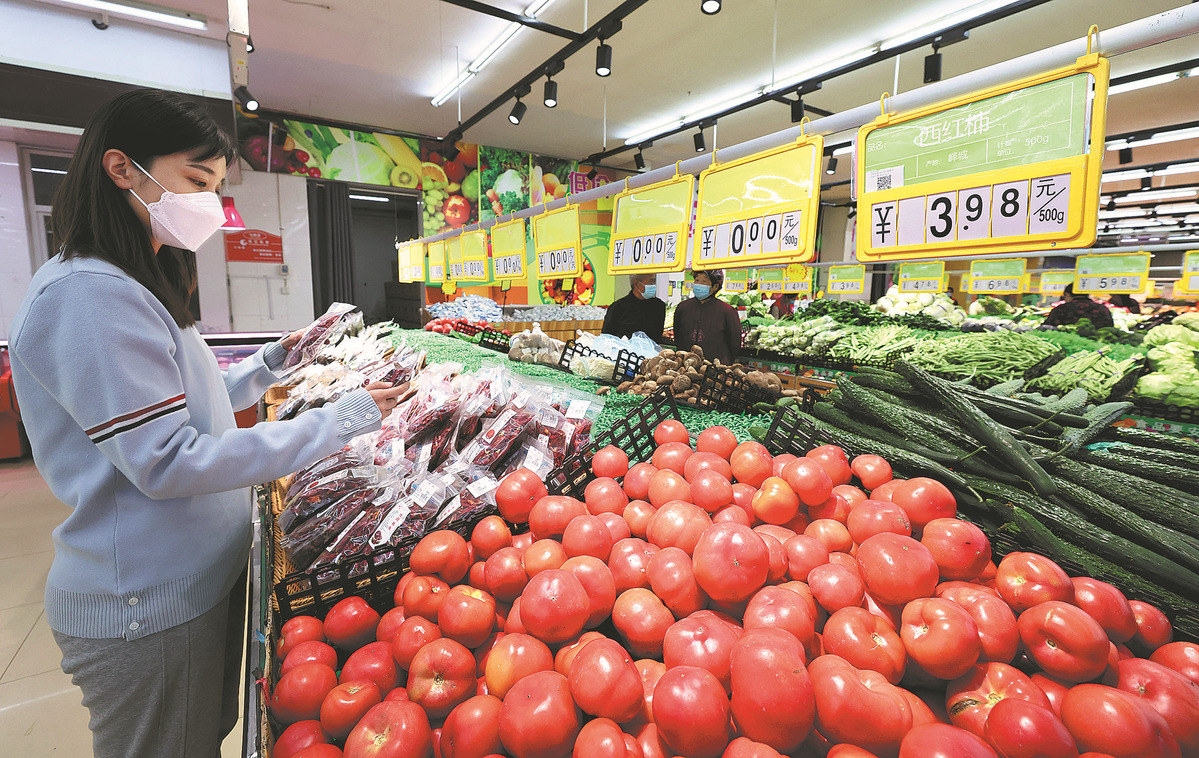 China's economy grew by 4.5 percent year-on-year in the first quarter of 2023, versus 2.9 percent in the last quarter of 2022, posting a steady economic rebound, the National Bureau of Statistics said on Tuesday. And the consumer price index (CPI) increased by 1.3 percent year-on-year, which showed China managed to stabilize prices against the backdrop of high inflation worldwide.
Despite many uncertain and unstable factors, the CPI is not likely to exceed 3 percent in 2023, which means it will remain in a controllable state and will not hinder China's economic growth.
Overall, the internal and external environments affecting the CPI have undergone some changes in 2023, making it possible for China to keep the CPI low. While the pressure of imported inflation has eased to some extent, many central banks have, since 2022, adopted tight monetary policy to bring down inflation and the US Federal Reserve has raised interest rates nine times, with a cumulative increase of 475 basis points, and it will continue to do so.
IMF has forecast that global inflation is expected to fall from 8.8 percent in 2022 to 6.6 percent in 2023 and 4.3 percent in 2024.
However, due to the deflationary policies adopted by many countries, global economic recovery will further slow down this year, which could trigger the downward trend of commodity prices globally, exacerbate the downward trend of the producer price index in different economies, and thus lower the CPI.
As for the domestic demand side, the three-year-long COVID-19 pandemic has had a huge impact on residents' income. True, bank savings have increased significantly in recent months. But that is not because of people's rising incomes. It is rather due to the decrease in consumption owing to the strict pandemic control and prevention measures, and frequent turbulence in the property market which has prompted people to adopt a wait-and-see policy.
This means that despite the gains from the release of pent-up domestic demand because of "re-opening", one should not expect a sharp rebound in consumer spending this year. A rebound is expected in the demand for services, though.
On the domestic supply side, China has consistently adhered to a stable price policy and taken a series of measures to ensure the supply of daily necessities such as food grain, oil, meat, eggs and vegetables by, among other things, strengthening the "mayor's responsibility system" to guarantee a stable "vegetable basket", promoting monitoring and early warning, and strengthening regional cooperation, as well as production and sales connection plans. Hence, there will be sufficient supply of pork, food grain, vegetables and other commodities that affect the CPI, which means food prices in China will generally remain stable.
Given these factors, the rebound in consumer spending and the resulting rise in prices in 2023 are expected to be moderate. But the uncertainties facing the world economy, too, could influence the CPI to some extent.
Globally, inflation is still high, and global commodity prices, including energy prices, could increase again. Additionally, the potential impact of factors such as extreme weather events and another pandemic cannot be ruled out, and that could lead to a rapid increase in the CPI in the short term. Nonetheless, the overall situation in China remains controllable.
It is generally believed that keeping the CPI around 2 percent is beneficial to economic growth. The Chinese economy has entered the phase of comprehensive recovery, and the government is striving to increase the incomes of workers to improve their living standards. This means that if wages increase so will the CPI. And since household income is the determining factor when it comes to consumption, an increase in income could lead to increasing consumer spending.
Thanks to the lifting of pandemic-related restrictions, the income of both urban and rural residents is expected to increase this year, with the possibility of the wage increase outpacing the CPI's rise. And since a healthy increase in income will enhance purchasing power, consumers are likely to purchase more goods and services, thereby promoting growth.
Besides, a moderate increase in the CPI will boost investor confidence, promote investment, and help boost economic growth. But fluctuations in the CPI are closely related to people's living standards and can directly affect consumer behavior, and as prices rise, consumers may reduce consumption to save money or turn to cheaper alternatives. In addition, consumers may change their consumption behavior to cope with the economic pressure brought about by price hikes.
Especially, for necessities such as food grain, oil, meat and eggs, a significant increase in their prices means a significant increase in low-income households' spending on food, which will exert greater pressure on their lives. So basic price stability and moderate inflation can help reduce the burden on the people, and boost overall economic development.
In summary, China's CPI will be moderate and controllable in 2023, with the probability of sustained rapid inflation being low. Based on the gradual recovery of the Chinese economy, people's income is expected to increase, neutralizing the negative effects of inflation on consumption and stabilizing economic growth.
The author is a researcher at the Institute of World Economics and Politics, Chinese Academy of Social Sciences. The views don't necessarily reflect those of China Daily.
If you have a specific expertise, or would like to share your thought about our stories, then send us your writings at opinion@chinadaily.com.cn, and comment@chinadaily.com.cn.