CPEC will continue to drive development, cooperation
By Majid Khan | China Daily | Updated: 2023-04-20 11:08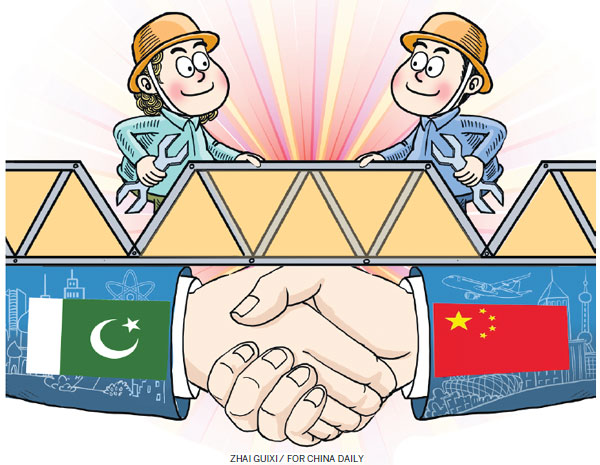 China continues to play a key role for regional development, in particular by executing projects along the China-Pakistan Economic Corridor. The corridor is the largest foreign direct investment agreement between China and Pakistan, and is a significant investment that has the potential to alter Pakistan's economic landscape.
Infrastructure, energy, industrial zones, and transportation will all receive significant funding, and investments made through CPEC account for about 20 percent of Pakistan's GDP. Pakistan has experienced a fall in foreign direct investment from the US in recent years, especially from 2013 to 2014. In light of this shortfall, the economic corridor is anticipated to boost economic growth. The full advantages of CPEC won't be felt until 2030, but certain energy, road and rail projects are anticipated to be finished soon.
So far, China and Pakistan have expressed satisfaction with the steady progress made on various projects. Both sides noted out of 26 CPEC "early harvest" projects, 14 have been completed, while five others, including New Gwadar International Airport and 873 MW Suki Kinari HPP, are under construction.
Pakistan is actively implementing various projects in close collaboration with provincial governments to ensure efficient and timely completion. The two sides resolved to redouble their efforts to tap the full potential of cooperation and ensure the population of Pakistan fully benefits from these projects by utilizing the massive opportunities being created in various sectors.
The second phase of the China-Pakistan Economic Corridor has begun, even as CPEC has already been described as a game-changer by numerous officials and experts. The goal of CPEC was to promote effective cooperation between the two nations for the construction of the port facility in Gwadar as well as the exploitation of energy resources, the improvement of infrastructure and industrial cooperation. Reverse engineering was used by China to create segments and clusters for the establishment of industries, and mass production and cost-effective manufacturing standards were distributed to markets. Additionally, CPEC Phase-II will benefit greatly from initiatives aimed at social development, health capacity-building, agriculture development and last but not least, a huge network of Special Economic Zones.
Industrialization appears to be the cornerstone of CPEC Phase-II, which will offer crucial sources of economic growth and support the creation of additional jobs. In the global economic development model, the creation of new employment is regarded as one of the key drivers of economic advantage. As a result, CPEC Phase II is crucial for the nation.
Therefore, the outcome of CPEC will depend on the success of industrialization in Phase II. A key component of Phase II will be the execution of an effective industrialization policy and comprehensive plan with emphasis on the Special Economic Zones. Pakistan and China have decided to carry out the second phase of CPEC and expressed satisfaction with the advancements made on numerous projects.
The author is an assistant professor at the University of Science and Technology in Beijing.
The views don't necessarily represent those of China Daily.
If you have a specific expertise, or would like to share your thought about our stories, then send us your writings at opinion@chinadaily.com.cn, and comment@chinadaily.com.cn.