Solid steps to ramp up tech self-reliance
By Ma Si | chinadaily.com.cn | Updated: 2023-04-20 23:41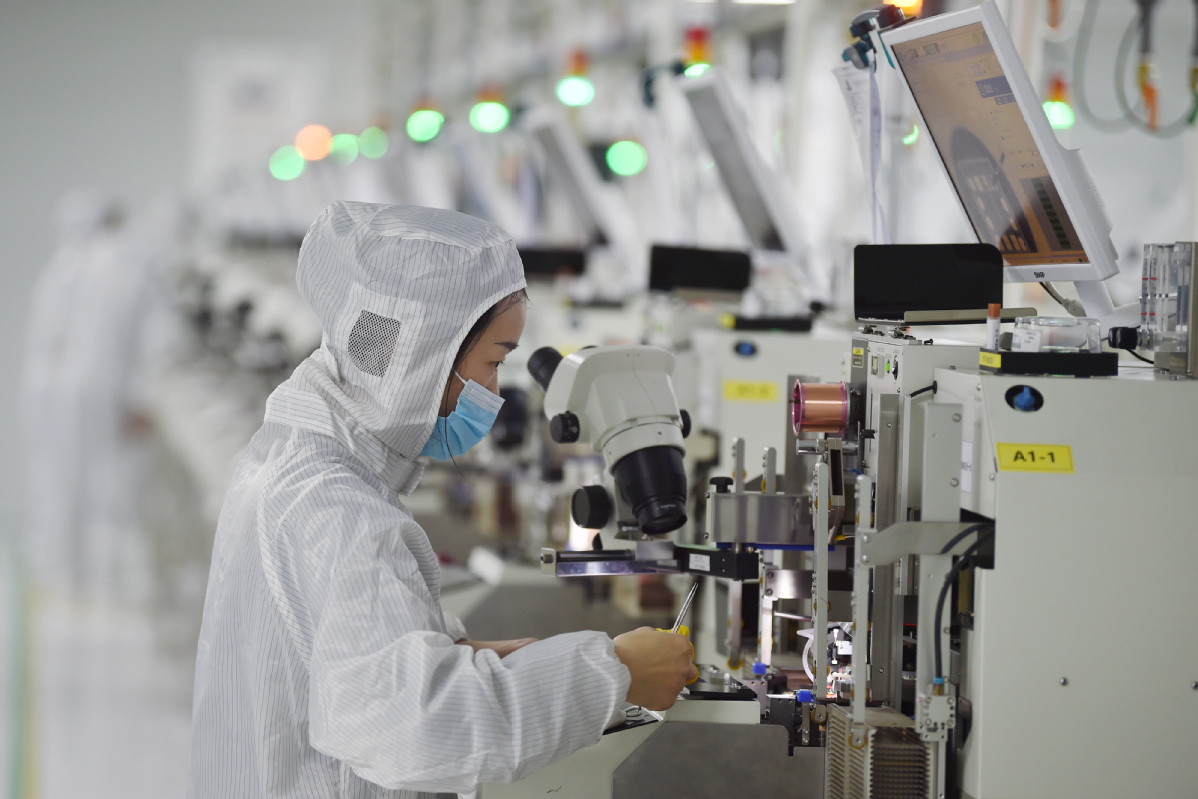 China to nurture strategic emerging industries amid 'external uncertainties'
China will ratchet up efforts to nurture strategic emerging industries such as artificial intelligence and smart cars, in its latest push to hone its tech and industrial prowess amid challenges and external uncertainties, the country's top industry regulator said on Thursday.
Such moves will help China better pursue self-reliance in crucial technologies and deal with mounting tech restrictions from Washington, which reportedly will unveil "unprecedented" measures later this month to limit United States investments in Chinese tech companies, experts said.
Zhao Zhiguo, spokesman for the Ministry of Industry and Information Technology, said at a news conference that China will take solid steps to achieve breakthroughs in core technologies such as 6G, optical communication and quantum communication.
More efforts will be made to beef up research and development in tech frontiers such as AI and blockchain, Zhao said, while highlighting the need to end bottlenecks in key components and systems and safeguard the stability of global industrial and supply chains.
The measures are part of China's broader push to grow its technological capabilities.
President Xi Jinping said during a four-day inspection trip to Guangdong province earlier this month that high-level self-reliance and strength in science and technology are the keys to Chinese modernization.
Xi, also general secretary of the Communist Party of China Central Committee, also called in January for quicker steps to ensure self-reliance in science and technology, in order to prevent containment by foreign countries. He made the comment while presiding over a group study session of the Political Bureau of the 20th CPC Central Committee.
This week, the US news website Politico reported that unprecedented rules limiting US investments in China are expected later this month. They are expected to require US companies to notify the US government of new investments in Chinese tech firms and prohibit some deals in critical sectors like microchips, Politico reported.
Jeffrey Sachs, a renowned economist and professor at Columbia University, told China Daily that there is a lot of tension between the US and China and, "I believe a lot of that tension arises from the US side."
Washington's restrictions are driven by its fear of China's rise, which is "misplaced and should be reduced", Sachs said.
"This is the US' mistake, because some Americans think that if China is rising, the US must be losing. But this is false. Economics is a win-win cooperative game, not a zero-sum game," he added.
He Guangxi, a researcher at the Chinese Academy of Science and Technology for Development, said the reported new rules indicate that Washington is tightening its containment of China's tech industry, from sanctions on selected companies to sweeping restrictions on US investments in Chinese tech companies.
The US Department of Commerce said on Wednesday that a $300 million penalty has been imposed on US tech company Seagate for shipping over $1.1 billion worth of hard disk drives to China's Huawei in alleged violation of US export control laws.
"This is a typical long-arm jurisdiction from the US government," said Bai Ming, deputy director of international market research at the Chinese Academy of International Trade and Economic Cooperation.
"Washington is doing whatever it can to obstruct normal businesses between US and Chinese companies at the heavy cost of US companies, including slapping a huge fine on its own company," Bai said.
"The moves highlight that Washington's top priority is to contain China, and it no longer considers the interests of US companies," he added.
Foreign Ministry spokesman Wang Wenbin said at a news conference on Thursday that China firmly opposes the US' overgeneralization of national security concepts, abuse of national power, and unjustified suppression of Chinese enterprises.