India can leverage higher population for growth, progress: Experts
By Aparajit Chakraborty | chinadaily.com.cn | Updated: 2023-04-21 21:49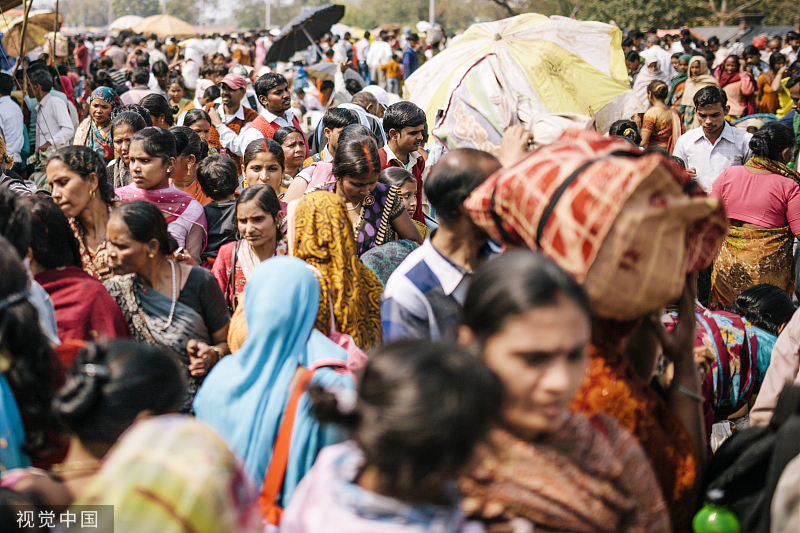 India can reap the benefits of its demographic dividend and reach its Sustainable Development Goals, experts said, although there has been no official reaction from India to recent reports it has become the most populous country in the world.
India has surpassed China in population according to data from this year's United Nations Population Fund report. The State of World Population 2023 projected India's population will be 1.4286 billion by the end of June, compared with China's 1.4257 billion.
According to the report, India's demographic diversity provides unique opportunities.
"The Indian survey findings suggest population anxieties have seeped into large portions of the general public," said Andrea Wojnar, UNFPA's India representative. "Yet population numbers should not trigger anxiety or create alarm. Instead, they should be seen as a symbol of progress, development, and aspirations if individual rights and choices are being upheld."
A healthy and competitive workforce is needed to maximize the gains a large population can bring. Federal and local governments should invest adequately and urgently in health and education, suggested Biswajit Dhar a professor at the Centre for Economic Studies and Planning in Jawaharlal Nehru University.
But these numbers could become a liability if policymakers do not create trained workforce and enough jobs, experts warned.
The report shows 25 percent of India's population is age 0-14, 18 percent is 10-19, 26 percent is 10-24, 68 percent is 15-64, and 7 percent is over the age of 65.
Conversely, 17 percent of China's population is age 0-14, 12 percent is 10-19, 18 percent is 10-24, 69 percent is 15-64, and 14 percent is over 65. Life expectancy is also higher, at 82 for women in China and 76 for men, while for India it is 74 and 71, respectively.
India's capital New Delhi is the most populated city, with 30 million inhabitants in and around the National Capital Region followed by Mumbai with 20 million, Kolkata with 15 million and Bengaluru with 12.
"Young people have great potential to contribute to the economy," said Poonam Muttreja, executive director of the Population Foundation of India. "But for them to do that requires the country to make investments in not just education but health, nutrition and skilling for employability."
India has made significant progress in many SDGs and per-capita income has increased, federal finance minister Nirmala Sitharaman said on Feb 1. She also said the Indian economy has increased in size, from 10th-largest to fifth in the last nine years.
But these opportunities cannot be seized if the Indian government fails to create sufficient job opportunities or make progress on training its labor force, said professor Manmohan Agarwal, the Reserve Bank of India chair at the Centre for Development Studies.
Progress is possible with labor-intensive investment, but at present the country's investments are largely driven by capital which has failed to utilize a large chunk of the workforce, Visva-Bharati University professor Sudipta Bhattacharyya said.
Equity is also a question the country must solve. "Poverty eradication is no longer just a slogan. Now my government is working towards empowering the poor by providing a permanent address to their concerns," Indian President Droupadi Murmu said on Jan 31 during a joint session of India's Parliament. "In terms of education, employment, digital access and various other parameters, girls and women do not have equal access to life-empowering tools. This needs to change for India to truly reap the demographic dividend."
Some progress has been made on a few fronts, however. According to a working paper published last year by the International Monetary Fund, India has almost eradicated extreme poverty and brought down consumption inequality to its lowest levels in 40 years through state-provided food handouts.
In recent years, India has embarked on several ambitious programs aimed at improving living standards such as improving electricity access and extending sanitation coverage. According to the World Bank, 70 percent of the population had electricity access in 2007, and that had increased to 93 percent by 2017. According to India's Ministry of Drinking Water and Sanitation, basic sanitation coverage across the country has also increased to 99.45 percent.
The writer is a freelance journalist for China Daily.