A quick tour of Henan's ancient wonders
By Ryan Carroll Usher | China Daily | Updated: 2023-04-24 08:22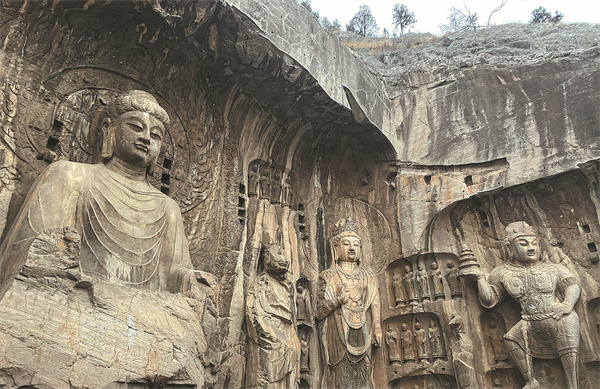 It is a life goal of mine to explore every province in China, so when I had the opportunity to visit Henan, I swiftly packed my bags, bought a train ticket, and left a veritable trail of smoke as I raced to see two icons of Chinese culture, the Longmen Grottoes and the Shaolin Temple.
After arriving in the charming city of Xinxiang and enjoying some of their delectable, local lamb-based hotpot, hongmen yangrou, it was time for me to set off. With the help of my incredible driver, Mr Jiao, I was going to try and do both in one day! After a few hours driving out of the city, I soon arrived at the Longmen Grottoes.
Built from 386-1130, the Longmen Grottoes in Luoyang are carved into the sides of two limestone cliffs, which are bisected by the Yihe River. The Grottoes house nearly 100,000 Buddhist statues, ranging in size from 25 millimeters to 17 meters in height. Walking among these ancient, magnificent statues, it is easy to feel small, not only physically, but existentially. As the giant, wizened faces of the many statues stare down at you, their features weathered by the centuries, it is a truly humbling experience; one that allows oneself to look past the walls of their ego and earnestly, inwardly reflect.
While exploring the many grottoes, something else that became obvious was how many statues were damaged or missing. While damage occurring to ancient statues, particularly ones outside, is nothing out of the ordinary, some of the places where heads or entire statues were missing looked like they had been removed with tools. Looking into this, I learned that many statues over the years had been stolen by outsiders, a large portion of them taken by the Japanese during the War of Resistance Against Japanese Aggression (1931-45). Many of these statues are still in museums in Japan to this day, and I truly hope that they can, one day, be returned to their rightful place. Until then, the statues still stand, near innumerable and resolute, their missing comrades highlighting the tenacity of Chinese culture.