China, Mongolia need better eco-coordination
By Fan Lijun/Zhao Rigetu/Huang Tonglaga | China Daily | Updated: 2023-04-27 07:23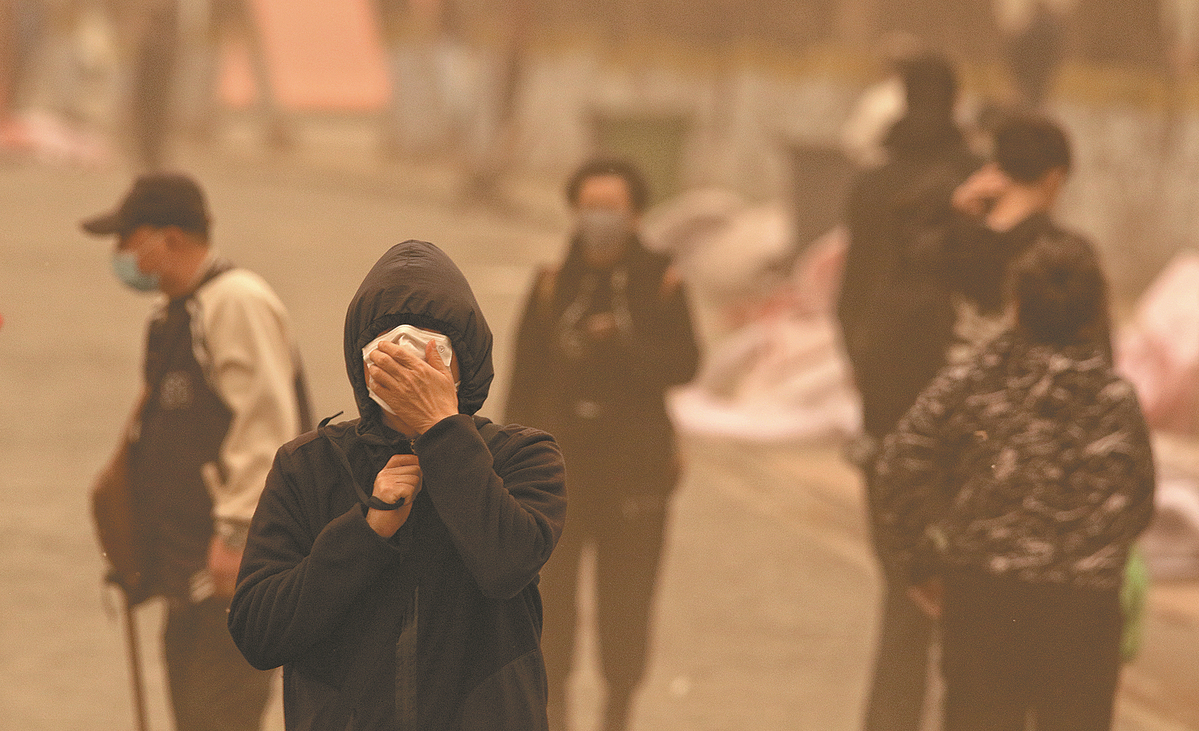 The frequent and strong sandstorms that have swept across northern China and some parts of southern China this year have surprised many people after years of relative lull during what had come to be known as the "sandstorm season" in March and April. Many are surprised also because the sandstorms occurred despite China combating desertification for decades.
Since the sandstorms originated in Mongolia, China should strengthen cooperation in environmental management with Mongolia to prevent such weather conditions.
North China shares a similar monsoonal climate, a variant of the continental climate, with southern Mongolia. The fact is, Mongolia has a rather fragile ecological environment with an arid climate that can be greatly influenced by climate change and environmental degradation elsewhere.
Also, in Mongolia, the average temperature has increased by 2.25 degrees Celsius, twice the world average, over the past 80 years. And while more than three-quarters of Mongolia's land is either desert or arid or facing desertification and soil degradation, climate-related natural disasters have increased, especially over the past 10 years. And sandstorms, in particular, could cause huge losses to the local people.
Although the Mongolian government has taken measures to address the desertification problem, the huge gap between human activities and environmental and ecological revival remains a chronic environmental problem.
The over-exploitation of soil for farming — less than 2 percent of Mongolia's land area is arable — excessive use of water for agriculture and construction, overgrazing of land, including on pastures, and the unrestrained extraction of underground resources have been continuously reducing the underground water tables and turning the land bare, making it easier for even strong winds to carry millions of tons of sand southward.
China has been working with Mongolia to combat desertification and reduce sandstorms. Still, more efforts are needed to raise the underground water tables and revitalize the soil, including the surface soil, in order to prevent sandstorms.
In 2021, Mongolian President Ukhnaagiin Khurelsukh launched a national campaign for planting 1 billion trees by 2030 as part of the country's fight against climate change. The campaign started in earnest this year.
The Xinjiang Uygur and Inner Mongolia autonomous regions, which share their border with Mongolia, can boost cooperation with Mongolia and help it build a green great wall. This will also help better protect China's "Green Great Wall", and promote the Three-North Shelter Forest Program and the afforestation projects in northern, northwestern and northeastern China.
Moreover, as parties to the United Nations Framework Convention on Climate Change and the Paris Agreement, China and Mongolia can also boost bilateral cooperation through the two authoritative international agreements, as well as through the UN Convention to Combat Desertification.
Under the framework of the Silk Road Fund-established with the aim of promoting cooperation and development in Belt and Road countries — China and Mongolia can jointly establish a "green fund" so Mongolia can have easy access to financing for green development projects, including the "One Billion Trees" campaign.
Besides, the Mongolian National Climate Committee approved the 2023 action plans to bolster the national campaign, including tree-planting programs and improvement of policies and laws to fight climate change by, among other things, setting carbon dioxide emission goals and improving the energy, agriculture and construction sectors.
Inner Mongolia and Xinjiang can deepen cooperation with Mongolia in these sectors. By doing so, they can also benefit China's green development projects. Chinese herbs with economic value, such as the drought-resistant sea buckthorns, herbacynomorii and cistanches can be planted in Mongolian areas to prevent soil erosion and sandstorms. Joint planting can help not only improve the eco-environment and boost Mongolia's environmental resilience but also promote employment for local farmers and herdsmen.
Climate change is a common global challenge. Only with the harmonious coexistence between humans and nature, better planning to achieve sustainable development, and a change in people's lifestyle to reduce environmental damage can a solution to the climate problem be found. Global governance of climate issues is an objective requirement and inevitable trend for all countries.
Fan Lijun is a research fellow at the Inner Mongolia Academy of Social Sciences; Zhao Rigetu is an associate research fellow at the Inner Mongolia Academy of Social Sciences; and Huang Tonglaga is a doctoral candidate at the National University of Mongolia.
The views don't necessarily represent those of China Daily.
If you have a specific expertise, or would like to share your thought about our stories, then send us your writings at opinion@chinadaily.com.cn, and comment@chinadaily.com.cn.