Millions welcome Ya Ya as panda arrives in Shanghai
By Li Hongyang | chinadaily.com.cn | Updated: 2023-04-28 00:15
After 20 years away, giant panda Ya Ya touched down on home soil on Thursday to a warm welcome and an outpouring of affection from millions of her fans online and some in person.
Ya Ya arrived at Shanghai Pudong International Airport in the afternoon after a 16-hour special FedEx flight from Memphis, Tennessee, in the United States.
Her Chinese fans said they were eager to see Ya Ya in good health and living the rest of her life "at home".
Waving at Ya Ya's aircraft before it landed in Shanghai, local resident Cheng Bei said: "We all hope that either now or in the future, either at home or abroad, giant pandas can receive love and respect from the whole world. I hope that Ya Ya can recover soon and wish her a long life."
The Sina Weibo hashtag "Ya Ya has landed in Shanghai" was viewed 430 million times as of Thursday evening.
Top comments included "After 20 years, our baby finally came back" and "I was moved to tears by her return".
Ya Ya is hugely popular in China, but animal experts said fans had to wait to view the giant panda, as she needs time to adapt to her new living environment.
At age 23, the equivalent of about 80 human years, Ya Ya has entered old age, they said.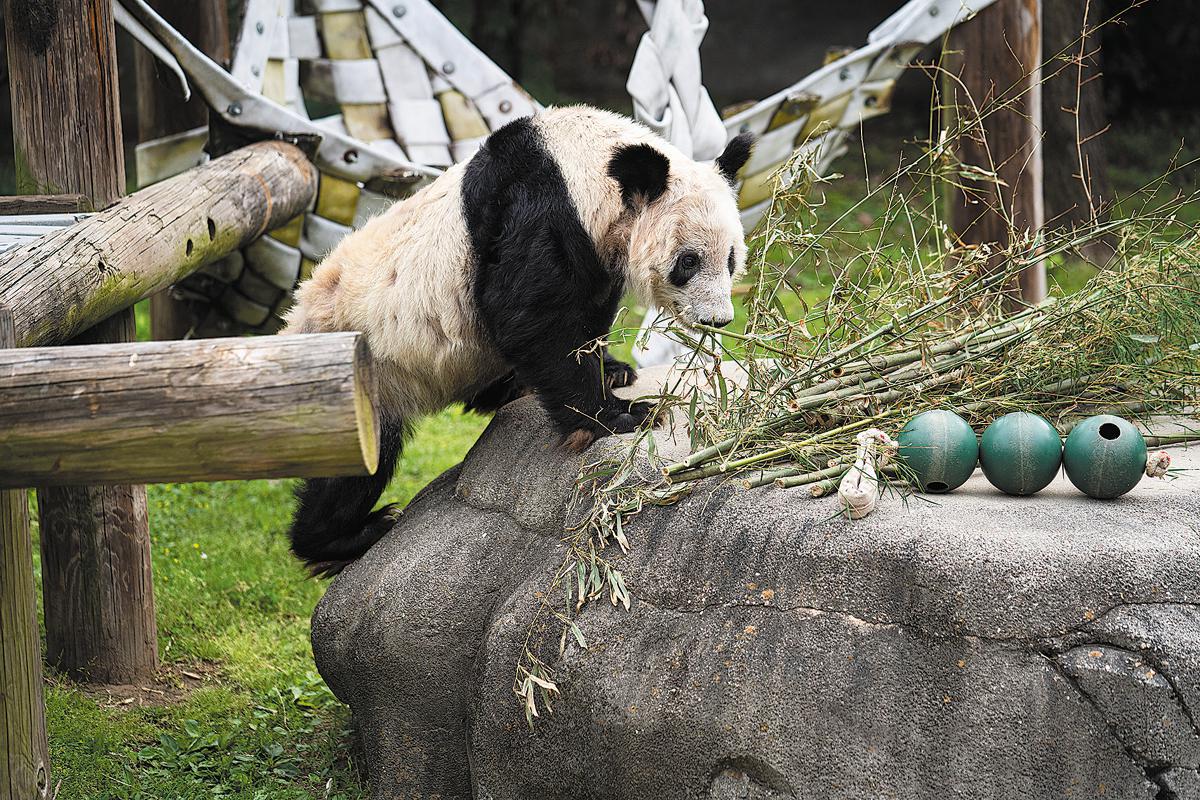 Born at the Beijing Zoo, Ya Ya was taken to the Memphis Zoo in Tennessee in 2003 for a joint research and conservation project, according to the National Forestry and Grassland Administration.
Sun Quanhui, a scientist at World Animal Protection, said Ya Ya will have to adapt to a new living environment, which may take time, as she had lived abroad for 20 years. "During the time (of adapting), tourists should minimize her disturbance and breeders need to provide her with nutritious food and a suitable living environment to help her get accustomed to the new environment as soon as possible," he said.
Under China's regulations, Ya Ya needs to be quarantined for 30 days to confirm whether or not she has any unknown diseases, he said.
Shanghai Zoo has set up a special quarantine area for Ya Ya that includes dwellings, sports areas and food-processing rooms. A large amount of bamboo and other food has also been prepared. During the quarantine period, a team of panda experts from Beijing Zoo will be on standby 24 hours a day, according to the National Forestry and Grassland Administration.
After Ya Ya completes her quarantine, the panda will be moved to Beijing Zoo where living areas, medical services and food supplies have been prepared.
The Memphis Zoo announced in December that it would return Ya Ya. It hosted a farewell party for the panda on April 8, with hundreds of people attending the event, Xinhua News Agency reported.
In January, Chinese netizens expressed their concerns for Ya Ya's health after the panda appeared malnourished in some pictures and videos.
However, the Chinese Association of Zoological Gardens said in a statement that the Memphis Zoo had taken good care of her. There is no indication that she was neglected, based on videos of her and the results of monthly health reports and annual physical examinations, the association said.
In 2006, Ya Ya began to shed fur, a condition that worsened in 2014. Experts at the Memphis Zoo and in China tried various treatment methods but were unable to solve the problem, the association said.
Chinese Foreign Ministry spokeswoman Mao Ning said on Wednesday that the giant panda was well cared for during her stay at the Memphis Zoo and loved by the US people. China is willing to continue to contribute to the conservation of endangered species with various partners, including the US, she added.
According to Giant Panda magazine, more than 60 giant pandas are living abroad. Japan has the largest number, with a total of nine.
Gao Erqiang in Shanghai contributed to this story.
Video from Xinhua