Chinese expertise brings cities closer together
By CHEN WEIHUA in Belgrade, Serbia | China Daily Global | Updated: 2023-04-28 09:52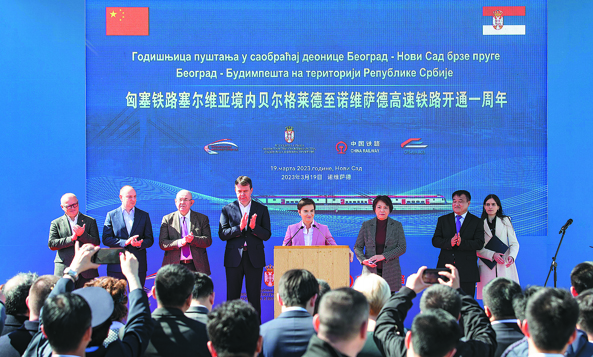 Editor's note: This year marks the 10th anniversary of the launch of the Belt and Road Initiative. A decade of practice has demonstrated that it's a broad and prosperous way for China and the world to share opportunities and seek common development. In a more than 10-part series, China Daily finds out how the road of peace, prosperity, openness, green development, innovation and civilization will contribute more to the shared future of mankind.
Completion of Serbian rail link to cut journey duration by two-thirds
The railway line between the Serbian capital Belgrade and the Hungarian capital Budapest dates back to the inauguration in 1883 of the Orient Express, connecting Paris with what is today Istanbul.
While the 75-kilometer section of track linking Serbia's two largest cities, Belgrade and Novi Sad, has been renovated over those 140 years, until 13 months ago the journey took 90 minutes, with trains trundling along at a graceful 40 km/h.
That all changed on March 19 last year when a high-speed train that started running that day cut travel time to about 30 minutes. In the first year of its operation, the service carried nearly 3 million passengers, that in a country of 7 million people.
The Belgrade-Novi Sad section is part of the 342-km Belgrade-Budapest high-speed railway, which, upon completion in 2025, will shorten the rail trip between the two capitals from the current eight hours to less than three. The design speed is 200 km/h on the 183-km Serbian section and 160 km/h on the 159-km Hungarian section.
Serbia's Prime Minister Ana Brnabic took a ride on the high-speed railway on March 19 from Belgrade to Novi Sad to attend the ceremony marking the one-year anniversary.
A Chinese consortium formed by the China Railway International Corporation and China Communications Construction Corporation, or CCCC, helped build the high-speed railway. Russian, Swiss and German companies have also had a role.
"What we inaugurated a year ago today is not just high-speed rail, but is also a milestone in Serbia's development," Brnabic said. "Today is an extremely important day. By the end of next year it will only take one hour from Belgrade to Subotica," Brnabic said, referring to the completion of the Serbian section of the Budapest-Belgrade high-speed railway.
"We have a big dream. Our plan is to bring more Chinese investors to Serbia and to promote the exchange of science and technology between the two countries. China is our great cooperation partner and a trustworthy friend in realizing our dream."