Japan should have correct understanding of China: Chinese ambassador
Xinhua | Updated: 2023-04-29 21:24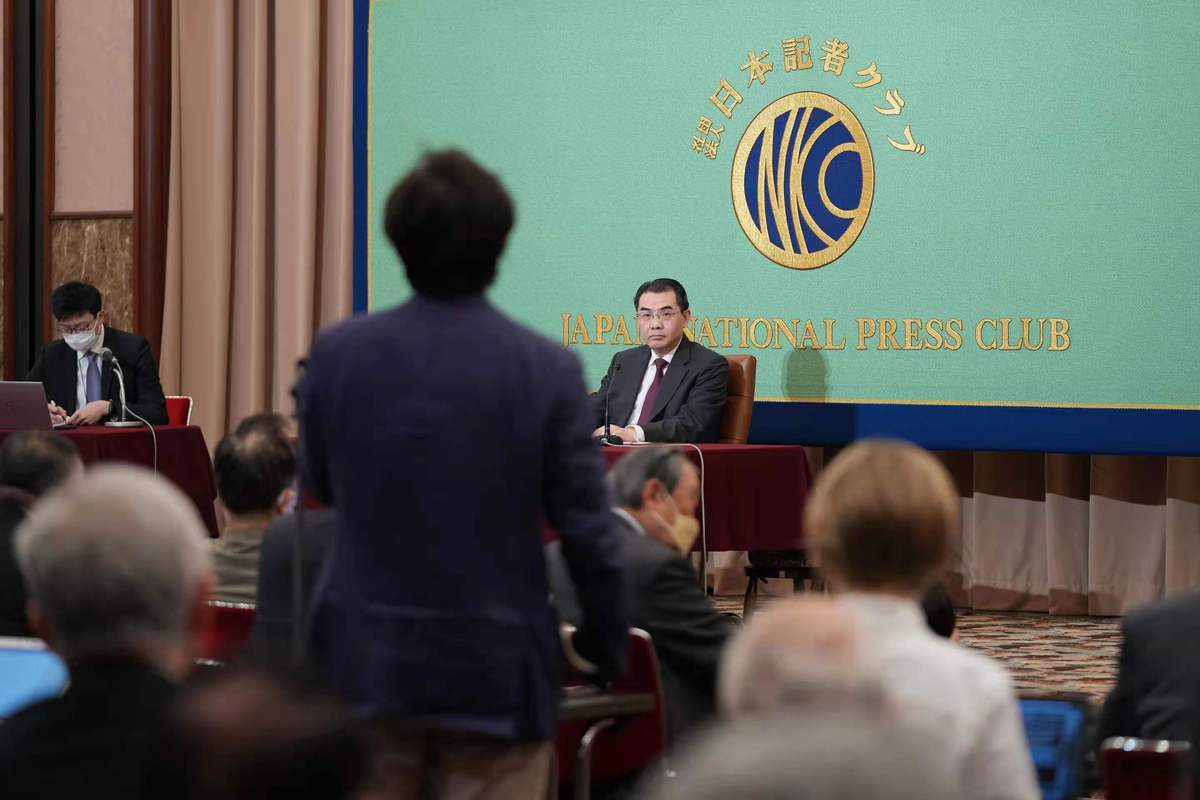 TOKYO -- Japan should have a correct understanding of China from the root, adopt strategic independence, understand the trend of the times, and truly promote the stable development of bilateral relations with a constructive attitude, Chinese Ambassador Wu Jianghao said.
Wu told a press conference at the Japan National Press Club in Tokyo on Friday that China has always advocated good-neighborly friendship and win-win cooperation between the two countries, and has never regarded Japan as an adversary, let alone a threat or an enemy, expressing hopes that Japan will do the same.
Regrettably, the Japanese side has publicly positioned China as "the greatest strategic challenge," followed and cooperated with certain countries to oppose and contain China, hyped up the "China threat," and accelerated its military build-up, he noted.
If Japan continues to adopt such a cognitive positioning and policy, the foundation of China-Japan relations will be substantially damaged and the healthy and stable development of bilateral relations will be out of the question, Wu added.
The ambassador also warned that Japan should not interfere in China's internal affairs, stressing that the Taiwan question is at the core of China's core interests and concerns the foundation of China-Japan relations, a red line that cannot be crossed.
The wrongful remarks that "a Taiwan emergency is a Japanese emergency" is absurd and dangerous, said Wu, adding that it is illogical and harmful to link matters that are purely China's internal affairs with Japan's security.
Regarding the discharge plan of Fukushima nuclear wastewater into the sea, Wu said that the disposal of nuclear-contaminated water has a direct bearing on the global marine environment and human health and safety, and no one can make a conclusion as to how long the impact will last and how much harm it will bring.
China's position on the issue is clear, that is, it firmly opposes Japan's discharge plan of nuclear-contaminated water, he said, noting that the Japanese side should take the strong opposition at home and abroad seriously, honestly fulfill its international obligations and deal with the nuclear-contaminated water in the safest and most prudent way.
When asked about the Group of Seven (G7)'s recent accusations against China, Wu said the G7 has become a political tool of some countries to wantonly interfere in the internal affairs of other countries and suppress the development and progress of other countries.
The G7 does not represent the international community and their consensus is not a global consensus, the ambassador stressed.