Chinese handicrafts dazzle at Italian intl fair
Xinhua | Updated: 2023-04-30 07:26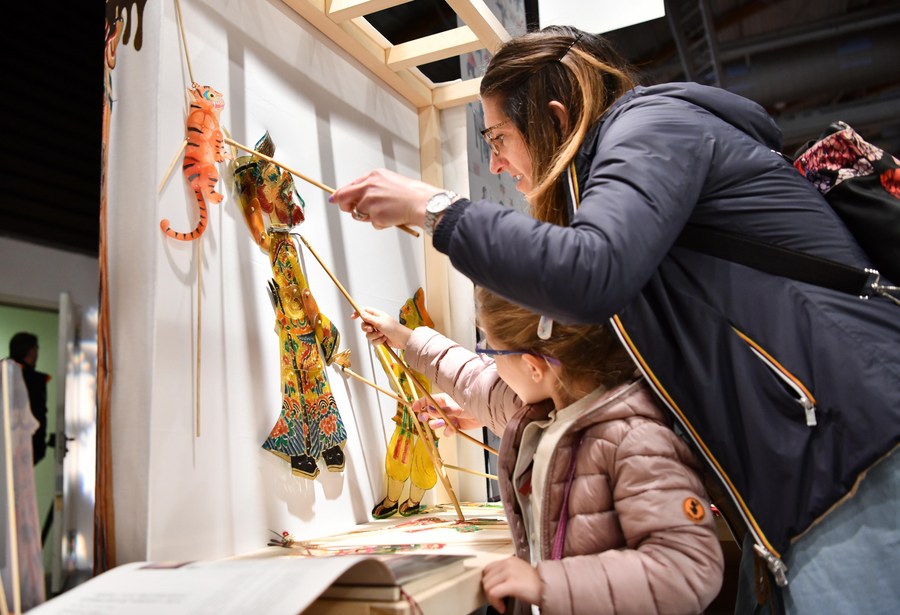 FLORENCE, Italy -- Thirteen-year-old Valentina Fossi gently colored a piece of carved wood block with a brush dipped in ink and pressed white paper against it to make a picture depicting a traditional Chinese dragon boat festival.
"This is a good experience, and I think it's fun," said the girl from Florence. "I hope to try it again."
Many people were queuing up for some hands-on art experience around the exhibition area of Chinese handicrafts at the ongoing Florence International Crafts Fair.
The fair, in its 87th edition this year, runs from April 25 to May 1 at Fortezza da Basso. Artisan businesses, designers and craftsmen from all over the world have gathered here to show their works to an eager audience on a total surface of over 25,000 square meters.
Eight Chinese exhibitors participate in this year's event, acquainting the audience with the unique features of Chinese culture, folk art and traditional handicrafts through hundreds of art works and toys, such as paper-made puppets for shadow plays, cloth tigers with Chinese embroidery, miniature kites, and wooden construction blocks bearing the features of traditional Chinese architecture.
"These handicrafts are rooted in Chinese traditional culture but are made with creativity to reflect their charm in modern time," said Zhong Wen, a Chinese exhibitor and artisan of woodcut prints, who also co-started a brand promoting Chinese traditional art and culture.
Maria Elena Angeli, foreign markets manager with the Centre for the Artistic and Traditional Tuscan Crafts (Artex), has been collaborating with Chinese partners to facilitate their participation at the Florence fair for several years, and bringing Italian artisanal products to China via multiple fairs in the Asian country.
In her eyes, Italy and China share many similarities in handicrafts. "Both Italian and Chinese artisans like to use very old tools, traditions and methods to work. They love to use high-quality materials, and work slowly to make exquisite products," she said. "They pay attention to every detail."
She said she will continue to promote exchanges between the two sides, and hopes to organize exhibitions at her organization's headquarters in Florence.
"I would also like to create a platform where Italian and Chinese artisans collaborate together," she said.
"Average people don't know much about Chinese culture. I'm happy that Chinese people here (at the fair) can teach people what China really is," Angeli said. "I think people need to understand (them)."