Conservatives brace for poor local elections result
By EARLE GALE in London | China Daily | Updated: 2023-05-05 07:16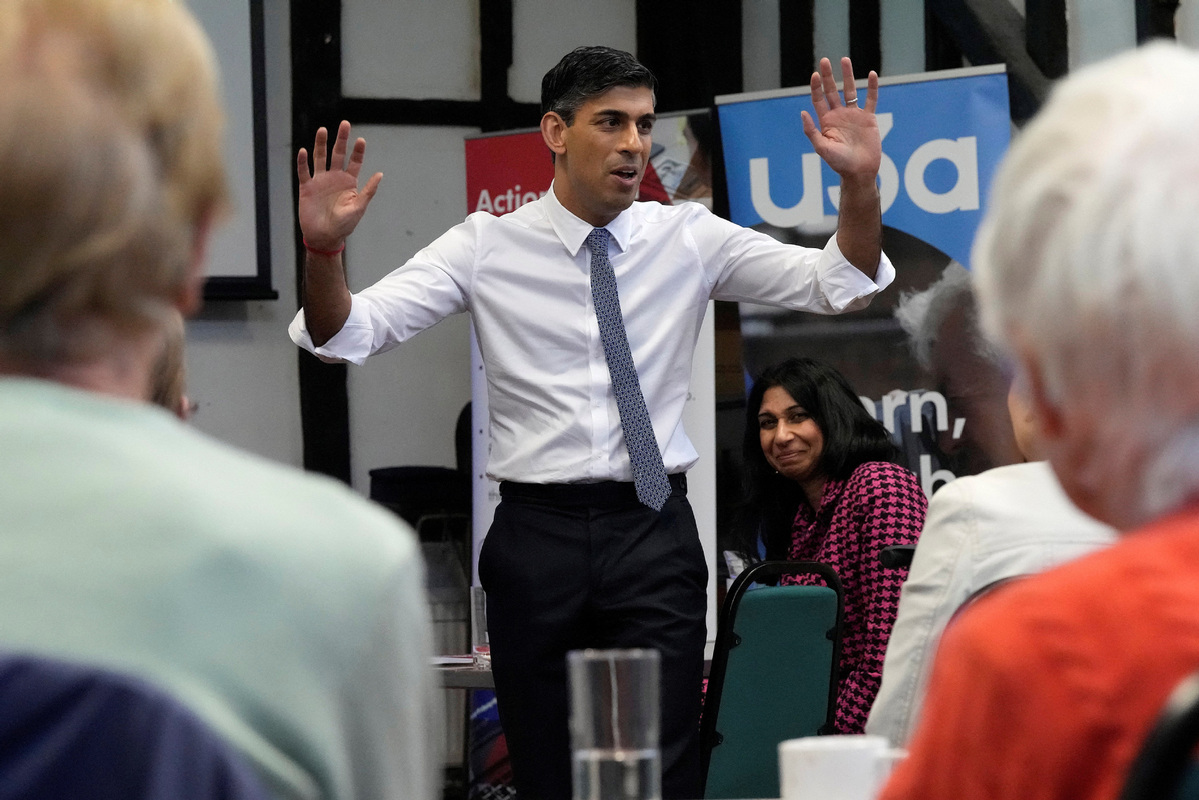 The United Kingdom's ruling party braced for a poor performance in English local elections on Thursday.
With most results expected on Friday, Conservative Party leader Prime Minister Rishi Sunak said in a speech to a think tank ahead of the vote that he expected voters to use the elections to send a message largely unrelated to grassroots politics.
"We should be prepared that (Thursday) night is going to be hard for us," he said, referring to when the first results were expected. "Good councilors will lose their seats because of all that has happened over the past year."
He said the mistakes of his predecessors, Liz Truss and Boris Johnson, would likely haunt the party.
"I've only been prime minister for six months. Just think about where we were then and where we are now. Our economy is in much better shape. Our politics doesn't feel like a box-set drama anymore, and our friends and our allies know that we are back," he said.
But he insisted a poor showing by the party, also known as the Tories, and a strong performance by the Labour Party did not necessarily mean a change of government was inevitable at the next general election.
"People don't always vote the same way in local elections and general elections," he said.
Ahead of the vote, the Tories were 16 points behind the opposition Labour Party in the latest Politico survey. Sky News reported that pundits predicted the party could lose as many as 1,000 of the seats it held. In total, around 8,000 seats were up for grabs, around half of England's total.
Successful candidates will join councils representing specific villages, small towns and city wards, and make decisions on issues including schools, care for the elderly, and the maintenance of roads.
Call for change
Like Sunak, Labour leader Keir Starmer cautioned against taking too much from the local election results, but said it is clear the country "desperately needs change".
"This is going to be all about the cost of living," he said ahead of the vote. "It's absolutely clear the government has nothing to say about that. We've got a positive case to tell and we hope that we'll be able to make some progress."
Starmer said the cost of living crisis, in which prices have risen by double-digit percentages while wages have not, is the main thing on people's minds, despite the government's claim that it is almost over.
Smaller UK parties were also hoping to do well in Thursday's vote, with the center-ground Liberal Democrats focusing on rural and suburban seats held by the Tories, and the Greens hoping to benefit from the elevation of the environment as an issue.