Japan's new 'scramble for Africa'
By Azhar Azam | chinadaily.com.cn | Updated: 2023-05-07 14:17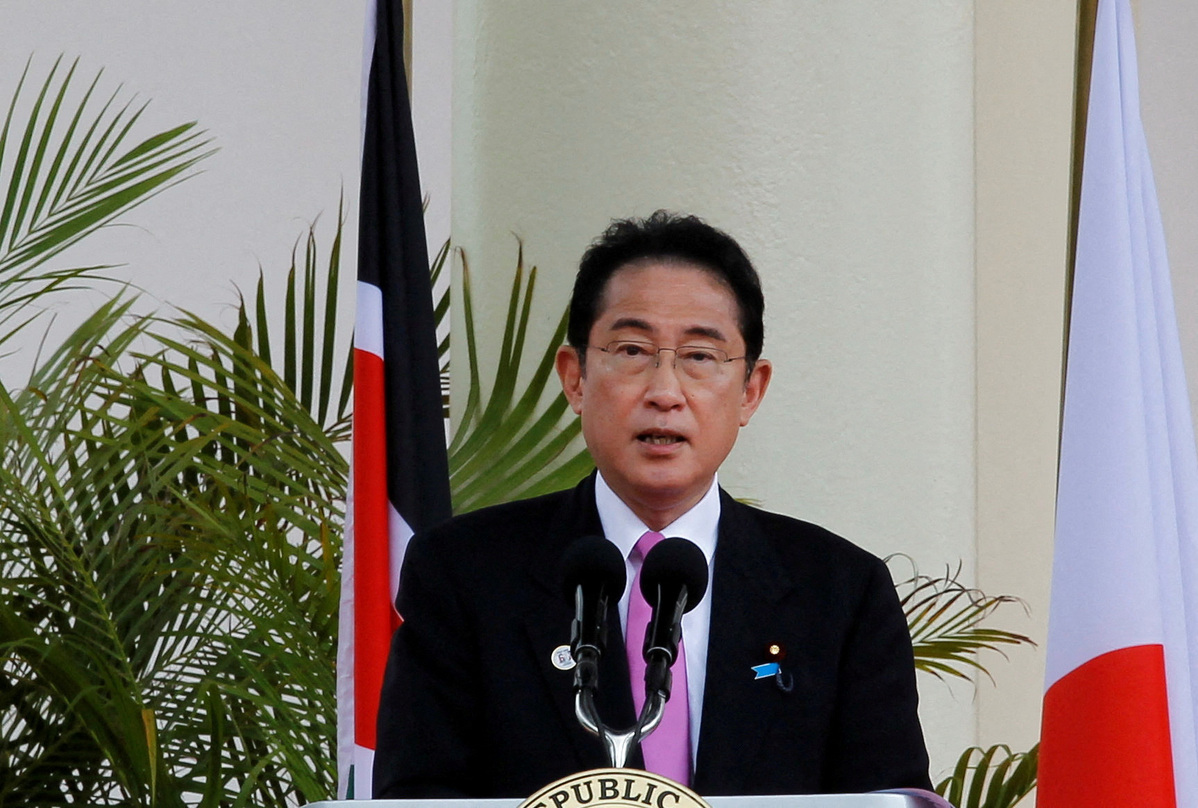 In his latest charm offensive to seek their support for the Group of Seven in the Ukraine war, the Japanese Prime Minister Fumio Kishida wrapped up his trip to Egypt, Ghana, Kenya and Mozambique. During his visit to four African countries, he stressed the Global South was suffering from high food and energy prices due to Russia's crisis with Ukraine not because of the G7 sanctions on the Kremlin.
This "scramble for Africa" is part of his ambitious plan that in March pledged $75 billion in investments across the Global South to expand Japan's influence and Free and Open Indo-Pacific strategy. As he warmed up for the tour, Kishida himself emphasized the importance of the strategy, upholding the international order and cooperation on climate change, energy and "opaque and unfair" development finance.
The geopolitics was at full blast as Japan's ambassador to Kenya Okaniwa Ken sold Kishida's narrative in African media that the strategy "promotes the rule of law and freedom of navigation in the seas, free from force or coercion and seeks economic prosperity." Meanwhile, the Japanese agency is pressuring the Kenyan authorities to bend the rules in favor of a specific bidder for the construction of a special economic zone.
So, after a gap of almost seven years when former Japanese prime minister Shinzo Abe in 2016 visited Nairobi for the Tokyo International Conference on African Development and proposed the strategy, his successor is again wooing the continent's support for the blueprint by linking it with the promotion of "cooperation in maritime security and infrastructure development" in and around Kenya's Mombasa Port.
In March, Kishida unveiled an ambitious plan to promote the strategy – which cites Africa's abundant resources and potential dynamic growth to portray Japan as "a partner growing together with Africa" – encompassing billions of investments to expand influence in the developing countries.
"Transparent and fair" funding has been another focus of Kishida's visit to draw Africa away from China and Russia into the G7 camp. Most African countries have been neutral on the Ukraine conflict and want to engage both Beijing and Moscow. Yet the attempts to bully Africa into taking the Western side against Russia and making "choices" between China and the US are detrimental to the continental development and peace.
China over the course of decades has become a partner of choice for Africa by building airports, highways, hospitals, ports, railways, schools, stadiums, waterways and other critical infrastructure; developing cities, Westerners used to link with death and famine; and boosting trade and economic relations.
Beijing maintains a clean past and carries no history of colonization of the continent or being a "scramble for Africa" through which the region, during 1881 and 1914, was divided, occupied and colonized by the European states. As international powers raced for influence, Beijing's engagement in Africa has been centered on economic and social development.
The successful implementation of the Forum on China-Africa Cooperation– emphasizing on reciprocal consultation, enhancing understanding, expanding consensus, strengthening friendship – and the Belt and Road Initiative demonstrates Beijing is contributing to the continental industrialization, agricultural modernization, infrastructure development, poverty reduction and peace and security.
Incorporation of the Global Development Initiative in the Dakar Action Plan 2022-2024 cemented the China-Africa partnership. The program, according to the UN, lent a fresh impetus to the implementation of the UN 2030 Agenda for Sustainable Development by revitalizing the global development partnership, mobilizing international development resources and bridging the North-South divide.
Africa also features prominently in the Global Security Initiative. The concept paper supports the continent's efforts to resolve regional conflicts through dialogue, fight terrorism, protect maritime security and gives a clarion call to the international community to strengthen the continent's ability in safeguarding its peace independently.
Kishida pledged to provide $500 million to Africa over the next three years to promote peace and stability. It is a welcome sign; this "reactive" rather than proactive approach should not undermine Africa's relations with other countries or curry its favor with the country's foreign policy goals such as garnering Africa's support against China or Russia and securing a permanent seat on the UN Security Council.
Unlike other countries that instrumentalize aid for their own interests, Beijing has never attached political strings to its "quite effective" development assistance and played a vital role in Africa by strengthening trade and developing infrastructure. China's new push to increase imports from Africa expanded the bilateral trade to the tune of $282 billion in 2022 at an increase of 11 percent, helping it to cut reliance on "corrosive' foreign aid.
As Kishida steps up efforts in fear of "losing" Africa to China and says he will "relay" the talks to gathering of the richest countries in Hiroshima – studies have shown Beijing's projects boost Africa's economic growth as the G7 states "tend to channel more development assistance" to African countries receiving Chinese aid, shifting financing from social sector to compete with China for influence in infrastructure projects.
Beijing has a strong political and economic relationship with all the African countries including Kishida seeking to align. China continues to increase imports from and invest in Egypt, is significantly enhancing trade with Kenya, remains keen to resolve Ghana's debt crisis and has begun the construction of the world's second-largest floating liquefied natural gas project in Mozambique to help the country emerge as a producer and exporter of the LNG.
China pursues a policy of inclusion. Japan's decision to exclude South Africa from the G7 Summit on geopolitical grounds rings hollow for inclusivity and common interests. South Africa is a key regional country and an important global player as well as a member of Group of 20. Such steps may pose a risk to African development and security and threaten to weaken joint global peace efforts.
Africa's potential as a fast-growing middle class, large untapped mineral, agriculture and human resources and two-third of the world's uncultivated arable land is luring several countries to the world's second-most populous continent. This geopolitics around the continent in a disintegrating world risks Africa's development and peace and must be brought to a halt immediately.
Azhar Azam works in a private organization as "Market & Business Analyst" and writes on geopolitical issues and regional conflicts.
The opinions expressed here are those of the writer and do not necessarily represent the views of China Daily and China Daily website.
If you have a specific expertise and would like to contribute to China Daily, please contact us at opinion@chinadaily.com.cn, and comment@chinadaily.com.cn.