SparkDesk puts iFlytek in bot race
By MA SI | China Daily | Updated: 2023-05-09 09:12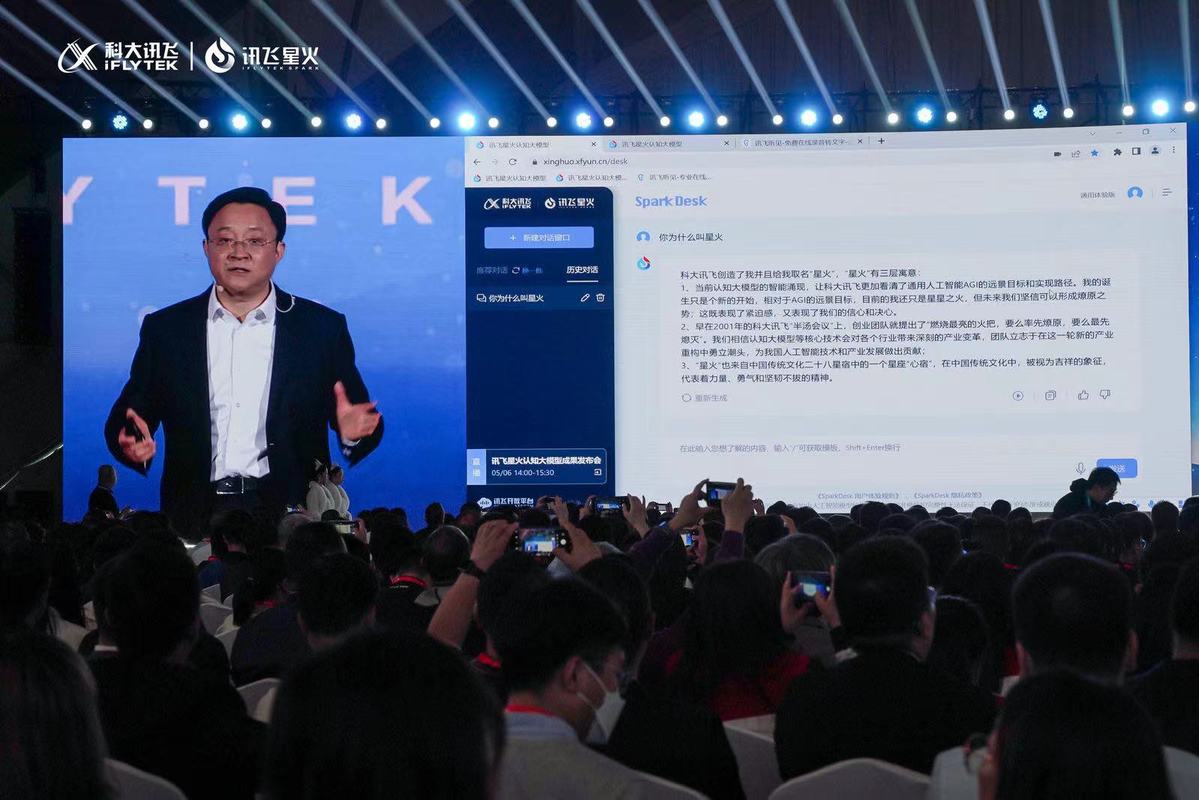 Pioneer among Alibaba and other Chinese big names in generative AI
Chinese artificial intelligence pioneer iFlytek Co Ltd's entry into the chatbot race to rival ChatGPT will intensify the competition in generative AI, the latest tech frontier that has taken the world by storm and is expected to reshape a wide range of sectors, experts said.
Generative AI refers to computer algorithms trained to produce new text, images, code, video or audio. It is the key technology behind ChatGPT, an AI chatbot developed by US-based AI research company OpenAI.
As an acronym for Chat Generative Pre-trained Transformer, ChatGPT has wowed the world by showcasing its versatility in writing essays, checking program bugs and making business plans, which differentiates it from previous narrow AI projects that excel in only one area.
Liu Qingfeng, chairman of iFlytek, introduced the company's homegrown AI large language model SparkDesk at a launch event in Hefei, Anhui province, on Saturday. It is the latest Chinese tech company after Baidu Inc, Alibaba Group Holding Ltd and other domestic counterparts to bet big on the technology.
Large language models are AI models fed with huge amounts of text data for use in a variety of tasks, ranging from natural language processing to machine translation.
iFlytek aims to exceed ChatGPT's capabilities in understanding Chinese language and reach its standards in English, Liu said.
"The impact of this generative AI technology is no less important than that of the birth of the PC or the internet," Liu said. "We need to do our best to learn from ChatGPT and even seek to surpass it."
On Monday, shares of iFlytek surged by the daily limit of 10 percent to 63.86 yuan ($9.23) in Shenzhen.
Pan Helin, co-director of the Digital Economy and Financial Innovation Research Center at Zhejiang University's International Business School, said both established tech heavyweights and startups in China are beefing up the push to develop their own AI-powered large language models and generative AI technologies, which will have significant application potential in fields such as culture, retail, finance, healthcare and education.
On Saturday, Liu from iFlytek held a live demonstration of its SparkDesk chatbot in both consumer-oriented and enterprise-focused applications. He used voice-recognition prompts to ask SparkDesk in Chinese and English to assess student essays and write hypothetical stories about Confucius' attendance at the 2008 Olympics in Beijing.
Market consultancy Gartner predicts that by 2025, generative AI will account for 10 percent of all data created, compared with less than 1 percent last year, and it could be used for activities such as creating software code, facilitating drug development and targeted marketing.
The AI boom is also expected to spur demand for computing power, such as domestic AI servers, cloud computing and chips, as the US government restricted the export of the US company Nvidia's most advanced AI chips to China, experts said.
iFlytek said it has built first-class data centers at its headquarters in Hefei. Specifically, its deep learning computing platform is supported by seven data centers in four cities, laying a good hardware computing foundation for the development of its AI large language model.
The company also said it has developed AI training and reasoning solutions powered by domestic computing platforms.
Bloomberg quoted anonymous sources as saying that US President Joe Biden aims to sign an executive order that will limit investment in key parts of China's economy by US businesses around the time of a summit of the Group of Seven advanced economies that is due to start on May 19 in Japan.
He Guangxi, a researcher at the Chinese Academy of Science and Technology for Development, said the reported new rules indicate that Washington is intensifying its attempts to contain China's tech industry. Such efforts span sanctions on select companies to sweeping restrictions on US investments in Chinese tech companies. But, they will eventually backfire on the development of US businesses, He said.