Beating the odds to pursue kung fu passion
Share - WeChat Editor's note: Kung fu has been gaining popularity in East Africa's Kenya, serving as a bridge for cultural exchanges. This page takes a closer look at two Kenyans with deep connections to kung fu as well as tournaments showcasing kung fu skills in the country.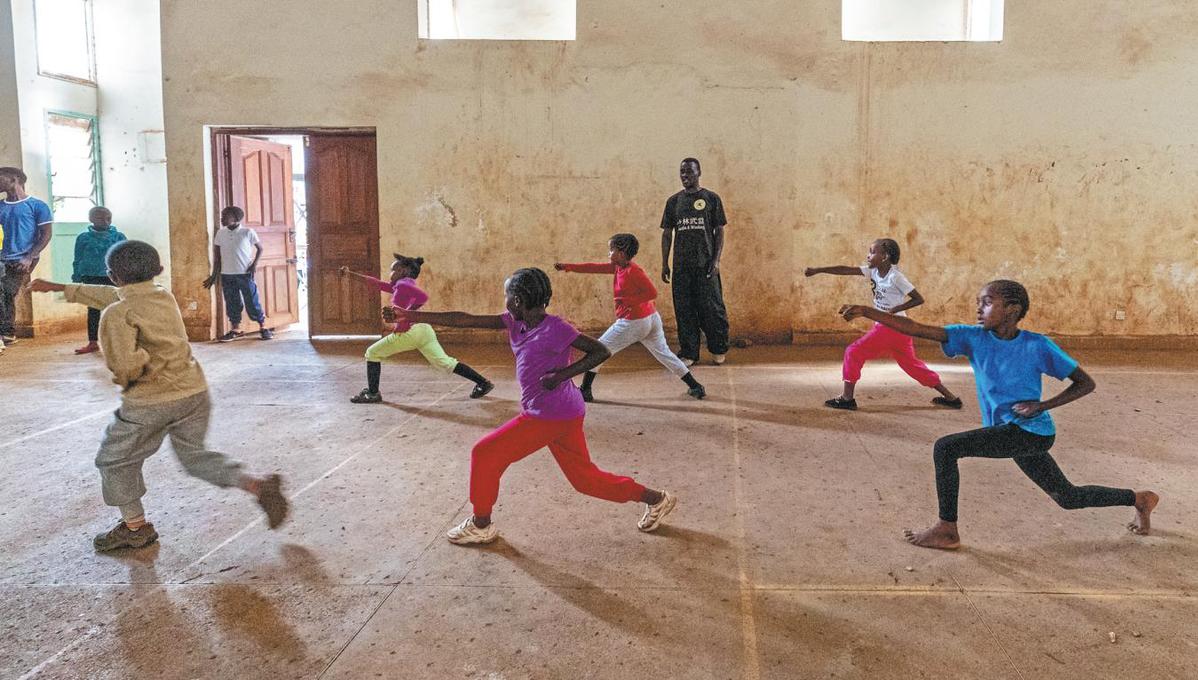 Two Kenyans chart different paths to popularize Chinese martial arts among children, youth
While kung fu is fast becoming popular in Kenya, it has been a tough journey for both Ngaruiya Njonge and Charles Otieno, who have faced odds to hone their skills and are promoting the martial art form in a big way.
They are optimistic it will be embraced across the country and that one day Kenya will have a "Shaolin Temple".
Otieno trains in traditional Shaolin kung fu, while Njonge focuses on modern kung fu.
While traditional kung fu focuses on theory and application of self-defense, contemporary kung fu focuses on performance.
Unlike Njonge who has depended on YouTube to sharpen his skills, Otieno received training at the Shaolin Temple in Central China's Henan province for five years.
However, he has no certificate to prove but for his skills. Hence, it has been an uphill task for him to secure a job in private schools.
A kung fu teacher who recently saw Otieno train at the Confucius Institute at the University of Nairobi, said his kung fu level was above average. "He has trained in a traditional way and you can see (the results)," he said.
Born in Kenya's Siaya County and brought up in Kariobangi in northeastern Nairobi, Otieno was so passionate about kung fu that he gave up studies to pursue martial arts. His father fully supported him.
He met Master Feng Junjie, who was running a business in Nairobi, and also trained him. It was not long before Otieno's training at the Shaolin Temple was sponsored by his father.
In 2005, at the age of 14 — a year after he joined the kung fu program at the temple — his father died. Soon, he lost his mother.
Jiu Wang, a master in the Shaolin Temple, became his guardian. However, Jiu died of depression-related sickness in 2008 after losing his wife and daughter in an accident.
"I was heartbroken," Otieno said. "I had nowhere to go."
With no other option but to leave China, Otieno went to Tanzania, where he received kung fu training for a few years and then left for Zambia, where he worked for three years.
He was asked to teach kung fu to children in the Democratic Republic of Congo, a role he performed for some time.
He returned to Kenya last year. "I'm depressed. I hope that one day I will be recognized as a kung fu master because I have spent all my life on it," he said.
Njonge, on the other hand, was recommended by the county government of Kiambu, enabling him to get a job in private schools. However, it has not been a smooth journey.
Born and brought up in the Kangoya village in Kiambu County, Njonge started training in kung fu after a teacher in a nearby primary school, who was trained in China, introduced martial arts to the villagers.
"Initially, I was practicing karate, but kung fu seemed more interesting," he said.