Cities at US southern border prepare for migrant surge
By MAY ZHOU in Houston | China Daily Global | Updated: 2023-05-10 09:57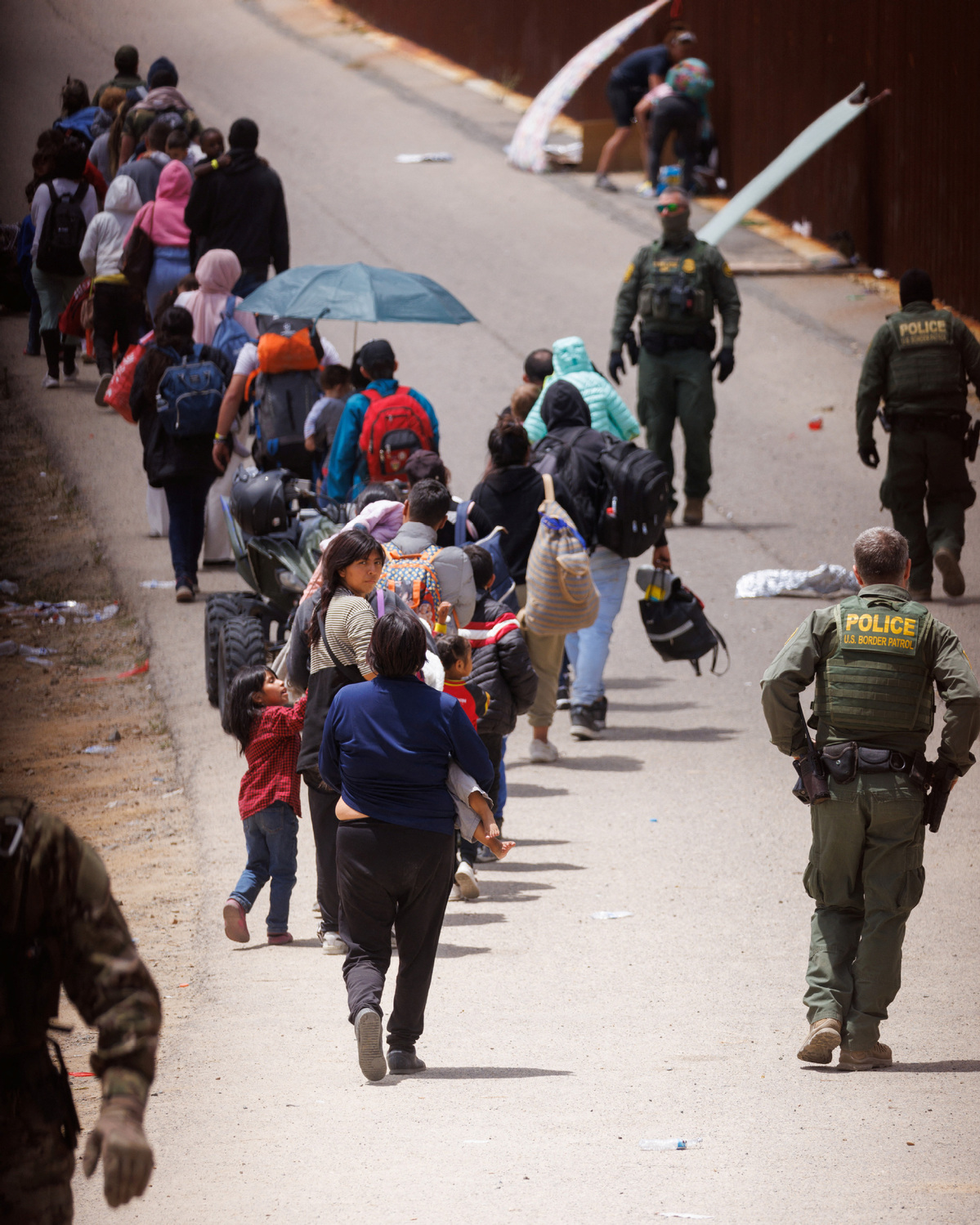 More than 150,000 migrants are waiting in northern Mexico states to cross the US border once the pandemic-era Title 42 policy ends Thursday, according to the federal government.
Enacted by then-President Donald Trump, the policy allowed border officials to immediately turn away illegal migrants at the border.
Now governments at federal, state and city levels are scrambling to prepare for the anticipated surge of migrants once the policy expires.
Texas Governor Greg Abbott announced Monday that he is deploying 450 National Guard troops to the southern border in anticipation of a surge of migrants.
Called the Texas Tactical Border Force, they will be deployed to El Paso and the Rio Grande Valley by Tuesday, Abbott said.
Last week, the Biden administration announced a plan to deploy 1,500 active-duty military members to the southern border this week, at the request of the Homeland Security Department.
For 90 days, military personnel will perform administrative duties and free up border patrol personnel to work in the field.
"Military personnel will not directly participate in law enforcement activities. This deployment to the border is consistent with other forms of military support to DHS over many years," Pentagon press secretary Pat Ryder said in a statement.
In El Paso, a major border city in Texas, Mayor Oscar Leeser declared a state of emergency beginning May 1.
When the announcement was made, there were already more than 2,000 migrants sleeping on sidewalks near shelters in El Paso. Unconfirmed reports estimated that up to 35,000 asylum seekers are waiting in Juárez, Mexico, which is connected to El Paso by a bridge, to cross the United States border when Title 42 expires, reported the El Paso Times.
Leeser said that the emergency declaration allows the city to open temporary shelters to the anticipated influx of migrants.
In Brownsville, another major border city in Texas, roughly 2,500 migrants have crossed through the river daily into the city in the past few days, according to The Associated Press.
However, the city has the capacity to process only 1,000 migrants a day. It also declared a state of emergency due to the current and anticipated influx of migrants.
According to Homeland Security, the US-Mexico border crossings have reached more than 8,000 in recent days. That number is expected to reach around 10,000 after Title 42 is lifted, reported CNN.
The federal government estimated that more than 150,000 migrants were waiting in northern Mexico states last weekend. That includes 60,000 in the Mexican state of Chihuahua, 35,000 in the state of Tamaulipas, and 25,000 in the state of Coahuila, according to CNN.
With Title 42 ending, the US will deport migrants under Title 8, and migrants entering illegally are not eligible for asylum and could be barred from entering the US for at least five years or face criminal charges if they get caught crossing illegally again.
However, processing time under Title 8 would take longer, which could further strain border resources.
Beyond the southern border, some northern US cities are preparing to deal with the anticipated surge as buses with migrants started to arrive in New York City last week again after a halt for a few months, The Wall Street Journal reported.
New York started sheltering migrants in the gym of the former police academy in Manhattan on May 4. Mayor Eric Adams announced the next day that the city will send willing migrants to other neighboring New York communities, including Orange and Rockland counties, just north of the city.
Both counties have resisted and declared a state of emergency following Adams' announcement. The state of emergency in Rockland prohibits other municipalities from sending migrants there.
New York is anticipating 800 migrants will arrive in the city daily after Title 42 ends. CNN reported that an internal city memo indicated that the city is looking at possible solutions, which include tents in Central Park.
In Chicago, where about 8,100 migrants have been sent by border states, there has been such a shortage of shelter that Chicago Mayor Lori Lightfoot sent an open letter to Abbott imploring him not to resume sending buses with migrants.
Abbott suggested that Lightfoot ask President Joe Biden to control the border.
Agencies contributed to this story.