FM calls for Berlin to reject decoupling
By ZHANG YUNBI | chinadaily.com.cn | Updated: 2023-05-11 00:15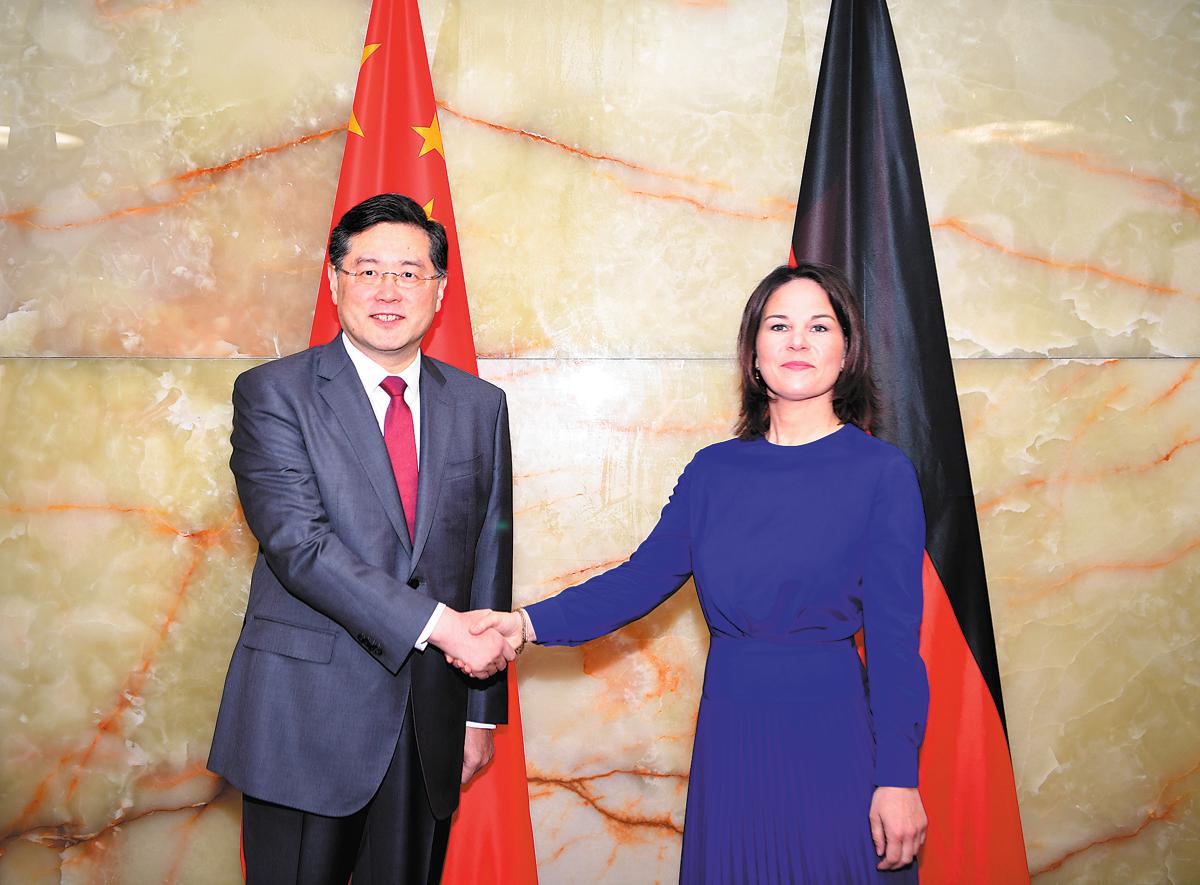 Through the latest visit to Germany by State Councilor and Foreign Minister Qin Gang, both Beijing and Berlin have displayed great expectations about upcoming landmark high-level exchanges and collaboration in a wide range of fields in the post-pandemic era, observers said.
China and Germany should stand firmly together and deliver more practical outcomes in the near future and beyond to offset voices urging economic decoupling or seeking to encourage strategic rivalry between the two nations, officials and experts said.
Qin, on his first trip to Europe since becoming State Councilor, started his five-day visit to Germany, France and Norway on Monday.
At his meeting on Tuesday with German Foreign Minister Annalena Baerbock, they made preparations for upcoming seventh round of China-Germany intergovernmental consultation, the first of its kind to be held in a face-to-face format in the post-pandemic era.
Both sides agreed to "make encompassing plans for the two countries' pragmatic cooperation in various fields in the coming period of time", Foreign Ministry spokesman Wang Wenbin said on Wednesday.
Beijing and Berlin agreed to reinforce coordination in multilateral domains and step up cooperation in areas such as climate change and biodiversity, according to Wang.
At the meeting on Tuesday, Qin said that China and Germany should jointly oppose a "new Cold War" and "decoupling economies or severing supply chains", and inject confidence and impetus into world peace and prosperity.
Cui Hongjian, director of the China Institute of International Studies' European Studies Department, noted that economic and trade cooperation between China and Germany is highly complementary and serves economic globalization.
"Their relations, based on economic mutual benefits and inclusiveness, are also a major driving force for Berlin's efforts in bolstering its own diplomatic influence," he added.
Qin's visit took place amid rising calls in the European Union for limiting or restricting the EU's relations with China — a concept also known as "de-risking", as well as an increasingly assertive stance being taken in the bloc against so-called "threats" in fields such as supply chains.
In response to such moves, Qin said at a joint news conference following the talks in Berlin that Beijing endorses the position taken by Germany and the EU about rejecting economic decoupling with China, but it is also concerned by calls in the EU for "de-risking".
"What China brings to the world is opportunities, cooperation, stability and reassurance rather than crisis, confrontation, turbulence and risks," he said.
Phasing out engagement with China on the pretext of "de-risking" is actually "phasing out opportunities, cooperation, stability, and development", he warned.
Germany, the EU and China should all adhere to international trade rules and the spirit of contract and continue to open up to each other, he said, adding that economic, trade and investment cooperation must not be politicized and the market should not be interfered with.
Qin warned that it is worth noting that some countries are launching a "new Cold War", and that this is a real risk that deserves attention.
He referred to a research report recently issued by an Austrian think tank which estimated that in the event of economic decoupling with China, Germany will suffer from a drop in its annual GDP of around two percentage points, equivalent to about 60 billion euros ($65.7 billion).
Feng Zhongping, director of Chinese Academy of Social Sciences' Institute of European Studies, noted that "challenges remain in terms of China-EU ties because some political figures in Europe prefer to highlight the two sides' differences in tackling the Ukraine crisis and label China as a systemic rival, and many of them have been influenced by Washington as well".
Beijing, Berlin and Brussels have a lot of work to do to fix the problems in this regard, he said.
"China-EU ties are a key part of China's diplomacy, and currently the relations have shown the signs of a rebound. It is one of the top priorities for both sides to keep this momentum steady and sound in the long term," he added.