ASEAN leaders call for unity
By PRIME SARMIENTO in Hong Kong and LEONARDUS JEGHO in Labuan Bajo, Indonesia | China Daily | Updated: 2023-05-11 07:01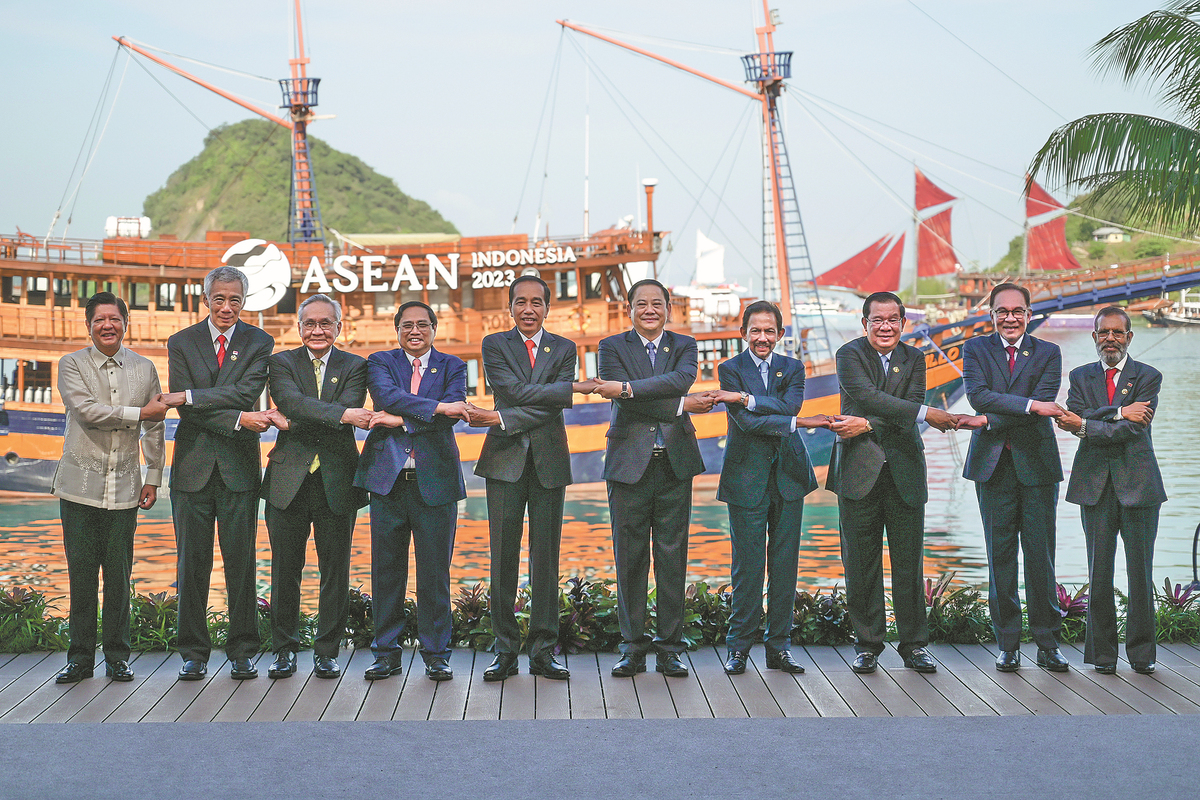 Bloc members stress region's role as center of global economic growth
Leaders of the Association of Southeast Asian Nations opened their two-day leaders' meeting of the 42nd ASEAN Summit by stressing the region's role as a center of global economic growth with unity.
Indonesia's President Joko Widodo, this year's rotating chairman of ASEAN, welcomed the group leaders in Labuan Bajo, a fishing village on Flores Island in Indonesia's East Nusa Tenggara Province. With the sapphire-hued Flores Sea as a backdrop, Widodo delivered his opening remarks by citing geopolitical uncertainties and how the global economy is yet to fully recover from the pandemic.
"The question is: Would ASEAN remain a spectator? Would ASEAN remain silent? Would ASEAN be capable of becoming a driver for peace and growth? I am sure we all believe that ASEAN can, provided that (we stick to) this key: Unity," Widodo said.
A united ASEAN can be a central player in bringing peace and development, Widodo said, adding that ASEAN must strengthen its economic integration, strengthen inclusive cooperation, including the implementation of the Regional Comprehensive Economic Partnership, and strengthen the health, food, and energy architecture, as well as maintain financial stability.
"Let us work hard to make ASEAN matters an epicenter of growth," he said, citing the theme of this year's summit.
Mark Richard Thompson, director of the Southeast Asia Research Centre at the City University of Hong Kong, said Indonesia is "ideally placed" as this year's rotating chair of the regional bloc as the archipelago is in fact an "economic success story". This is a reflection of ASEAN's economic growth, he said. Thompson, citing data from the Asian Development Bank, has praised the region's ability to rebound from the pandemic.
Strong tourism performance and robust domestic demand are boosting Southeast Asian economies, said the ADB, which has forecast the region to grow by 4.7 percent this year and by 5 percent next year.
Thompson also credited Indonesia's support for Timor-Leste's bid to become the 11th member of ASEAN, noting that the regional bloc has a history of bringing in members across ideological divide.
ASEAN agreed in principle to admit Timor-Leste to be its 11th member at the summit chaired by Cambodia in November. One of the expected outcomes of this year's summit is a road map for Timor-Leste's full membership.
Timor-Leste's Prime Minister Taur Matan Ruak, who attended the leaders' meeting as an observer, thanked Widodo for inviting him to take part in the ASEAN Summit.
New chapter
"This is my first time attending ASEAN Summit and this provides a new chapter for the history of our country," Ruak said. He also expressed his gratitude to all ASEAN leaders for their support and commitment.
Ruak said Timor-Leste is developing its infrastructure so that it can meet its obligations as an ASEAN member. These include expanding the international airport at the capital city of Dili, establishing optical cables for secure communication and investing in hotels and conference facilities.
Widodo also delivered a speech before the ASEAN-BAC (Business Advisory Council). Widodo said he was grateful for the cooperation between the government and the private sector during the pandemic.
"Future challenges will remain very grave, geopolitical risks will remain very big, and financial institutions of the US and Europe are falling," he said.
Widodo urged for stronger public-private collaboration to keep ASEAN as an epicenter of growth.
Other leaders at the meeting echoed ASEAN centrality and eagerness to sustain economic recovery and common development. They also showed due care for stability in Myanmar, whose leader was not present at the meeting.
Leonardus Jegho is a freelance journalist for China Daily.