Rescue work underway in DR Congo
By OTIATO OPALI in Nairobi, Kenya | China Daily | Updated: 2023-05-11 09:19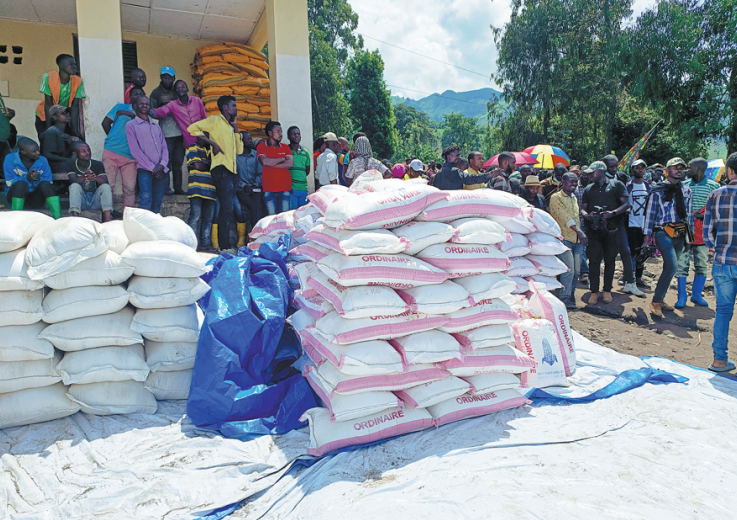 Efforts to rescue missing residents and recover bodies are underway with at least 400 people confirmed dead, following powerful floods and landslides that hit the Democratic Republic of Congo's South Kivu Province last week.
In its latest communique released on Tuesday, the United Nations' Office for the Coordination of Humanitarian Affairs said that the flash floods and landslides witnessed in eastern DR Congo on May 4 and 5 have injured at least 150 people. They added that the most pressing need is to organize the evacuation of severely injured people to ensure they get timely and appropriate medical care.
The severe flooding after torrential rains that hit the country last week is said to have wiped out entire villages together with crops and livestock, leaving thousands of people missing and many survivors homeless.
"Poor living and sanitation conditions in the aftermath of floods create a high risk of disease such as skin infections and diarrheal diseases, especially in this area close to Lake Kivu where cholera is endemic," the UN statement said.
"Shelter, food, and other basic supplies are urgently needed for these communities who have lost everything. We are also seeing children who have lost their parents and need protection."
Warning on outbreaks
Last month, the UN warned that heavy flooding due to seasonal rains and tropical cyclones could lead to cholera outbreaks in 12 African countries, with South Africa, Tanzania and Zimbabwe being the latest to detect the waterborne disease.
In Rwanda, at least 130 people have died amid severe flooding and landslides that hit the East African country in early May, with thousands displaced as entire villages were engulfed. Beyond the 5,000 homes, 17 roads and 26 bridges destroyed, a whole hospital was lost amid torrential rain that followed an extended drought.
On Monday, Rwanda's President Paul Kagame convened an extraordinary Cabinet meeting to discuss his government's response following the recent floods and landslides that affected parts of the Western, Northern and Southern provinces. The Cabinet approved an emergency response plan aimed at reinforcing efforts to provide urgent relief to communities affected by the flooding.
In neighboring Kenya, authorities have said that floods continue to cause havoc for several communities, impacting about 5,000 families in the west and northeast of the country over the last week.
In its latest forecast last week, the Kenya Meteorological Department issued a warning of enhanced rainfall and strong winds across the country.
In West Africa, the Nigerian government announced in April that following floods that hit the country since June 2022, a response is being organized through a major Niger River flood training and control project, which will be implemented in partnership with Chinese companies.