Experts' take on China-US relations
China Daily | Updated: 2023-05-15 07:22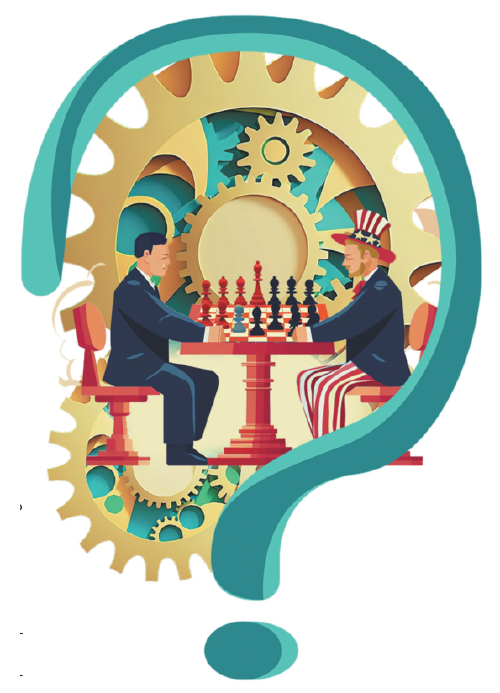 Editor's note: As the world's two largest economies, China and the US need to strengthen communication and cooperation, desist from interfering in each other's domestic affairs and, at the same time, shoulder their respective international responsibilities, and work together to advance world peace and development. Three experts share their views on the issue with China Daily.

The 'seven-C' guardrail preventing Sino-US conflict
By Tom Watkins
The road before us is dangerous with diplomatic dark clouds hanging overhead. So China and the United States should keep aside their rivalry and recalibrate their relationship in the interests of all to bring peace and prosperity to the world. The two sides also need to jointly build "guardrails" to manage their growing strategic competition.
The current tension between the two largest economies is palpable and is shaking the world. There is fear that Sino-US relations are heading toward conflict or, God forbid, a devastating war.
The rivalry between the two countries has grown as have China's economy, national strength and scientific and technological capabilities, making it exceedingly difficult for the West to simply thump its chest and expect China to fall in line. We need leaders on both sides of the Pacific to artfully manage this delicate relationship in order to avoid a head-on collision that would be catastrophic for all.
I have been a participant-observer of China's rise since my youth in the 1960s and while crisscrossing China since 1989. I've kept my eyes wide open in my effort to understand and explain to Western audiences all I have learned and experienced while striving to build cultural, educational and economic bridges between our two nations. Clearly, our two countries see the world from different perspectives. Yet both need to take a broader view of the world if we wish to pass down peace and prosperity to our children and grandchildren.
Of late, the two countries' decisions have exacerbated tensions and mistrust, instead of lessening them, which does not bode well for either China, or the US or the rest of the world.
It is imperative that we find ways to maintain open dialogue, focusing on the "seven Cs" — maintaining communication, collaboration, cooperation, coordination and competition while avoiding confrontation and conflict.
Since the founding of the People's Republic in 1949, the relationship between China and the US has experienced periods of both tension and cooperation over many issues including trade, climate change, and the Taiwan question. Yet the two sides have sensibly navigated forward.
Today, the US and Chinese economies are as intertwined as a bowl of noodles. The two sides are also major global powers. All major global issues intersect at the corner of Beijing and Washington. And how our leaders resolve those issues will shape the future world.
Only by understanding each other can the US and China avoid a fate worse than any 20th century conflict. Are a rising power and an established power always destined to engage in a conflict, as the "Thucydides' trap" theory claims? The world wants a resounding "no" as the answer.
I believe that the best strategy for the US to thrive despite China's rise is simply to not stand in opposition to China and, instead, aggressively invest in the US and US citizens.
China's transformation into the world's second-largest economy is nothing short of remarkable. China should take a bow for its accomplishments, which have benefited so many people. For instance, China has lifted more than 800 million people out of extreme poverty, accounting for more than 75 percent of global poverty reduction, a feat the world has never seen before. A stable, economically advancing China benefits all.
It is easy at times like these to pile on the grievances we have against each other. But we need to stop playing a game of see-saw, in which one side must go down for the other to go up. An armed conflict would pull both countries as well as the rest of the world down to their knees.
Our two nations need to reset their relations. US President Joe Biden and Chinese President Xi Jinping could surprise the world by announcing another "Nixon goes to China" moment by jointly proposing a Nobel Peace Prize-worthy idea such as a "G2 Action Plan on Global Health", a joint pledge for a shared vision and common agenda with specific, measurable goals to make the planet a better place. By working together to help end the Russia-Ukraine conflict. By joining hands to fight climate change, prevent pandemics and nuclear proliferation, and alleviate global hunger. And be the leaders the world needs.
Zero-sum games can only lead to mutual destruction. The relationship between our two nations is the foundation for world peace, a common ground that allows diplomatic solutions to work around issues that divide us.
We need a path that allows for mutual strategic interests, sovereignty over our respective internal affairs and a genuine design to improve the lives of all. The consequences of not finding a smooth way forward are too dire to contemplate. What kind of future are we heading toward if our leaders choose conflict over peace?
We need to work together to solve global existential threats and chip away at vexing problems to prevent a single spark from igniting a raging fire.
Let peace and prosperity prevail.
The author is president and CEO of TDW and Associates, a US-based business and education consulting firm.