Texas' grim choice: guns or mental health
By MAY ZHOU in Houston | China Daily Global | Updated: 2023-05-15 10:06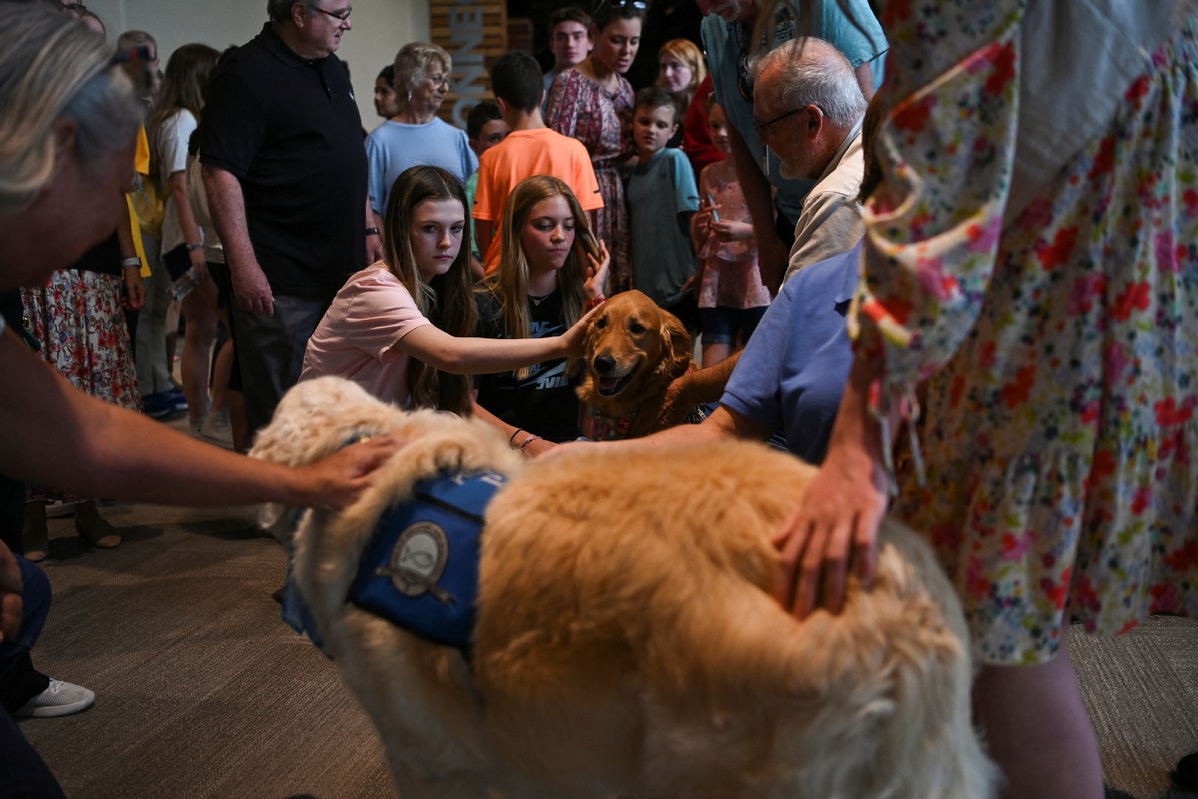 Following a shooting at a shopping mall on May 6 in which eight people were killed, the Governor of Texas, Greg Abbott, said the way to prevent such killings was to tackle mental health issues. Yet the state's mental health services have been severely rundown since he became governor eight years ago.
According to Mental Health America, for the overall ranking of mental health, Texas' national rank went from 27th to 44th based on its report of 2022 State of Mental Health in America, which compared figures of 2017-18 with those of 2018-19.
When it comes to mental health services for young people, Texas' rank went from 30th place to 41st because more children were not covered for such services. And more than 40 percent of Texas adults did not see a doctor for cognitive disability because for them it cost too much.
When it comes to access to mental health services, Texas ranked the worst in the country, and for the prevalence of mental health problems, the state ranked fourth.
Houston Public Media reported on Thursday that mass shootings like the one in Allen prompt calls for gun reforms and finger-pointing at mental health issues, but change rarely happens on either, and some lawmakers blame mental health issues, not guns, for mass shootings.
"We are working to address that anger and violence by going to its root cause, which is addressing the mental health problems behind it," Abbott was quoted as telling Fox News.
Critics say lawmakers use mental health as a way to distract from their lack of action on gun reforms, said the report, quoting Nicole Golden, the executive director of Texas Gun Sense, as saying that "it's a way those who know that they're not going to vote with us for political reasons on sensible gun safety measures are trying to distract and divert the conversation to another direction."
The Texas Department of Public Safety's Regional Director Hank Sibley said that the government should be strengthening the background check system. "Multiple bills in the legislature aimed to do that. But Golden said most didn't move forward," the report said.
Golden said most people support common sense gun reforms, like background checks and increasing the age to buy a firearm in Texas to 21. A University of Texas at Austin survey found that 76 percent of Texans said they support raising the age. But Abbott has said he opposes doing so, it added.
Last year Abbott reallocated $210.7 million from Texas Health and Human Services to fund a border protection program. Even though the fund was later replenished, it is unclear that mental health services were not interrupted or affected.
At the same time, Abbott has done much to relax the state's gun regulations, and the number of firearm-related deaths has reached a record high for the past decade.
In 2014, the year before Abbott became governor, there were 2,848 firearm-related deaths in Texas, a rate of 10.7 per 100,000 people. That number has steadily climbed each year, and there were 4,613 such deaths, 15.6 per 100,000, in 2021, the Centers for Disease Control and Prevention said.
Since 2015, the Republican-controlled state legislature has passed scores of laws to relax gun control, a few of them major changes. That year a "campus carry law" was passed, allowing people with handgun licenses to carry concealed handguns on college campuses. Previously, firearms were banned at schools and educational institutions.
The next year an "open carry law "was passed, allowing people with a license to carry a handgun openly in public places where it is allowed.
Regulations were further relaxed when "permitless carry" measures were adopted in 2021. These allow anyone 21 or over to carry a handgun openly or concealed in public places where it is allowed without obtaining a license.
A man who did not want his girlfriend to get an abortion fatally shot her during a confrontation in a Dallas parking lot, police said, The Associated Press reported. The man was jailed on a murder charge as of Friday.
Gabriella Gonzalez was with her boyfriend, Harold Thompson, on Wednesday when he tried to put her in a chokehold, according to an arrest warrant affidavit.
Xinhua and agencies contributed to this story.