Humanitarian crisis worsens as Sudan conflict prolongs
China Daily | Updated: 2023-05-16 09:29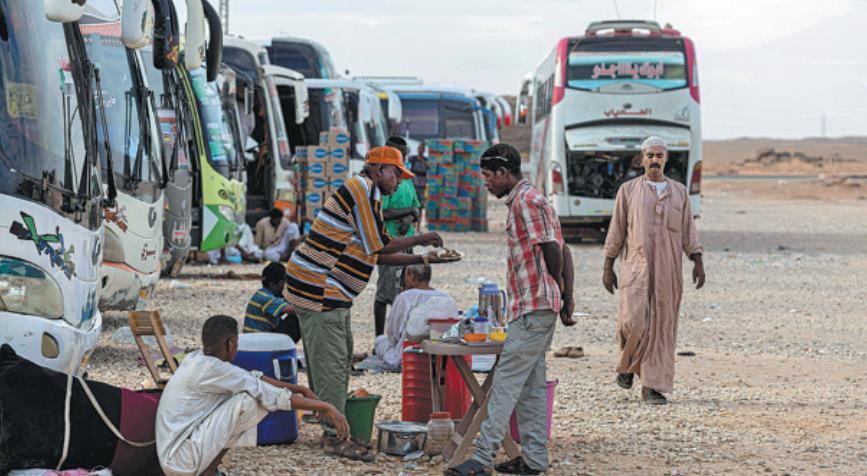 KHARTOUM — A United Nations report has warned that the humanitarian crisis in Sudan will continue to worsen as hopes are dim for an end to the brutal conflict, now in its second month.
At least 676 people have been killed in clashes between the Sudanese Army and the Rapid Support Forces, or RSF, according to the United Nations Office for the Coordination of Humanitarian Affairs, or OCHA.
The agency reported that more than 936,000 people have been displaced by the conflict since April 15, including about 736,200 internally displaced. About 200,000 have taken refuge in neighboring Egypt, Ethiopia, Chad and South Sudan.
Sudan's health ministry said the bulk of the deaths had occurred in Darfur. It reported 199 fatalities in the nation's capital, Khartoum, while at least 450 people were killed as of May 10 in El Geneina, the capital of West Darfur state, and surrounding areas.
Across Khartoum, those still alive remain barricaded, hoping to dodge stray bullets and enduring desperate shortages of food and basic supplies. There are power blackouts, a lack of cash, communications outages, and runaway inflation.
The UN said it is estimated that about 15.8 million Sudanese, about one-third of the population, will need humanitarian aid this year, and the figure is likely to increase because of the conflict.
Since clashes broke out, aid agencies have been looted and at least 18 humanitarian workers were killed.
Sudan has been witnessing deadly armed clashes between the Sudanese Armed Forces and the paramilitary Rapid Support Forces in Khartoum and other areas since April 15, with the two sides accusing each other of initiating the conflict.
Despite all the bullets, aerial bombardments and anti-aircraft fire since then, neither side has been able to seize the battlefield advantage.
On May 11, the two parties met in the Saudi port city of Jeddah and signed the Declaration of Commitment to Protect the Civilians of Sudan, to facilitate the delivery of emergency humanitarian aid and guarantee the safe evacuation of civilians. However, the two sides have accused each other of breaching the deal and continuing the clashes.
On Sunday, Abdel Fattah al-Burhan, head of the Sudanese army, issued a decision to freeze the bank accounts of RSF and its affiliated companies, his office said in a statement.
In the absence of "a significant change of mindset from the warring parties, it is hard to see that commitments on paper will be fulfilled", said Aly Verjee, a researcher on Sudan studies at the University of Gothenburg, Sweden.
Verjee said the fighting across the country has destroyed workshops and factories and caused "the partial deindustrialization of Sudan".
Aid group Doctors Without Borders said food shortages in Darfur displacement camps mean that people have gone from three meals a day to just one.
"This means that any future Sudan will be much poorer for much longer," said Verjee.
Agencies Via Xinhua