Tourism boosts South Africa's recovery
By NDUMISO MLILO in Johannesburg, South Africa | China Daily | Updated: 2023-05-16 09:52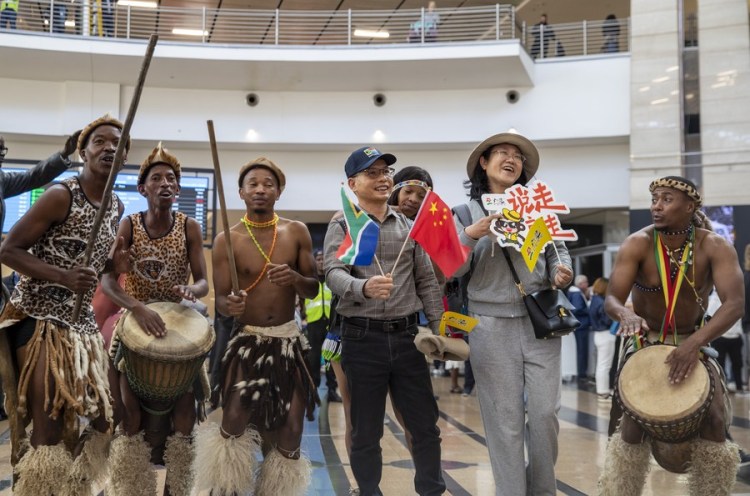 Tourism in South Africa has rebounded quickly this year, though still below pre-COVID-19 levels, according to a senior tourism official, who expects a growing number of visitors, including from China, to boost the country's recovery.
Some 2.1 million travelers visited South Africa in the first quarter of 2023, up by 103 percent compared with the same period last year and almost 80 percent of the 2019 figure, according to the Department of Tourism. Foreign direct spending increased by almost 150 percent to $1.4 billion.
Fish Mahlalela, deputy minister of tourism, predicts the rebound will continue and said that Western Cape, Mpumalanga and Gauteng provinces have already reached pre-COVID-19 levels in tourism.
The country is focusing its efforts on key source markets including the United Kingdom, the United States, India and China, he said, adding that group tours from China this year will assist in the recovery in South Africa and Africa.
"China is the biggest market. We have good relations with the Chinese people and government," Mahlalela said. "As BRICS members, we have an agreement to encourage our citizens to visit each other's countries. BRICS countries constitute the biggest population in the world."
He said that South Africa's recovery plan for the tourism sector has shown signs of success.
E-visa service
To attract international visitors, the country is offering an e-visa service to citizens from 14 nations, including Algeria, Cameroon, Croatia, Cuba, China, Kenya and Nigeria, and authorities are planning to add 20 more countries.
After introducing the e-visa, visitors from Kenya significantly increased in the first three months compared with last year and other countries, said Mahlalela. Other factors such as improving security at tourist destinations also have helped increase visitor numbers.
Abel Yifru, area manager in South Africa for Ethiopian Airways, said the airline is also recovering after the pandemic. The airline, which has reopened existing routes and is opening new international routes, has flights from Ethiopia to five Chinese cities, including Guangzhou, Beijing and Shanghai.
"China has always been the biggest market for us," he said. "We're creating business opportunities for Chinese and Africans and bringing many Chinese tourists to different African countries."
Elise Hashikutuva, deputy director of tourism and development in Namibia, said her country is receiving tourists from China but fewer than the expected numbers. It is working on a memorandum of understanding with China that will involve cooperation in airlines, national tourism boards and other areas.
"We're pushing so that we can reach pre-COVID-19 levels, and we're doing well on that," she said. "We have strong ties with China, and once the MoU is concluded we expect more cooperation. We want to strengthen relations and make sure the Chinese come and enjoy the Namibian hospitality."
The writer is a freelance journalist for China Daily.