Translating classics a story of endeavor
China Daily | Updated: 2023-05-16 14:25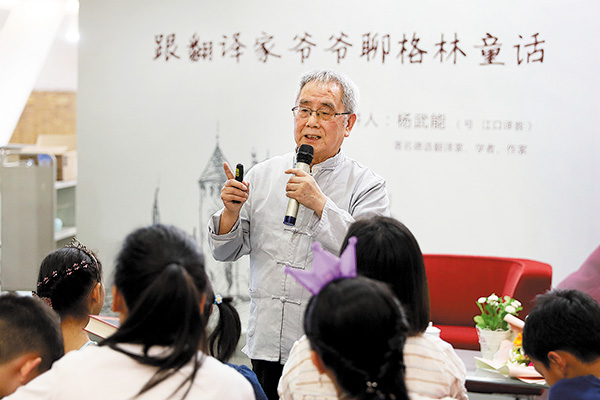 CHONGQING — From Grimm's Fairy Tales to Magic Mountain, from The Sorrows of Young Werther to Siddhartha, Yang Wuneng has translated more than 30 German classics into Chinese and boasts millions of readers in China. At 85, he is determined to stay healthy and live longer for the career he loves.
"I slept six hours last night, including two hours of deep sleep," said Yang, as he showed his smartwatch during an interview earlier in April, adding that he had not slept that long for years.
He became a celebrity in China last year after a documentary about his work went viral on Bilibili, one of the country's largest online video platforms. It has renewed Chinese readers' interest in German literature and many avid young readers who grew up reading Yang's translation of Grimm's Fairy Tales are now reading his Magic Mountain and Narcissus and Goldmund.
Yang translated The Sorrows of Young Werther in 1981, when he was studying for a master's degree in Beijing. More than 1 million copies have been sold since and the book served as a source of literary enlightenment for many Chinese readers.
Born into a worker's family in Southwest China's Chongqing, Yang said he became a translator by chance. In his younger days, he dreamed of becoming an electrical engineer, but was denied entry into a polytechnic university because he was colorblind. In 1957, he entered Nanjing University in East China's Jiangsu province to study German, and began translating German essays and stories for local newspapers to support his family with the earnings.
In this way, he embarked on a literary translation career that was to last more than 60 years.
He continued his studies in Germany, spending decades translating and retranslating German classics and winning many awards, including the German Federal Cross of Merit and Goethe Medal.
This year, 22 volumes of Yang's translations of German literary classics will be published.
Yang compared his career as a translator to "running uphill", something he enjoys doing due to the geographical conditions of his home city of Chongqing. He spent 20 years translating Magic Mountain, which, to him, was like an exploration of a unique and amazing new world. "This enabled me to observe myself and the world with a new vision, and I would say that's the most charming part of being a translator."
Yang loves communicating with his readers by telling the stories behind the works through his account on the social media platform WeChat, as well as at cultural events hosted by local libraries.
"One eye is full of tears and the other, of laughter … Yet with only one heart, how can I hold two lands, and twice my nostalgia?" he wrote in a poem in fond memory of Germany, which is like his second home.
Xinhua