Debt row trims Biden's Asia trip
China Daily Global | Updated: 2023-05-18 07:14
US leader limps into truncated journey amid crisis expected to tear up global economy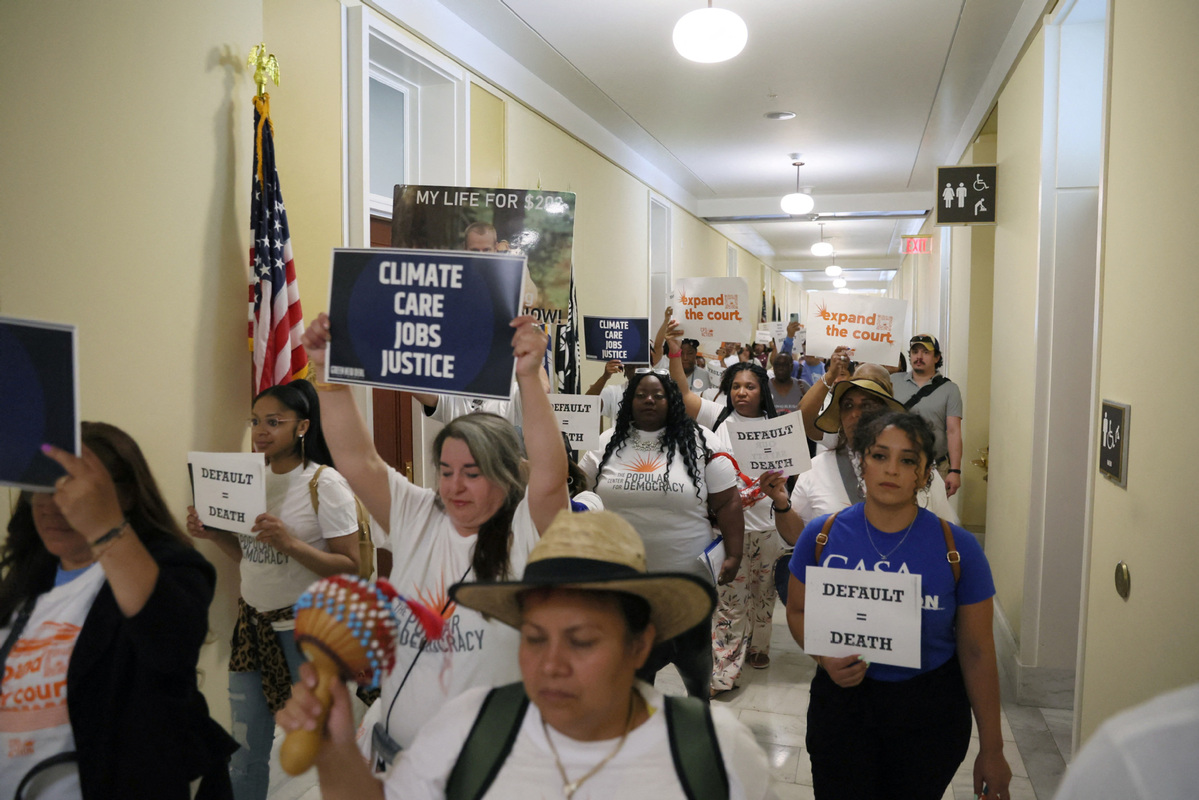 WASHINGTON — Joe Biden and opposition Republican leaders on Tuesday offered hope of a deal that could avoid a catastrophic debt default in the United States, although the president was forced to shorten an upcoming Asia-Pacific tour for further crisis talks.
After the latest negotiations ended without a breakthrough, Republican House of Representatives Speaker Kevin McCarthy told reporters there was still "a lot of work to do" to break the high-stakes standoff with Democrat Biden over the borrowing limit.
While start differences remained, the White House said Biden was "optimistic that there is a path to a responsible, bipartisan budget agreement if both sides negotiate in good faith".
The US president — who was scheduled to arrive in Japan on Thursday for a G7 summit — scrapped subsequent stops in Papua New Guinea and Australia, instead returning to Washington on Sunday.
Canceling the Papua New Guinea and Australia stops will have been a bitter pill for a president who has reinvigorated US diplomacy after the isolationist Trump years, Agence France-Presse commented.
For Biden, 80, the trip and the debt ceiling mess come at a crucial time. He has just launched his reelection campaign and Americans wary about his age are watching how he copes in the furnace of the presidency at home and abroad.
In Washington, the Treasury has warned of grim consequences if the country runs out of cash to pay its bills, which would leave it unable to pay federal workers and trigger a likely surge in interest rates with knock-on effects for businesses, mortgages — and global markets.
The US could begin defaulting on its debts "potentially as early as June 1," Treasury Secretary Janet Yellen said on Monday, while the nonpartisan Congressional Budget Office has forecast June 15.
The White House said Biden had directed his staff "to continue to meet daily on outstanding issues", and that he would confer with Republican leaders on his return from the G7 meetings.
Republicans have continued to insist Biden agree to significant spending cuts in exchange for their support to raise the debt ceiling, ignoring Democratic calls for a "clean" increase of the borrowing limit with no strings attached.
Democrats have accused Republicans of using extreme tactics to push their agenda ahead of the so-called "X-date" at which the United States starts defaulting on its debts.
In a sign of growing nervousness over what would be the first-ever US debt default, more than 140 top US chief executives sent a letter to Biden and congressional leaders stressing the need for an agreement.
Devastating scenario
"We strongly urge that an accord be reached quickly so that the country can avert this potentially devastating scenario," the letter, signed by CEOs of Pfizer and Morgan Stanley, among others, said.
Republicans, who regained control of the House in the 2022 midterm elections, are using their newfound clout to demand cuts of $130 billion from federal agencies and programs in exchange for support for lifting the debt ceiling.
This would limit spending in the 2024 fiscal year to 2022 levels.
They also want to expedite domestic energy production projects, simplify the process for obtaining permits for pipelines and refineries and claw back unspent COVID-19 relief funding.
There are now only three days remaining when the House and Senate are both in session before June 1 — the day the Treasury predicts the country could run out of money.
As the X-date draws closer, Democrats in Congress have begun considering a range of alternatives, including using an arcane congressional procedure to bypass McCarthy.
AGENCIES VIA XINHUA