Visitors journey through space and time on unique tour
By ZHANG KUN in Shanghai | China Daily | Updated: 2023-05-19 11:58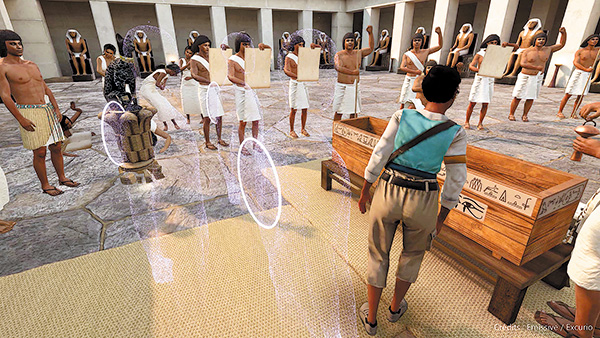 A new exhibition in Shanghai takes visitors on a journey to ancient Egypt, where they can explore inside the Great Pyramid, visit spaces previously closed to the public and attend the funeral of the Pharaoh Khufu.
The Horizon of Khufu: A Journey in Ancient Egypt opened on Saturday at HKRI Taikoo Hui in downtown Shanghai and will run for four months. Jointly presented by LWA Brand Management and HKRI Taikoo Hui, the exhibition is an immersive expedition created by French company Excurio, an award-winning developer of virtual and augmented reality solutions.
The exhibition in Shanghai marks the first overseas stop for the international tour of the project, following domestic runs in Paris and Lyon last year.
The Horizon of Khufu has been conceived in partnership with Peter Der Manuelian, professor of Egyptology at Harvard University and director of the Giza Project. He and his team supervised the making of this experience, ensuring its scientific accuracy through the application of architectural and historical data in the reproduction of the site and reenactment of ancient practices.
According to Fabien Barati, CEO and cofounder of Excurio, "Our ambition is to create a new standard with this immersive experience.
"We would like to develop this type of immersive experience for cultural heritage sites in China as well," Barati says.