WHO chief hails start of post-COVID new era
By JULIAN SHEA in London | China Daily Global | Updated: 2023-05-22 09:39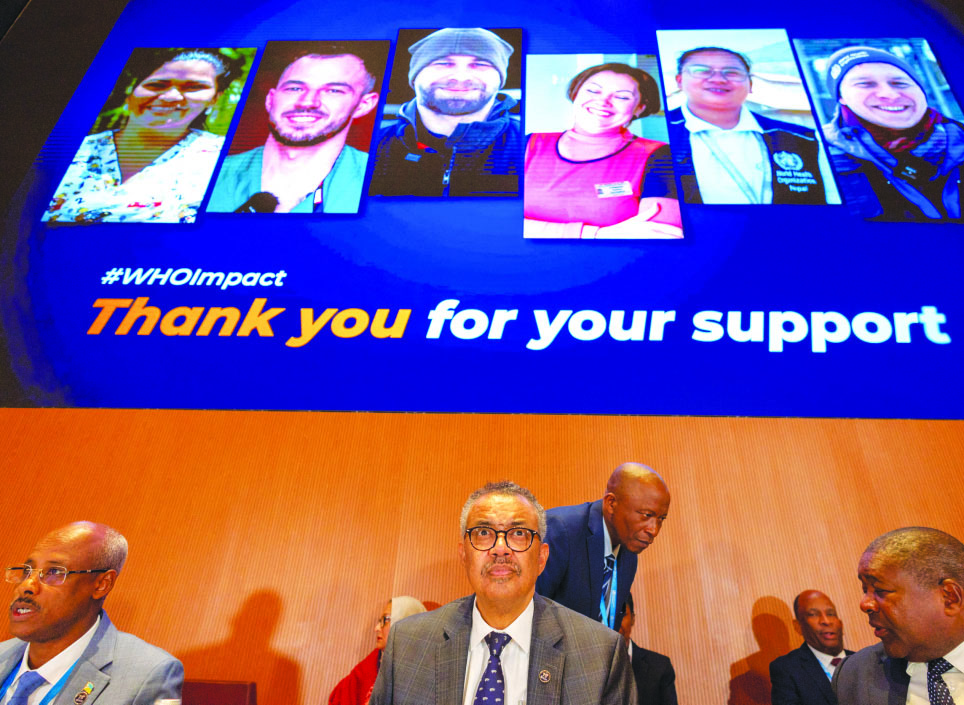 The director-general of the World Health Organization, or WHO, has said the end of the COVID-19 global health emergency has shown that the only way for the world to face shared threats is with a shared response, and that what he called "the end of a bad dream from which we have just woken" is a chance to plot a new path for the world.
Tedros Adhanom Ghebreyesus was addressing delegates in the opening speech of the 76th staging of the WHO's decision-making body the World Health Assembly in Geneva, Switzerland on Sunday.
This assembly marks the WHO's 75th anniversary, and its theme is the WHO at 75: Saving lives, driving health for all. Proceedings are broadcast through the WHO website, with simultaneous interpretation in Arabic, Chinese, English, French, Russian and Spanish.
"In 2020, I described COVID-19 as a long, dark tunnel. We have now come out the end of that tunnel," he said.
"To be clear, COVID-19 is still with us, it still kills, it's still changing and it still demands our attention, but it no longer represents a public health emergency … we cannot simply carry on as we did before.
"This is a moment to look behind us and remember the darkness of the tunnel, and then to look forward, and to move forward in the light of the many painful lessons it has taught us."
WHO member states are currently in the process of negotiating a Pandemic Accord, which Tedros said must be "a historic agreement to make a paradigm shift in global health security, recognizing that our fates are interwoven".
"This is the moment for us to write a new chapter in global health history, together," he continued. "To chart a new path forward, together; to make the world safer for our children and grandchildren, together."
He went on to highlight advances in global medicine that had taken place during the lifetime of the WHO, such as global life expectancy rising from 46 to 73 years, the eradication of malaria in 42 countries, polio having been all but wiped out, and huge advances in the treatment of HIV and tuberculosis, as well as sharp reductions in maternal and child morality.
"Of course, WHO can't claim sole credit for these successes," he added. "The very nature of what we do involves working with partners to support innovation and countries as they implement policies and programmes that drive change.
"But it's difficult to imagine the world would have seen the same improvements had the WHO not existed."