Arab summit lays base for resetting ties
By JAN YUMUL in Hong Kong | China Daily Global | Updated: 2023-05-22 09:44
Leaders resolve to focus on actions to support stability, development in region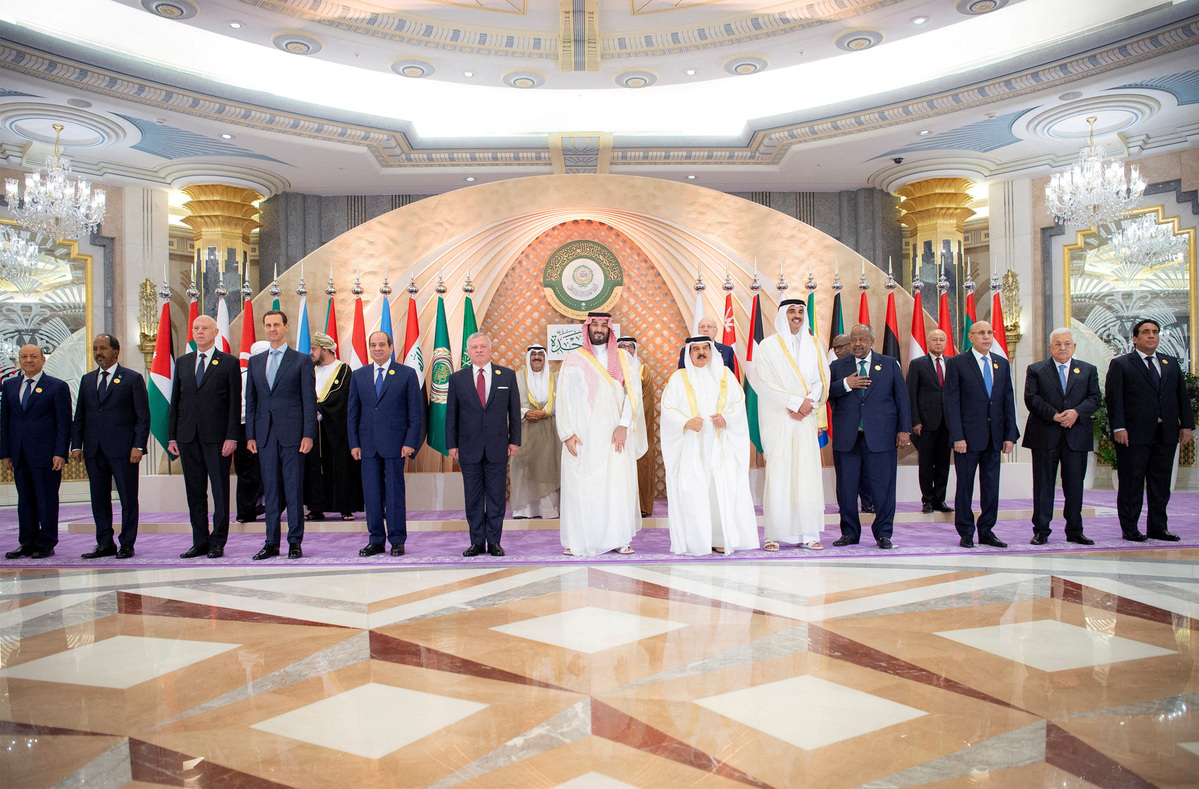 The 32nd Arab League summit in Jeddah, Saudi Arabia, ended on Friday on a promising note, with a joint declaration focusing on strengthening Arab actions that would support stability and development in the region, and free from foreign interference.
Despite differing views on Syria's President Bashar al-Assad's participation at the summit for the first time since the Syrian civil war in 2011, and Ukraine's President Volodymyr Zelensky's surprise appearance, the high-level meeting provided a platform to reset relationships where world dynamics are changing rapidly, analysts say.
The summit provided a "unique chance for countries in the region to put behind them tumultuous decades and move forward in a world where the dynamics are changing rapidly and allies continue to shift", said Arhama Siddiqa, a Middle East analyst and research fellow at the Institute of Strategic Studies Islamabad in Pakistan.
In a joint communique by the Arab League published by the Saudi Press Agency, the bloc reaffirmed the centrality of the Palestinian issue to their countries as one of the key factors of stability in the region, condemned violations targeting Palestinians, their lives, property and existence, and stressed the importance of having a two-state solution.
The declaration also welcomed the resumption of the Syrian government's participation in meetings of the Arab League and affiliated bodies in hopes that it would intensify pan-Arab efforts aimed at helping Syria overcome its crisis.
Support for Yemen and the efforts of its Presidential Leadership Council to achieve security, stability and peace were also highlighted.
Haydar Oruc, a former researcher at the Center for Middle Eastern Studies in Turkiye, said the summit declaration helped draw attention to Israeli attacks on Palestine and included members of the union that still have conflicts and wish to end them, mainly, Palestine, Sudan, Lebanon and Yemen, and Syria, and to ensure stability in these countries.
He also said that the Arab League had fundamental issues that are hindering it from becoming a major player in world politics, citing, for example, lack of consensus in the league when Kuwait, Qatar and Morocco have not normalized ties with Syria.
During his speech at the summit, Assad said he hoped the summit would be a starting point for Arab action and solidarity among Arab states to achieve peace, prosperity and development in the region instead of war and destruction, state media Syrian Arab News Agency reported.
Historic opportunity
"We are in front of a historic opportunity to rearrange our affairs with the least amount of foreign intervention," Assad said, adding that the joint Arab action "is in need for common visions, strategies and targets".
Muslim Imran, director at the Asia Middle East Center for Research and Dialogue, a think tank in Malaysia, said the meeting could also be an opportunity for the 22-member Arab League to do some "soul-searching and reformation "over what has happened over the past decade, especially after the disastrous "Arab Spring" in 2010.
It was also an opportunity to focus on empowering youth, and to double down on nation-building and regional priorities in the face of external threats, he said.
Siddiqa said: "It is interesting to consider how world events can bring people together and create new opportunities for growth and change, and it will be fascinating to see how these developments play out in the coming years.
"It showcases Arab solidarity in the face of adversity and gives hope that the region might still see sustainable peace."