Adapt or die: once-popular car companies face a stark choice
By CAO YINGYING | China Daily | Updated: 2023-05-22 09:47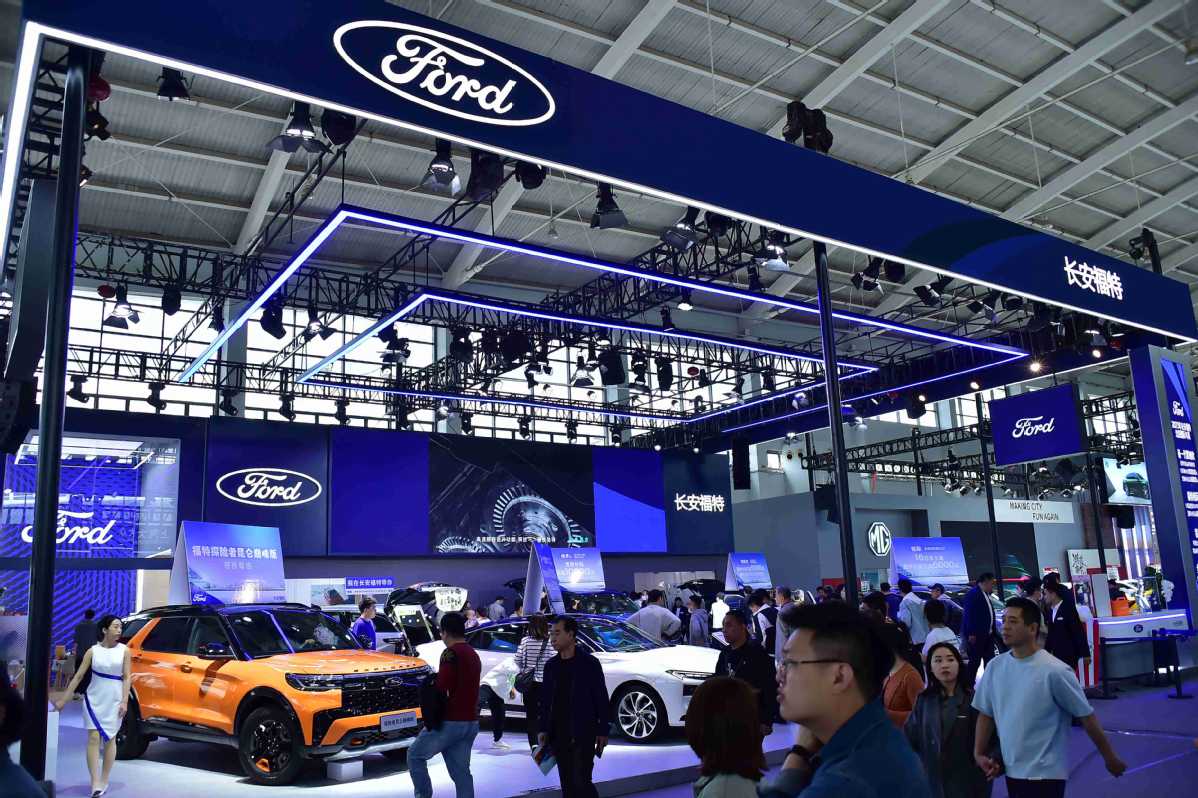 Chinese brands beat competition with EV tech as some joint ventures flounder
Global automakers, once dominant forces in the Chinese market during the era of internal combustion engines, are now seeking to adapt to changes in the world's largest and highly dynamic car market.
In a recent statement, the United States carmaker Ford said it is allocating resources toward core businesses that possess advantages in China, which is a crucial market for Ford.
Leveraging its established strengths in the export sector, Ford aims to position China as its global hub for exporting low-cost commercial electric and ICE vehicles.
Ford reached an agreement with its joint venture partner in China, JMC, on May 11, which aims to expand export operations, targeting Asian, Middle Eastern and South American markets.
Ford China also said that it will accelerate its electrification transformation and expand sales channels in the country.
"The experience gained from the Chinese market and the expertise accumulated by our Chinese team in digitalization and electrification will contribute to the successful development of Ford's global business," Ford China said in the statement.
These measures are intended to assist Ford in recovering from a prolonged sales decline. Sales of Ford's major joint venture — Changan Ford — dropped from 943,800 units in 2016 to 251,000 units in 2022.
"We are aware that Ford lacks a competitive advantage in cost control. Therefore, we will collaborate with our partners to promote cost reduction by building a more streamlined and flexible organizational structure to succeed in the fiercely competitive market," Ford China said.
The carmaker was reportedly to cut 1,300 jobs in China, but it declined to comment on that.
Another brand — Kia from South Korea's Hyundai — which was popular in China due to its models and competitive pricing, has experienced marginalization in recent years. As a response, Kia has taken steps to initiate reforms in the market.
Kia said in March it is planning to offer six electric models by 2027 in China and expects its sales of such vehicles to reach 180,000 units by 2030, accounting for 40 percent of its total sales in the country.
Kia CEO Song Ho-sung said the company's performance in China is crucial to its global success.
Yueda Kia Motors has addressed recent reports concerning management rotations and team downsizing. It has clarified that these adjustments are part of an approach to drive innovation and expedite it toward an electrified brand.
Kia's sales in China experienced a decline, falling below 100,000 units in 2022, resulting in a net loss of 3.7 billion yuan ($524 million).
Analysts said the shift toward electrification may offer Kia a way to revive its past glory. But they add that the company must speed up as local EV brands including BYD and Aion are winning customers with cutting-edge features and a variety of choices.
The Japanese brand Mitsubishi is also suffering poor sales in China and is seeking structural reforms. Its joint venture, GAC Mitsubishi, suspended production in its only plant in Changsha, Hunan province, in March.
The factory was designed with a production capacity of 200,000 vehicles annually. However, the brand only produced and sold 35,000 and 33,000 vehicles, respectively, in 2022.
CEO Takao Kato said earlier in May that the plant will reopen in June as planned, although circumstances remain difficult. "We're discussing with our partners in China on how to move forward," he said.
Cui Dongshu, secretary-general of the China Passenger Car Association, said that it is not an easy task for joint ventures to regain dominance in the Chinese market. Currently, domestic brands have gained significant momentum in the new energy market, establishing a leading position in capturing the preferences of Chinese consumers.
Joint ventures face uncertain prospects due to missed opportunities and a lack of robust reserves in new energy technology, Cui said.
An important data is that the proportion of new energy vehicles in the Chinese market was 5 percent in 2020, which has surged to 30 percent in 2022. The figure is approaching 50 percent among Chinese brands now.