UK inflation eases to 8.7% in April: ONS
Xinhua | Updated: 2023-05-25 02:34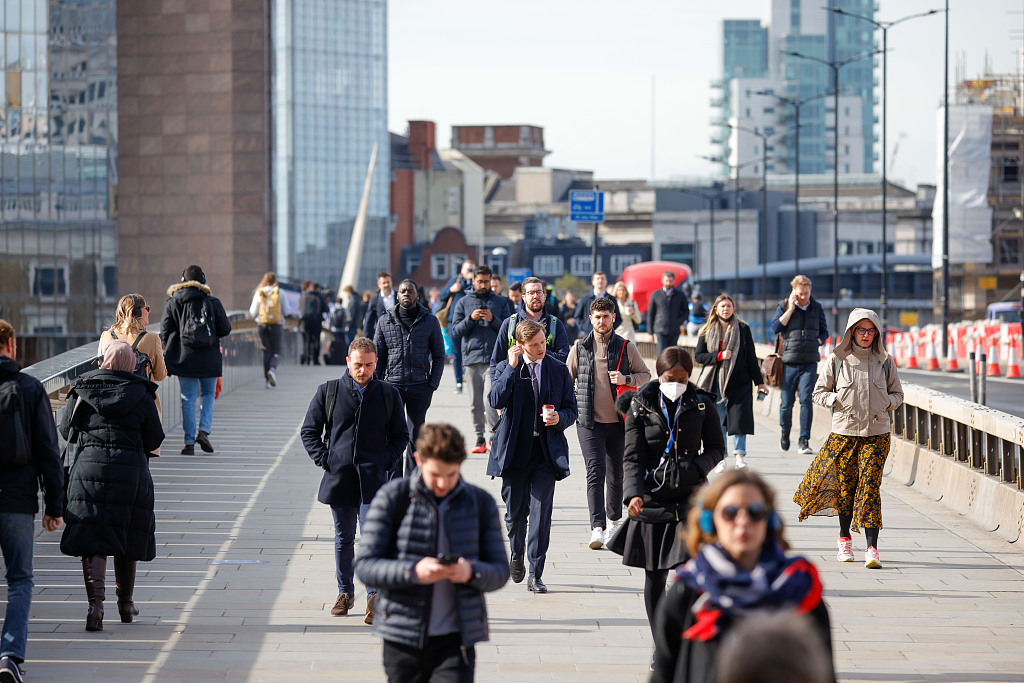 LONDON - The United Kingdom's Consumer Price Index (CPI) rose by 8.7 percent in the 12 months to April, down from 10.1 percent in March, the Office for National Statistics (ONS) said on Wednesday.
CORE INFLATION STILL HIGH
Electricity and gas prices contributed 1.42 percentage points to the fall in annual inflation in April, the ONS said. In April 2022, the UK energy price cap increased by half for about 22 million customers, due to a record rise in global gas prices.
"The rate of inflation fell notably as the large energy price rises seen last year were not repeated this April, but was offset partially by increases in the cost of second-hand cars and cigarettes," ONS Chief Economist Grant Fitzner said.
Nevertheless, April's inflation figure fell less than expected. It greatly exceeded the consensus of 8.2 percent and the Bank of England's (BoE) 8.4 percent forecast, according to Samuel Tombs, chief UK economist at Pantheon Macroeconomics consultancy.
Food and non-alcoholic beverage prices were stubbornly high and rose by 19.1 percent year-on-year in April, compared with 19.2 percent in March, the second highest level in more than 45 years.
Core CPI, excluding energy, food, alcohol and tobacco, rose by 6.8 percent in the 12 months to April, up from 6.2 percent in March, which is the highest rate since March 1992.
The April figure indicates that "after several false starts, the peak in inflation appears to have passed," Head of Research at the British Chambers of Commerce David Bharier said.
"But this does not mean the problems caused by inflation will suddenly go away. Prices continue to rise from an already high base, after 18 months of price shocks," he added.
FURTHER RATE HIKES EXPECTED
The UK has been in the grip of consistently high inflation for more than a year. Households in the country have felt the squeeze amid a worsening cost-of-living crisis. Widespread strikes broke out in summer 2022 and still continue in disputes over pay.
"The cost-of-living crisis is evolving, not ending -- with surging food prices now taking center stage," James Smith, research director at the think tank Resolution Foundation, said.
"Surging food prices are particularly painful for low-income families, three-in-five of whom are already reporting that they are having to cut back on food and other essentials," he said.
"The major near to medium-term risk facing the UK economy is the greater-than-anticipated persistence in price and wage-setting, which would lead to higher inflation for longer," the International Monetary Fund (IMF) said in its latest outlook on Tuesday.
"Should such upside risks to inflation materialize, headwinds to growth would likely be intensified by tighter demand-management policies needed to combat inflation," it said.
Earlier this month, the BoE raised its benchmark interest rate by 0.25 percentage points to 4.5 percent, the highest level since 2008. "If there were to be evidence of more persistent pressures, then further tightening in monetary policy would be required," the central bank said.
"The Bank of England won't be able to ignore the smaller-than-expected fall in CPI inflation in April and the rebound in core inflation to a new 31-year high," chief UK economist Paul Dales at Capital Economics consultancy said.
"We now think it will raise interest rates from 4.50 percent to 4.75 percent in June and perhaps a bit further in the months after too," Dales added.