Country, and western China
By Zhao Huanxin | CHINA DAILY | Updated: 2023-05-25 07:40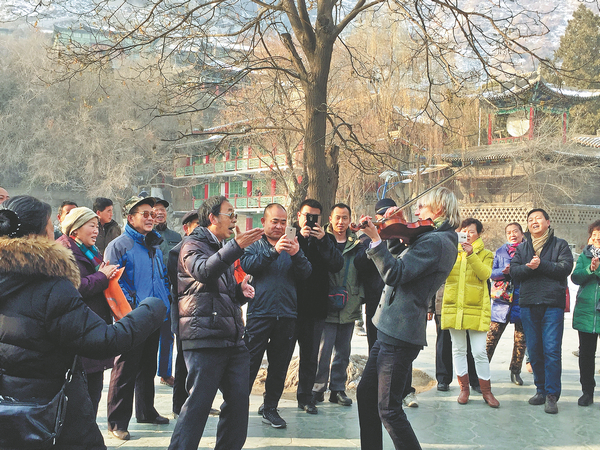 Pioneering American fiddle player is looking forward to building new musical bridges between his native Oklahoma and its sister province of Gansu, Zhao Huanxin reports in Washington.
Oklahoman fiddling maestro Kyle Dillingham has always taken pride in being an American musician who brought bluegrass music to Dunhuang city in Northwest China's Gansu province, a meeting point of the East and the West for centuries.
What awed him most was that, after centuries of cultural exchange, there are still things to share and learn in a part of the world where his fiddle has made as strong a connection with Chinese audiences as it does in the United States.
It happened on a trip in 2017, when Dillingham brought his Horseshoe Road band to represent Oklahoma and the United States at the second Silk Road International Cultural Expo in Dunhuang, with additional concerts in Qingyang, another city in Gansu, and in Xi'an, capital of neighboring Shaanxi province.
Dunhuang is home to the millennia-old Mogao Caves, a UNESCO World Heritage site that showcases the cultural integration and mutual learning among different civilizations along the ancient Silk Road.
"I remember talking to the president of the CMA (Country Music Association) and just expressing how proud I was to represent traditional American music, country music and bluegrass for the very first time, adding to the thousands of years of interaction and cultural exchange from the East and the West in that city," he says.
Now after traveling to China 13 times and a hiatus of three years due to the COVID-19 pandemic, Dillingham says he can't wait to go back to Gansu, the sister province of Oklahoma, to play for his friends and fans. The sistership was started in 1985 by Governor George Nigh and nurtured through music diplomacy.
"I can't stop thinking about the people and the friends that I've met, and how disappointed I was that we didn't get to meet in 2020," Dillingham says, referring to the 35th anniversary year of the friendship between Oklahoma and Gansu, and the fourth anniversary of the signing of a sistership between Edmond and Qingyang.
Dillingham was honored as Ambassador of Goodwill at the Oklahoma Hall Of Fame that year.
"I was like, the second it's possible to go back to China, that's when I want to go, because I'm so ready to go see my friends," he tells China Daily.