Restored animated classic of Hayao Miyazaki set to open on Children's Day
By Xu Fan | chinadaily.com.cn | Updated: 2023-05-25 08:58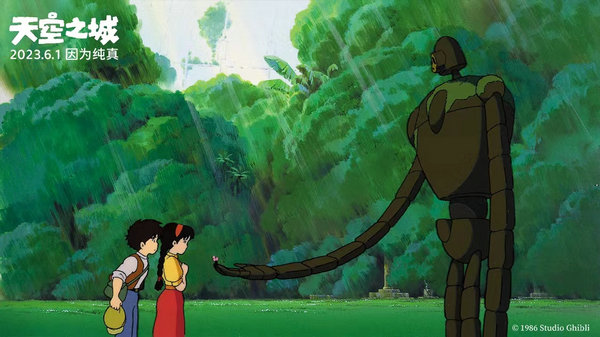 A restored version of Castle in the Sky, the first film produced by the famous Studio Ghibli in Japan, will be released in Chinese theaters on Children's Day, which falls on June 1.
The movie, directed by legendary animator Hayao Miyazaki, tells the story of a girl and a boy who embark on an adventure to protect a mysterious crystal that bestows the power of flight from a power-hungry army, a group of secret agents and a family of pirates.
The film held advanced screenings in six cities including Beijing, Shanghai and Xi'an in Shaanxi province on May 21, attended by many diehard fans of Miyazaki.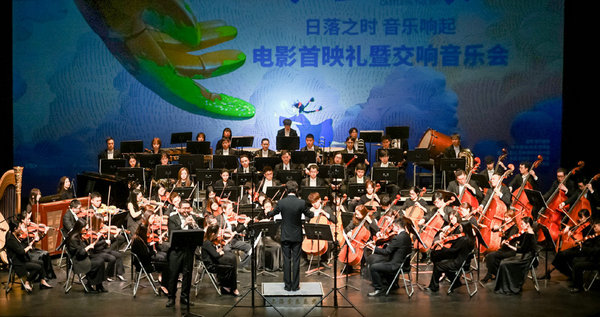 During the Shanghai event, the musicians from Shanghai Philharmonic Orchestra performed pieces from the soundtracks of five classic Miyazaki films, respectively My Neighbor Totoro, Spirited Away, Ponyo, Howl's Moving Castle, and Castle in the Sky.
Junichi Nishioka, a representative from Studio Ghibli, attended the Shanghai event, revealing that his decision to join the studio 25 years ago was partly due to the profound impact of Castle in the Sky, which originally premiered in 1986.
He added that the movie, which appeals to audiences of different ages, laid the foundation for direction of Studio Ghibli.
Nishioka also revealed that Miyazaki's new movie How Do You Live is scheduled to be released in Japan on July 14.
"After this movie is released, Miyazaki may say he wants to retire again, but please don't believe him," Nishioka said, jokingly. Over the past 30 years, Miyazaki, arguably the most influential Japanese director of animated films, has announced his a "retirement" several times, but has always returned to direct another film.