Cathay Pacific scandal widely condemned
By MIKE GU in Hong Kong | China Daily | Updated: 2023-05-25 09:51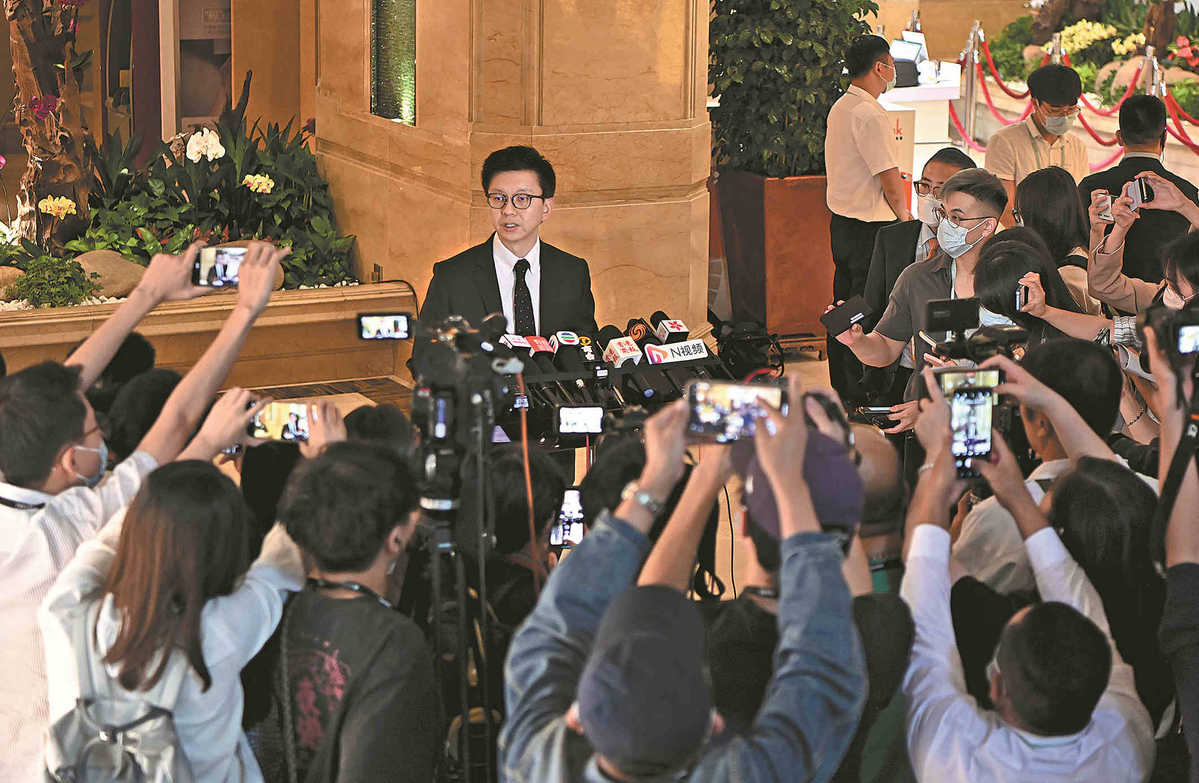 Crew members treated non-English speaking passengers 'disrespectfully'
Hong Kong officials and social leaders have condemned the disrespectful behavior of some Cathay Pacific crew members toward non-English speaking passengers, and said they had tarnished the city's reputation as an international aviation hub, stressing that such incidents must not occur again.
In a viral online post, a passenger who is fluent in Mandarin, English and Cantonese detailed how three flight attendants repeatedly complained in English and Cantonese about passengers who didn't speak English well on a recent Cathay Pacific flight.
Cathay Pacific took action by sacking the cabin crew members involved on Tuesday and pledged to conduct a comprehensive review of their service, staff training and relevant mechanisms to improve service quality.
Addressing a Wednesday activity in Guangzhou, Hong Kong Chief Executive John Lee Ka-chiu said that the disrespectful words and deeds of Cathay Pacific Group cabin crew members hurt the feelings of Hong Kong and Chinese mainland people and undermined the city's consistent values of respect and courtesy.
Although the crew members involved have been dismissed, similar incidents must not be allowed to occur in the future, and Hong Kong's image of being respectful and courteous to visitors needs to be restored, he added.
Also in response to the incident, Hong Kong's Secretary for Transport and Logistics Lam Sai-hung said it was a serious breach of Hong Kong's reputation for service excellence, long-standing values and ethical standards.
The secretary hoped that a review of the company will be completed as soon as possible and that fundamental improvements will be made to the company's mechanisms and staff attitudes, in order to live up to Hong Kong's reputation as an international aviation hub and a welcoming city.
Kevin Yeung Yun-hung, secretary for the Culture, Sports, and Tourism Bureau of Hong Kong, emphasized that such individual incidents could affect the image of Hong Kong and tarnish the promotion of tourism in the city.
Noting that the tourism industry is of great importance to the city, Yeung urged every tourism practitioner and Hong Kong resident to be respectful and polite when receiving tourists.
Ricky Chu Man-kin, chairperson of the Equal Opportunities Commission in Hong Kong, told a local radio program on Wednesday that if a service provider requires customers to use a certain language, it may constitute indirect discrimination.
Lawmaker Michael Luk Chung-hung, member of the Hong Kong Federation of Trade Unions, said that the existing racial discrimination ordinance could not deal with discrimination within the same race.
Luk called on the city to enact legislation as soon as possible to prevent Hong Kong residents from discriminating against mainland tourists as soft confrontation against the central government. He hoped related proposals could be tabled to the Legislative Council for discussion in the next legislative year.
Ronald Lam, CEO of Cathay Pacific Group, held a news conference about the incident on Wednesday and apologized to the public in Mandarin.
Lam acknowledged that the incident has dented the company's reputation, especially in the mainland market. He reiterated that Cathay Pacific has zero tolerance for any serious breach of the company's rules, regulations and code of ethics.
Lam said he would lead an interdepartmental working group to conduct a comprehensive review to avoid the recurrence of similar incidents by re-examining the service process, personnel training and related systems.