US post-9/11 wars caused 4.5 million deaths, study shows
chinadaily.com.cn | Updated: 2023-05-26 06:40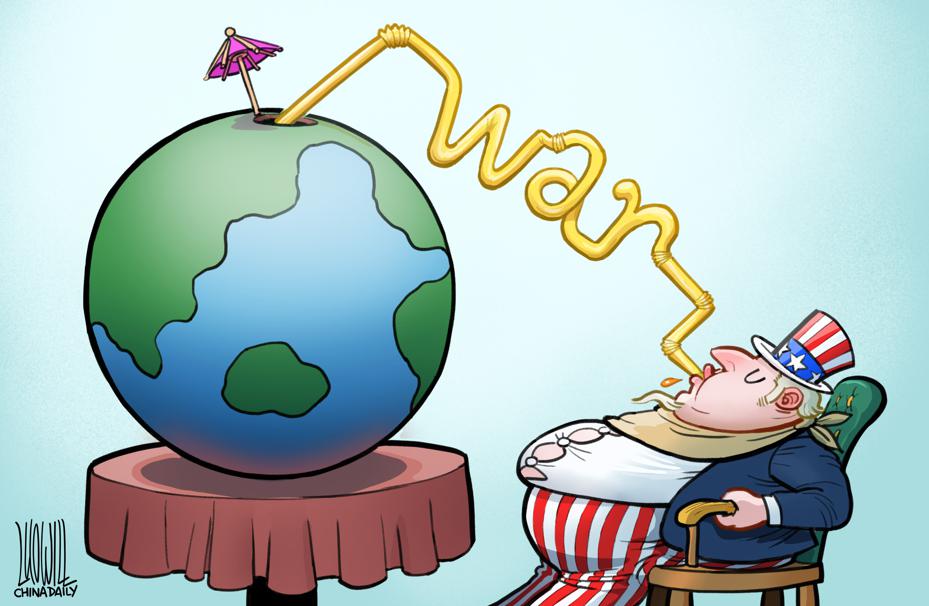 The wars the United States waged and fueled in Iraq, Afghanistan, Syria, Yemen, and Pakistan following September 11, 2001 caused at least 4.5 million deaths, according to a recent report by US' Brown University.
Nearly a million of the people who lost their lives died in fighting, whereas some 3.6 to 3.7 million were indirect deaths, due to health and economic problems caused by the wars, such as diseases, malnutrition, and destruction of infrastructure.
In a separate study in 2021, Brown University's Cost of Wars project found that the United States' post-9/11 wars displaced at least 38 million people – more than any conflict since 1900, excluding World War II.
This 2021 report noted that "38 million is a very conservative estimate. The total displaced by the US post-9/11 wars could be closer to 49–60 million, which would rival World War II displacement".
The May 2023 study, which estimated that US post-9/11 wars killed 4.5 to 4.6 million people, emphasized that large numbers of civilians are still perishing today, due of the lasting consequences of these violent conflicts.
Although the US military withdrew from Afghanistan in 2021, "today Afghans are suffering and dying from war-related causes at higher rates than ever", the report noted.
In addition to the staggering death tolls, millions more civilians were wounded and suffered other incredible hardships due to these wars.
"For instance, for every person who dies of a waterborne disease because war destroyed their access to safe drinking water and waste treatment facilities, there are many more who sicken", the study said.
The document stressed how the "post-9/11 wars have caused widespread economic hardship for people in the war zones, and how poverty, in turn, has been accompanied by food insecurity and malnutrition, which have led to diseases and death, particularly among children under age five".
In virtually all wars, indirect deaths represent the majority of the lives lost. The Brown University researchers pointed out, for example, "In conflict areas, children are 20 times more likely to die of diarrheal disease than from the conflict itself".
Damage to infrastructure that happens during wars is likewise very deadly. "Hospitals, clinics, and medical supplies, water and sanitation systems, electricity, roads and traffic signals, infrastructure for farming and shipping goods, and much more are destroyed, damaged and disrupted, with lasting consequences for human health", the report noted.
Economic problems caused by these post-9/11 wars have been devastating.
Two decades of US-NATO military occupation of Afghanistan left behind a borderline apocalyptic economic crisis.
More than half of Afghanistan's population is in extreme poverty, living on less than $1.90 per day. A staggering 95 percent of Afghans do not have enough food.
In Yemen, more than 17.4 million people are food insecure, and 85,000 children under age 5 have likely died from starvation.
Even in countries where large numbers of US troops weren't deployed on the ground, Washington's wars have destroyed the lives of countless civilians.
Washington's so-called counter-terrorism laws in Somalia have also "hampered humanitarian relief efforts, intensifying the effects of famine", the researchers noted.