Guiyang brings intelligent digitalization to agriculture
By YANG JUN in Guiyang and CHEN MEILING in Beijing | China Daily | Updated: 2023-05-26 09:45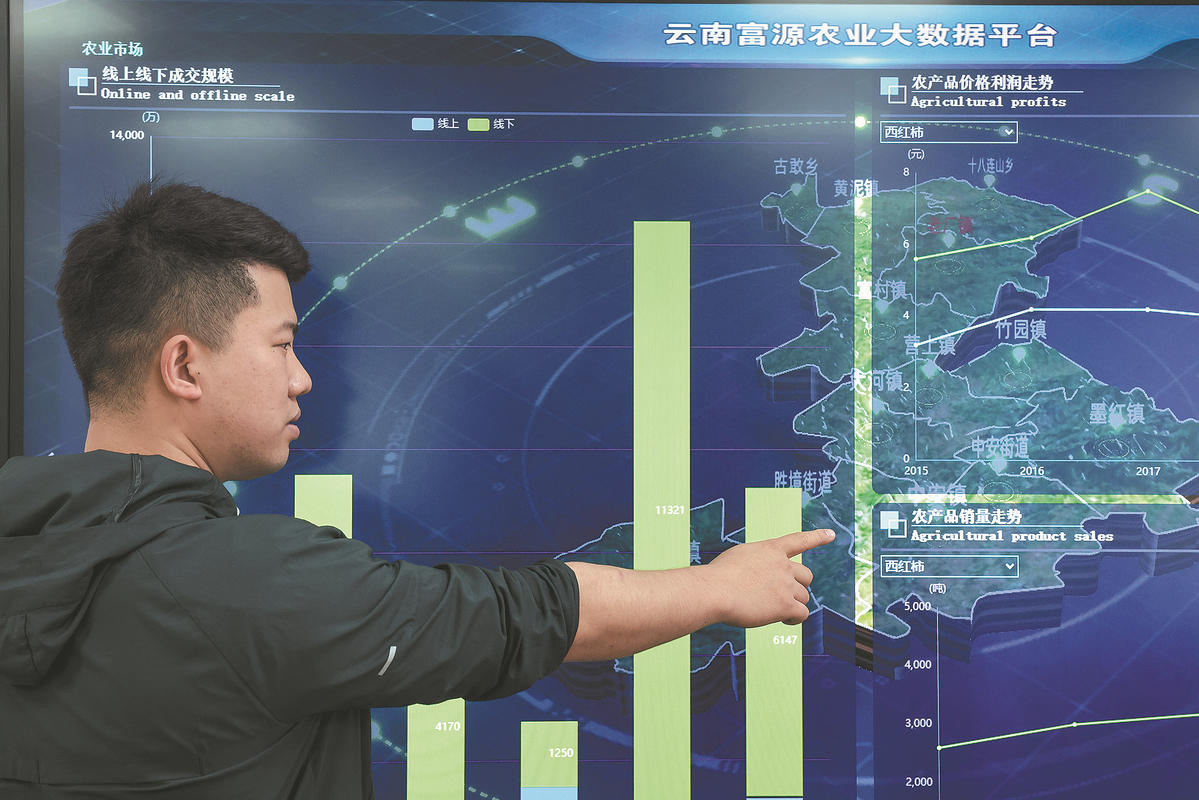 Farms incorporate big data to grow produce, raise livestock, leading to better food safety
In Guiyang, Guizhou province, a hub for big data development in China, even a kiwi fruit "knows" what digital life means.
At the kiwi technology garden in Guiyang's Xiuwen county, a big screen shows real-time images of kiwi orchards in 10 villages or towns, as well as updates on the temperature, humidity, rainfall, plant diseases and insects.
Each orchard has a special page recording its basic information such as planting area, the number of trees, the average age of trees, annual harvest, and use of fertilizers and pesticides, according to Jin Yi, who is in charge of the e-commerce department of Xiuwen Guotou Group.
The platform also draws graphics based on annual sales statistics and conducts data analysis.
"From the results, we know the taste and sugar degree demand of customers in different cities. For example, the northern markets prefer sweeter kiwis than southern ones, which can help us sell in a more scientific and precise way," Jin said.
In addition, each kiwi is given an "identification card", so that customers can scan the QR code to learn about the orchard, use of fertilizers, picking time and sales regions, to realize traceable information to secure food quality.
Kiwi fruit in Xiuwen is given the nickname "seven is not enough", which means, "You will not be satisfied even though you eat seven kiwis at a time". "Seven" sounds like "eat "in the local dialect.
From planting, growing and selling to after-sales service, big data is adopted in the whole industrial chain of the kiwi fruits, setting a good example of modern, intelligent agriculture.
In recent years, Guiyang has combined big data with agriculture to reduce human labor, expand production scale, improve market competition and infuse vitality into traditional agriculture, experts said.
At a vegetable greenhouse in Kaiyang county, a worker changes the environmental conditions just by operating an app.
"A few months ago, it beeped at night. We could not get to the greenhouses on time so we closed the awnings through the app to protect the vegetables. It's much more convenient now," said Cen Cong, a worker at the base.
The app, developed by Guiyang Agricultural Investment Group, was put into operation in late 2022 to manage more than 10 vegetable plantations in Guiyang. Temperature, humidity, sunlight and other elements in the greenhouses can be controlled remotely.
Cen added that the real-time conditions of the greenhouses would be updated so that the company can better formulate planting strategies. In the future, the plantations of the company will use this app to improve production efficiency and realize fine management. Another app is used to assign tasks to farm workers of the company.
The group focuses on the cultivation of peppers, strawberries and morels as well as raising pigs, sturgeons and perches.
Besides the app, a major vegetable seedling and breeding center in the county has adopted advanced technologies in the whole process — automatic seed sowing, intelligent pre-germination, automatic irrigation systems and a grafting production line — making it the most advanced seedling center in the province.
"Industrialized seedling production, compared with traditional methods, has obvious advantages. It saves human labor, cuts the growth period by five to 10 days and reduces the use of fertilizers and pesticides," said Chen Fucai, technical director of Guizhou Modern Seed Industry Group Co Ltd, a subsidiary of Guiyang Agricultural Investment Group. "Two or three workers can manage a 4,000-square-meter seedling region."