Deep-rooted link dates back to ancient time
By EDITH MUTETHYA in Nairobi, Kenya | China Daily | Updated: 2023-05-26 10:09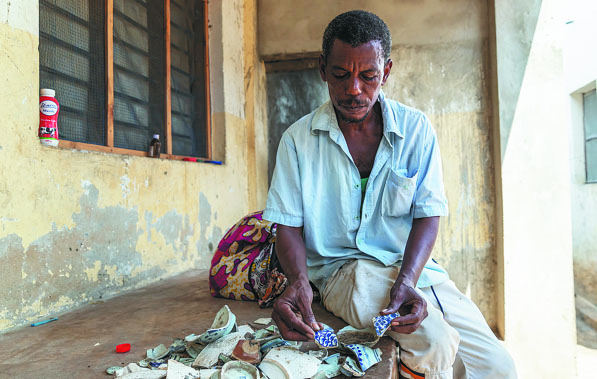 From porcelains at the Lamu Museums in Lamu Island and a family tracing their ancestry to Chinese sailors in the historical 13th century Siyu village in Pate Island, it's evident that China and Kenya have a deep-rooted ancient trade relationship dating back to the Maritime Silk Road.
The Maritime Silk Road stretched from China's east coast to East Africa along the northern shore of the Indian Ocean. The road is currently a key component of the Belt and Road Initiative launched in 2013.
Mansur Ile, a resident of Siyu village, not only follows the history of trade ties closely through oral traditions but has also preserved a collection of porcelain fragments in his house.
"I collected these fragments washed up on the shores six years ago. People have approached me to buy them but I will never sell them. I will preserve them because they are part of our history," the 52-year-old said.
He said the Chinese ship that capsized was among 100 merchant ships that docked near Shanga on Pate Island. Currently, Shanga is an archaeology site, which includes the ruins of foundations of some 130 houses and 300 tombs.
According to legends backed by a DNA test of Baraka Badi Shee's family, 20 shipwreck survivors, sailors from Zheng He's fleet, in Ming Dynasty (1368-1644), swam ashore the Pate Island to Siyu village and married local Swahili women.
Ile said, apart from the prominently featured Badi Shee's family, whose grandmother, Safina was married to the descendants of one of the Chinese sailors, there are others but they have kept their profile low.
Following the DNA confirmation of the ancestry, two of Badi Shee's children, Mwamaka Sharifu and Mohammed Sharifu, got sponsorship to pursue medicine and engineering courses, respectively, in China.
Mwamaka pursued clinical Chinese medicine and graduated from Nanjing University of Traditional Chinese Medicine in 2012.
She then pursued doctoral studies in obstetrics and gynecology at Tongji Medical College of Huazhong University of Science and Technology and graduated in 2018. She is currently practicing in Nairobi.
Ile is one of the beneficiaries of Mwamaka's medical expertise. In 2020, he suffered a mild stroke and Mwamaka treated him using traditional Chinese medicine. He is now doing well.
Mwamaka focuses on neurological diseases specifically, stroke and partial paralysis, because their conventional treatment cost is beyond the reach of most of the villagers.
"I have treated at least 10 critically sick patients from Siyu who have recovered or are in the process of recovery," she said.
"I treat the villagers as a volunteer but patients have to buy the medication, which I import from China."
Mwamaka expressed gratitude to the Chinese government, noting that if it were not for the scholarship, she would probably be battling poverty back in the village.
While in China, she got an opportunity to visit Taicang city in Jiangsu province, her alleged ancestral home, where she was warmly welcomed.
Mohammed Mwenje, the curator at the Lamu Museums and World Heritage Site, said following the DNA confirmation of Badi Shee's family's Chinese ancestry as well as discovery of porcelain of Ming Dynasty, there has been a lot of interest in Lamu and Siyu specifically, not just from tourists but scholars as well.
"Many scholars are interested in the kind of interactions the visitors had and the historical records of the Chinese sailor who led that mission. They are also looking for products, personality and cultural concepts that might have been adopted," he said.
In 2010, the national museums of China and Kenya initiated a three-year program to look for the sunken ship but it was not concluded due to the high costs.
"The junk is sitting on an area with high currents so it requires a lot of planning and high-tech equipment for unearthing it," Mwenje said.
He said the unearthing of the sunken ship would be of interest not only to Kenya and China but also to visitors from across the globe.
He said space has been reserved in Lamu Museums to display Chinese elements but it requires a lot of interpretation work and artifacts.
"This will help in bringing out accurate and reliable information, telling the story of the Chinese-East Africa connection and how it has affected the lives of the people of the two sides," he said.
Chinese products found their way to East Africa in the 17th century, when the region traded heavily with India.
Cultural phenomenon
"Preference for porcelain became a cultural phenomenon. It was highly valued and was passed from one generation to another," Mwenje said.
He said Chinese porcelain was an important household item mostly for internal decoration and decoration of tombs. It was an item of prestige especially for the wealthy families. They represented the wealth and social status of the owner.
Unlike porcelain from other parts of the world, he said Chinese porcelain was of high quality, due to its manufacturing process, with glazing having been fused together with earthenware.
He said Chinese porcelain has become an item for archaeologists because they can trace when it was manufactured or the factory it came from.
Mwenje noted that many products started coming directly from China in the 20th century, consequently becoming common household items.