Qin Gang: China-Africa need to build closer ties
By MO JINGXI | chinadaily.com.cn | Updated: 2023-05-26 10:11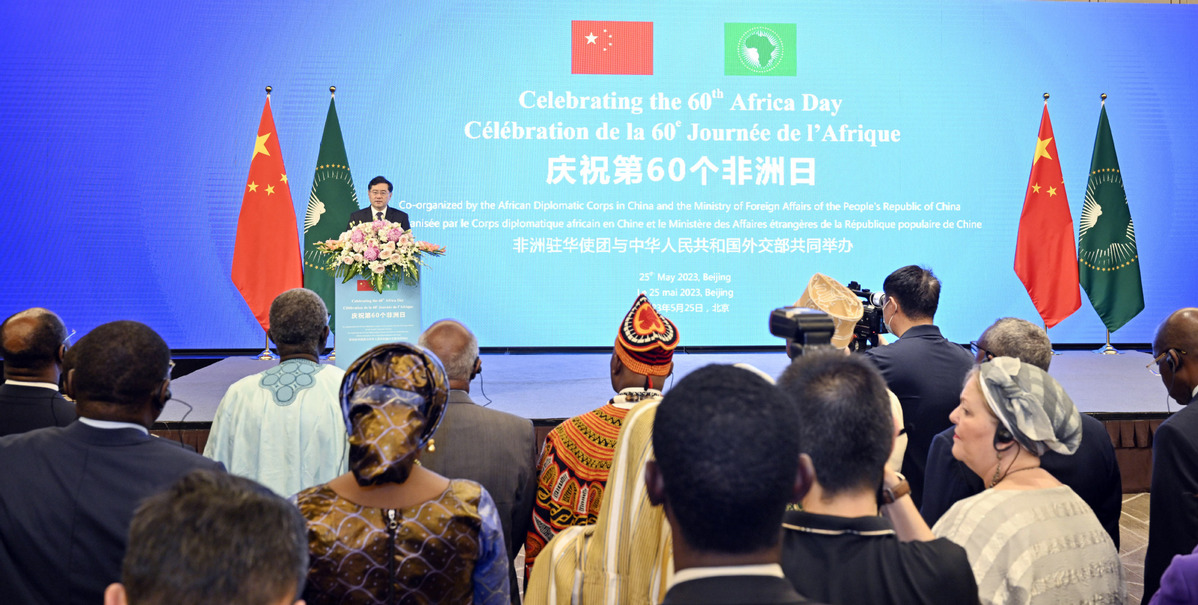 State Councilor and Foreign Minister Qin Gang has stressed the importance of building a closer China-Africa relationship, saying that China and Africa need to strengthen unity and cooperation more than ever.
He made the remarks when addressing a reception celebrating the Africa Day on Thursday in Beijing.
Qin congratulated the Organization of African Unity on its 60th anniversary on behalf of the Chinese government and said that Africa has become an important force with global influence and rising international status.
Over the past 60 years, China and Africa have supported each other in times of need irrespective of the changing international landscape, Qin said, noting that the development of China-Africa relationship has accelerated particularly in the past decade with cooperation outcomes that benefited the peoples of both sides.
Entering a new era of building a closer China-Africa community with a shared future, Qin said a closer China-Africa relationship will better secure world peace and the global development will be more promising when the China-Africa cooperation becomes more successful.
China stands ready to work with African friends and continue to strive for better prospects of China-Africa ties, he said.
China has been Africa's largest trading partner for 14 consecutive years and the two sides have jointly constructed more than 10,000 kilometers of railways, nearly 100,000 kilometers of roads and a large number of key infrastructure facilities such as ports, bridges and power stations.
China and Africa should firmly safeguard each other's legitimate rights and interests and further strengthen mutual support on issues concerning each other's sovereignty, development and dignity, Qin said.
He also underlined the significance for the two sides to jointly promote the reform of the global governance system, safeguard the common interests of developing countries and continue to pool the strength of developing countries.