Better education diversifies young Tibetans' career choices
By Wang Songsong and Tenzin Seldron | chinadaily.com.cn | Updated: 2023-05-26 19:39
One sunny morning in Lhasa, Tibet, Gongsang Dekyi, the owner of the Kakimo Cafe, was busy preparing to open for the day. The cozy environment and tasty coffee have made the cafe a popular hangout for young Tibetans in the city.
Gongsang Dekyi is a business owner now, but she used to be a worker in the public-sector. After completing her studies, she returned to work in the Tibet autonomous region, as have many of her peers — and as her parents expected.
However, she felt uneasy about doing a job in which should could be replaced by anyone on a moment's notice.
"I have studied in other provinces outside Tibet since I was very young. During my college time in Beijing, I got a chance to participate in an overseas exchange program for further study," she said.
The years of study shaped her in many ways and gave her a strong sense of independence.
"For me, a stable job is another form of instability," Gongsang Dekyi said.
Breaking away from the boredom of mundane work, she began to share her life on social media. She opened a snack bar. And she nursed her dream of opening a coffee shop, which had been buried in her mind for a long time.
The unique tea culture of Tibet, coupled with the slow pace of the city, sent many residents to the traditional sweet tea houses in their leisure time. With the change of times and the impact of new cultures, coffee has entered the picture. The aromatic beverage has gradually infiltrated Tibetans' daily lives, especially among the young.
"I have loved the cafe atmosphere since the very first time my mother took me to drink coffee," she said. "I thought it would be nice if I could open one that was different from others, and which embodied my own ideas."
After careful preparation, the Kakimo Cafe opened in August 2020 in her own neighborhood. "Bringing coffee back to the daily routine" is her philosophy.
"While the traditional sweet tea houses are everywhere in Lhasa, coffee shops should play the same role — to serve nearby residents," Gongsang Dekyi said.
During peak season, sales revenues at the cafe can reach 3,000 to 4,000 yuan a day ($420 to $566 per day).
"My study time outside Tibet has enriched my knowledge and extended my horizons, and now I would like to bring those back to my hometown and give back in my own way," she said.
She is not alone.
Tibetan middle schools in other provinces and municipalities have become an important education platform for Tibetan children, bringing precious opportunities for better career prospects.
Many people, like Gongsang Dekyi, who have graduated from Tibet middle schools across the country have chosen to return to work in Tibet.
Yangkyi, a 26-year-old lawyer, was taking a leisurely lunch break with a colleague at the Kakimo Cafe. She opted for two Americano coffees from the menu.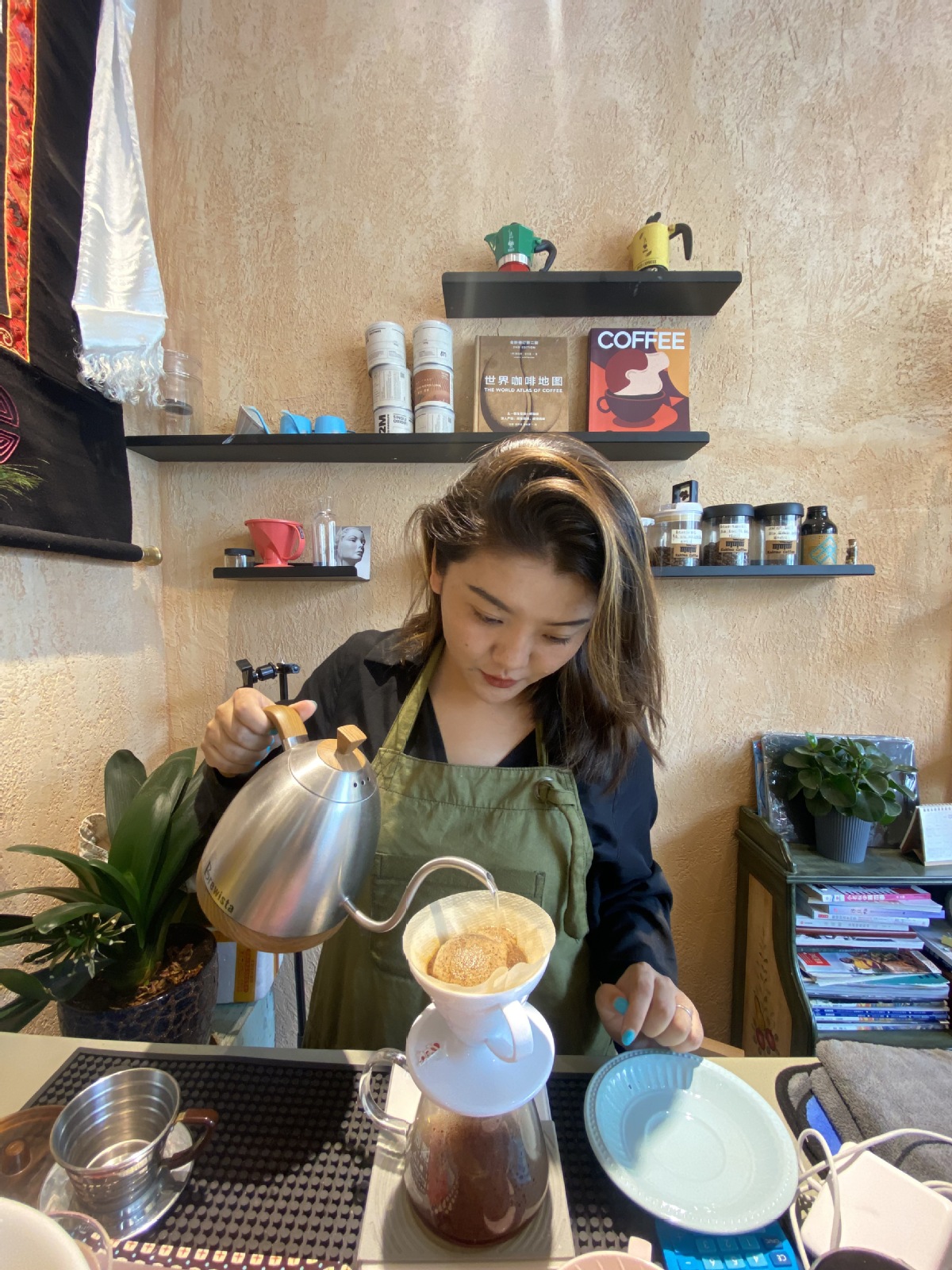 Frequently burning the midnight oil, hard-working young people often regarded coffee as a vital and invigorating necessity.
Yangkyi said she attended schools in Shanghai since she was 12 years old. Her first encounter with coffee was at a Starbucks there, and she thought it was "so foreign".
When she returned to Tibet after graduation, she chose not to enter the public system. She joined a private company as a litigator.
"In Tibet, many people still feel that working in an enterprise is an unstable job. But I think the system of doing more work for more pay will stimulate my enthusiasm," she said, adding that 10 years of study experience in other provinces outside Tibet allowed her envision a different life.
Since the Tibetan middle schools were launched in other provinces in the 1980s, many people with talent have been cultivated, and most of them have returned to Tibet, working in fields including telecommunications, banking, education, newspapers and energy.
"There are many ways to give back to our hometown, and we can choose the way we like most," Yangkyi said.