Lukashenko: Russia transferring nukes to Belarus
Updated: 2023-05-27 06:49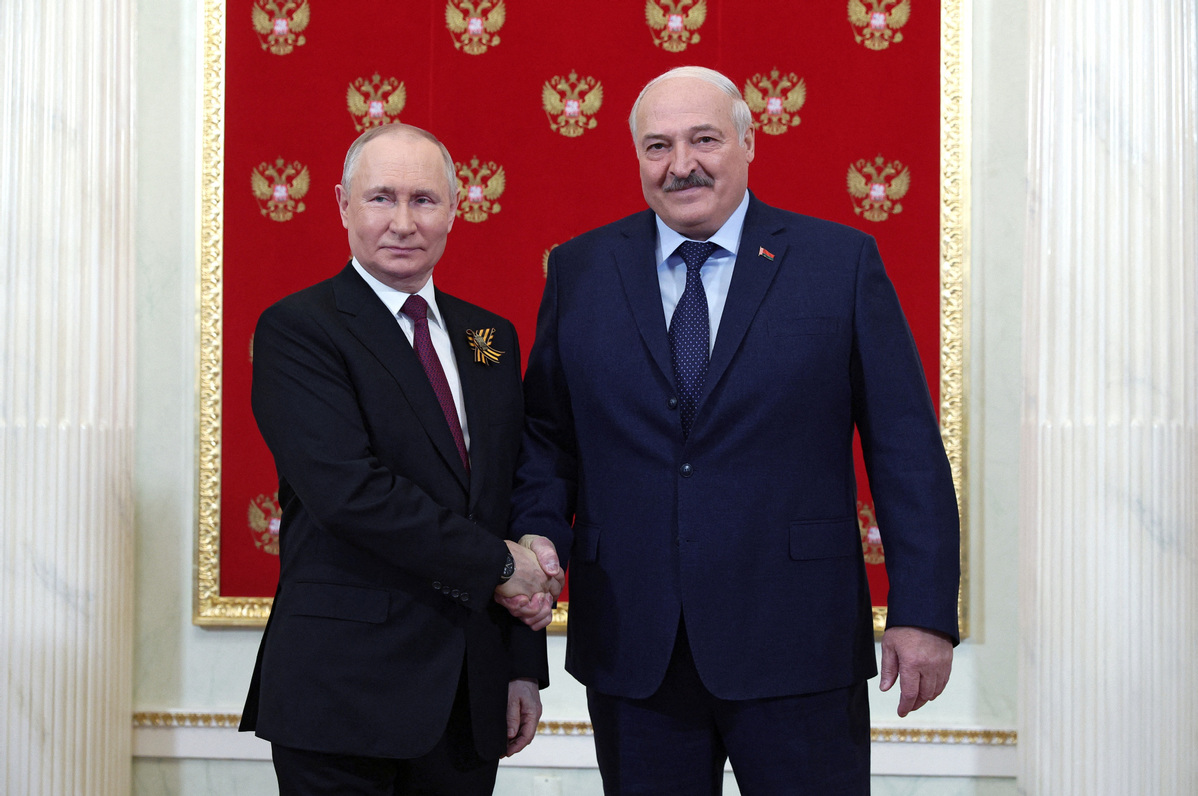 MOSCOW — Belarusian President Alexander Lukashenko said on Thursday that Russia had begun moving nuclear weapons to its western neighbor, after Russian President Vladimir Putin announced plans to transfer them in March.
There were no new comments from Russia on the delivery of nuclear weapons to Belarus. If confirmed, it will be the Kremlin's first deployment of such bombs outside Russia since the 1991 fall of the Soviet Union.
The US State Department denounced the deployment plan, but said Washington had no intention of altering its position on strategic nuclear weapons or seen any signs that Russia was preparing to use a nuclear weapon.
Putin said the United States and its Western allies are fighting an expanding proxy war against Russia after Moscow launched its special military operation in Ukraine 15 months ago.
The plan for the nuclear deployment was announced by Putin in an interview with state television on March 25.
"The collective West is essentially waging an undeclared war against our countries," Russian Defense Minister Sergey Shoigu said at a meeting with his Belarusian counterpart in Minsk, according to Russia's Defense Ministry.
The West is doing all it can "to prolong and escalate the armed conflict in Ukraine", Shoigu said.
Lukashenko said tactical nuclear weapons were already on the move.
"The movement of the nuclear weapons has already begun," Lukashenko told reporters in Moscow, where he was attending talks with other leaders of former Soviet states.
Asked if the weapons were already in Belarus, he said: "Possibly. When I get back, I will check."
Shoigu said the documents he was signing in Minsk concerned the process for storing tactical nuclear weapons in Belarus.
In Washington, State Department spokesman Matthew Miller described the plans as "the latest example of irresponsible behavior".
But "we have seen no reason to adjust our strategic nuclear posture or any indications that Russia is preparing to use a nuclear weapon", Miller told reporters.
Battle for survival
Putin has repeatedly warned that Russia, which has more nuclear weapons than any other country, will use all means to defend itself, and he has cast the Ukraine conflict as a battle for the survival of Russia against an aggressive West.
Belarus has borders with three NATO members — Poland, Lithuania and Latvia. Russia will remain in control of the weapons.
Tactical nuclear arms are battlefield weapons that, while devastating, have a smaller yield compared to long-range strategic weapons.
Shoigu said Iskander-M missiles, which can carry conventional or nuclear warheads, had been handed to the Belarusian armed forces, and some Su-25 aircraft had been converted for the possible use of nuclear weapons.
"Belarusian servicemen have received the necessary training," Shoigu was quoted as saying by his ministry.
Meanwhile, Russia said on Thursday that it had sent fighter jets to stop two US bomber planes from "violating the state border" over the Baltic Sea, the second such incident this past week.
The Russian Defense Ministry said it had scrambled Su-27 and Su-35 fighter jets, saying it identified "the air targets as two US Air Force B-1B strategic bombers".
Xinhua