Culture down to a tea
By Cheng Yuezhu | CHINA DAILY | Updated: 2023-05-29 07:48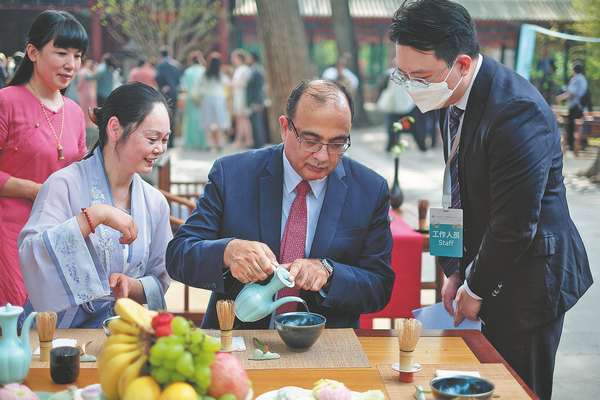 Domestic and international events showcase the intricate and compelling process in brewing and enjoying an exquisite taste of history, Cheng Yuezhu reports.
Accompanied by the resonant sound of traditional Chinese instruments and the chirping of birds, guests strolled into a garden nestled within the Prince Kung's Palace Museum, where tea experts from around China invited them to take a seat and relish a cup of tea.
The Beijing event, held on May 15, marked the beginning of the Tea for Harmony: Yaji Cultural Salon, hosted by the Ministry of Culture and Tourism, to celebrate China's tea culture.
Yaji, which translates to "elegant gathering", harks back to an ancient type of social event, where scholars and literati gathered to indulge in a variety of refined cultural activities such as tea tasting, guqin (traditional Chinese zither) playing and poetry composition and recital.
Part of the lifestyle of traditional Chinese literati, contemporary yaji offers a gateway for people from home and abroad to journey back in time and immerse themselves in the leisured world of scholar-officials.
A total of 75 diplomats and representatives from 41 countries and international organizations attended the event, accompanied by experts and officials from a breadth of Chinese cultural institutions, trade unions and companies.