Battery production energizes potential of Sichuan economy
By LI FUSHENG | CHINA DAILY | Updated: 2023-05-29 09:19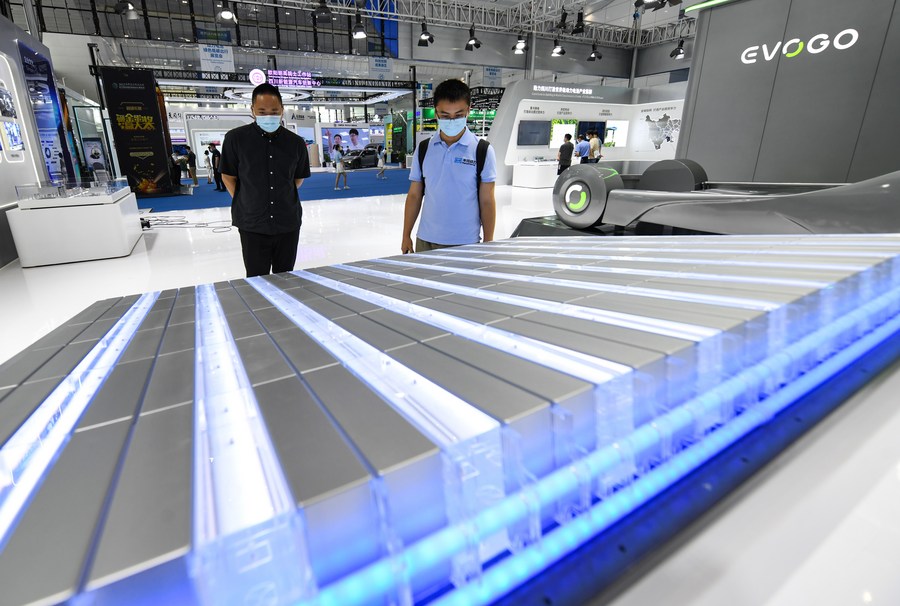 Local authorities in Southwest China's Sichuan province are powering up battery production to tap into the strong growth potential of the country's burgeoning new energy vehicle sector.
Jing Maoming, deputy head of the province's department of economy and information, said on Wednesday that the production capacity of Sichuan's power battery sector is expected to reach 400 gigawatt-hours by 2025, with the industrial chain's combined output reaching 500 billion yuan ($70.7 billion).
Jing said 83 GWh of batteries were produced in the province last year, which translates to around one-sixth of China's total. That momentum has continued well into 2023. In the first four months of this year, battery production in the province hit 25 GWh, up 33.3 percent year-on-year, which was above the national average.
Jing presented the figures at a media event heralding the 2023 World Power Battery Conference, to be held June 8-11 in Yibin, Sichuan. More than 320 companies, including CATL, BYD and Mercedes-Benz, have registered to attend the conference, which is expected to further stimulate growth in the sector.
The city of Yibin is one of the leading hosts of Sichuan's power battery industry, along with Chengdu, Suining, Deyang and Meishan.
Liao Wenbin, mayor of Yibin, stated that power battery production in the city reached 72 GWh in 2022, accounting for 80 percent of the province's total. He also said production capacity has reached 150 GWh, with the industrial chain's output expected to reach 120 billion yuan this year.
China's power battery sector has continued to surge, with installation in the first four months reaching 91 GWh, up 41 percent year-on-year, said Miao Changxing, an official at the Ministry of Industry and Information Technology.
Miao said the ministry is developing policies in areas ranging from safety and innovation to recycling in order to boost the sector's further growth.
The rapid development of the sector reflects the rising popularity of new energy vehicles in China and beyond. The China Association of Automobile Manufacturers estimates NEV sales in China are expected to hit 9 million this year, up from 6.88 million in 2022.
The CAAM statistics indicate national sales of NEVs hit 636,000 units in April, up 110 percent year-on-year. Their combined sales in the first four months this year totaled 2.22 million units, up 42.8 percent from the same period last year. Of that number, more than 650,000 were sold in Sichuan province, ranking first among provinces and autonomous regions in western China.
"When it comes to vehicle consumption, Sichuan is the fastest-growing region in western China, with a vast market for new energy vehicles," said Jing.