Satisfaction on the rise with offerings from NEV makers
By LI FUSHENG | China Daily | Updated: 2023-05-29 09:50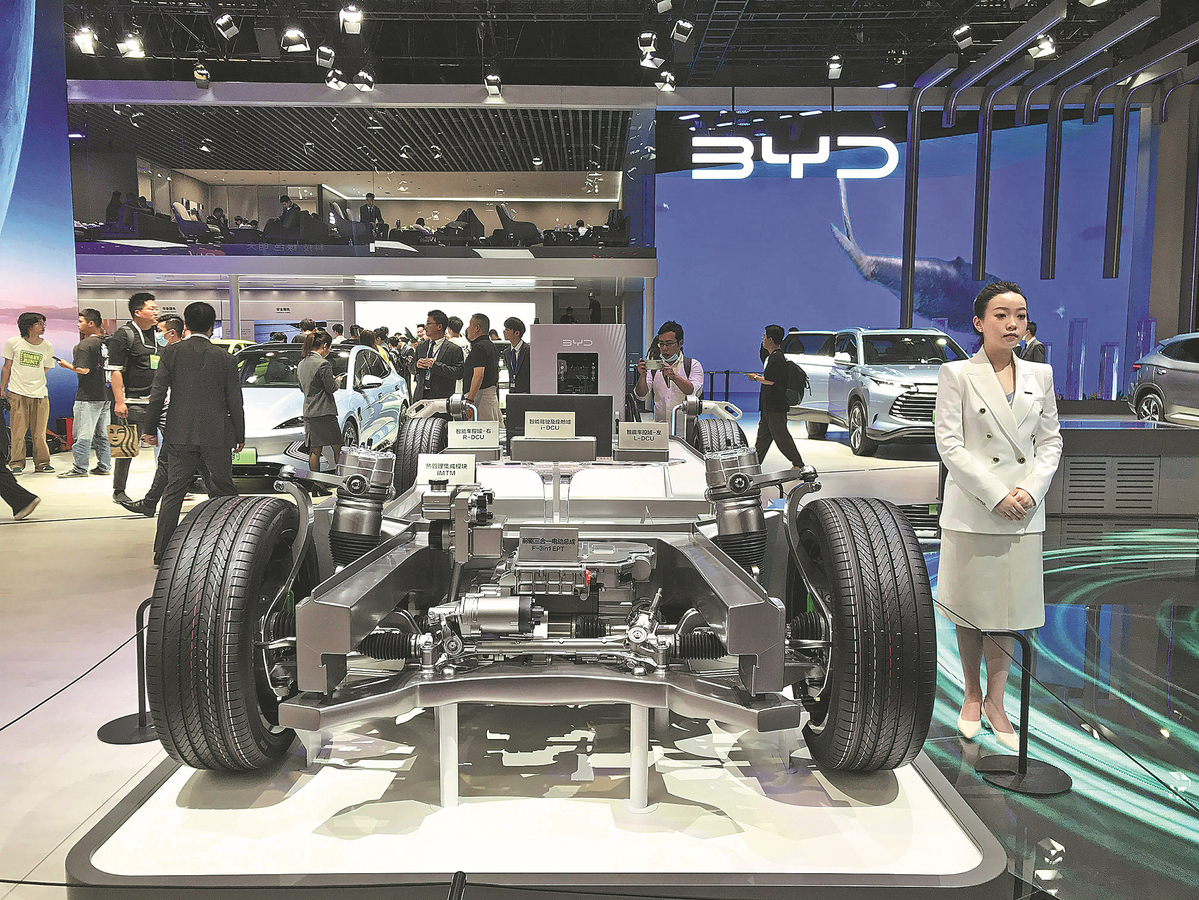 Survey highlights customers' desired features when purchasing models
Buyers of new energy vehicles, including electric cars and plug-in hybrids, have found models available in the market more "appealing", according to a J.D. Power study.
This year, the buyers rated NEVs in the Chinese market at 776 on a 1,000-point scale, up 37 points from 2022, according to the China New Energy Vehicle-Automotive Performance, Execution and Layout Study.
It measures NEV owners' emotional attachment to and level of excitement for their new vehicle across 45 attributes in 11 categories ranging from exterior and interior to performance, safety, infotainment and driving comfort.
The company called the progress "significant", saying the result is another sign that the rapid development of the NEV market is now primarily driven by products instead of government policies.
The study polled 7,209 NEV owners who purchased their vehicle between July 2022 and January 2023, involving 76 models from 36 different brands, from January through March this year in 81 cities across China.
A breakdown of the findings shows that international brands performed well, with their average score rising 40 points from 2022 to 784, surpassing Chinese startups at 781.
Chinese startups, including Nio and Xpeng, had scored higher for the previous two years.
Established Chinese brands like Geely also made great progress, with an increase of 42 points from 2022 to 773.
As the overall score gap between them has narrowed to a single digit, it signals that the competition is heating up, said J.D. Power.
Yet despite the international brands' higher average score, it was models from Chinese marques that sat atop the list in the survey, ranging from Geely's Geometry E in the small electric vehicle segment to BYD's Han EV in the compact sedan segment and the Nio ET7 in the premium vehicle segment.
Statistics from the China Passenger Car Association show that NEVs accounted for 56.5 percent of Chinese marques' retail sales in April, but the figure was merely 4.4 percent for major international volume brands, ranging from Volkswagen to Toyota.
Of 11 carmakers whose NEV sales exceeded 10,000 units in April, eight were Chinese, with BYD ranking first, delivering almost 210,000 units in the month, according to the CPCA.
Both traditional brands and startups have scaled up their investment and sped up their pace toward electrification, said Elvis Yang, general manager of auto product practice at J.D.Power China.
"In the increasingly competitive market, it's important to improve the user experience. Automakers need to deeply understand consumers' demand and behavior habits to manufacture more competitive products," said Yang.
At this year's Shanghai auto show in April, almost all international brands showcased their latest NEV models and voiced their determination to speed up product launches.
Yet the study has revealed that Chinese startups have launched new products at a fast pace.
Up to 53 percent of Chinese startups' models last year were newly launched ones, generating 66 percent of their sales revenue. Overall satisfaction with these new models was 788,14 points higher than its existing models.
J.D. Power said design, fuel economy and driving range were found to be key to the consumer experience.
In this year's study, exterior ranked first in overall satisfaction across 11 categories with a score of 807 and fuel economy and driving range ranked second with 780, which means mileage anxiety is no longer a big problem for NEV drivers.
In contrast, NEV drivers' satisfaction with the infotainment system (764), driving comfort (765) and charging experience (765) improved only slightly from 2022, the study found.
Also, design was found to have become a decisive factor among female buyers, according to the study.
It found that a better exterior was the top reason why female purchasers decided to buy one NEV over another, while the top reason why they did not buy a specific NEV model is that it did not look as good as expected.
As the NEV market gets competitive, some carmakers have chosen their niches.
One example is Ora, the electric vehicle arm of Great Wall Motors. It has labeled itself as a brand that "loves women more", offering exterior colors as well as onboard features that appeal to them.
SAIC-GM-Wuling said its popular Hongguang Mini EV is "tailor-made for young women in tier four-to-five cities and towns".