Putin orders stronger border security
China Daily Global | Updated: 2023-05-29 09:53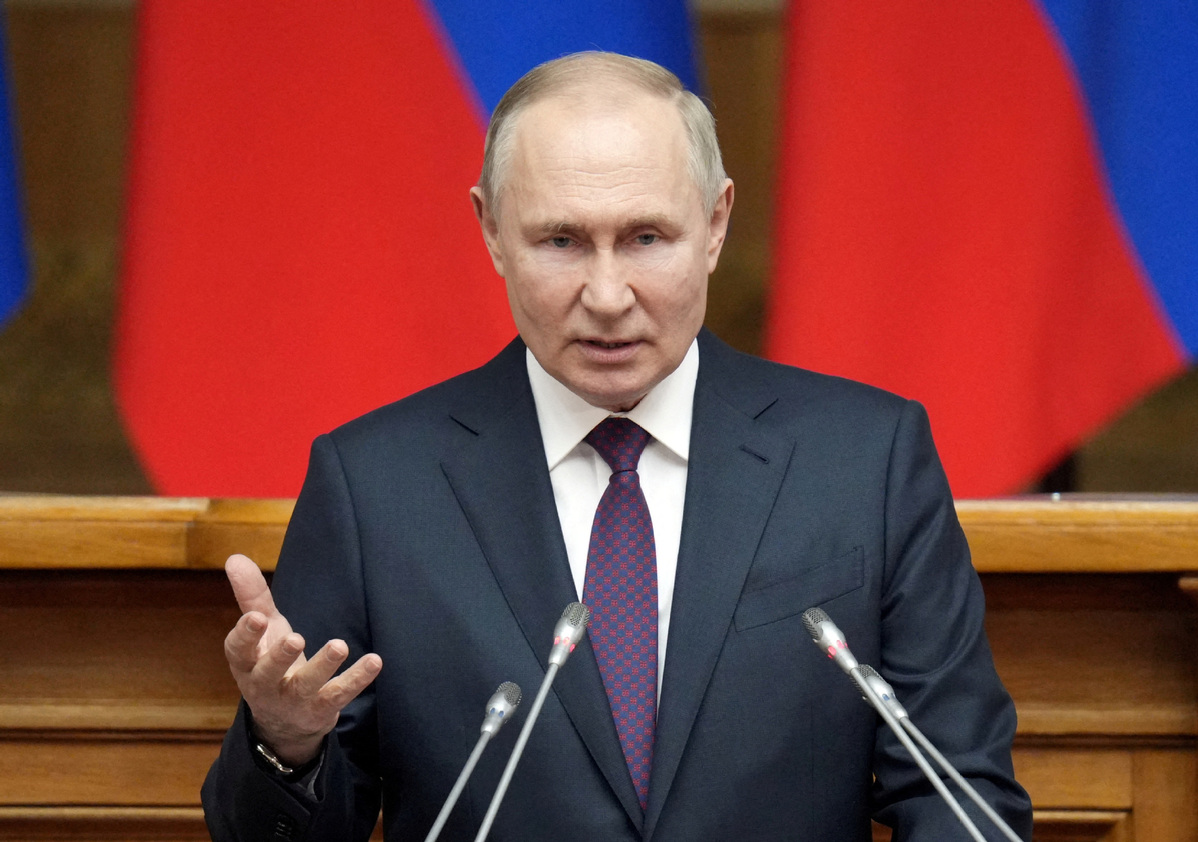 MOSCOW/KYIV — Russian President Vladimir Putin on Sunday ordered stronger border security to ensure a fast Russian military as Ukraine reported the "largest drone attack" in Kyiv since the conflict began.
Congratulating the border service, a branch of Russia's Federal Security Service, on their Border Guard Day holiday, Putin said their task was to "reliably cover" lines near the combat zone.
Attacks inside Russia have been growing in intensity in recent weeks, chiefly with drone strikes on regions along the border but increasingly also deep into the country, including on an oil pipeline northwest of Moscow, on Saturday.
"It is necessary to ensure the fast movement of both military and civilian vehicles and cargo, including food, humanitarian aid and building materials sent to the new subjects of the (Russian) Federation," Putin said in a message posted on the Kremlin's Telegram messaging channel.
As the Ukrainian capital prepared to celebrate the anniversary of its founding on Sunday, Ukrainian officials said Russia unleashed multiple waves of airstrikes on Kyiv overnight.
In what appeared to be the "largest drone attack" since the conflict began and the 14th attack since the start of the month, officials said air defense systems downed at least 40 drones moving toward Kyiv.
The predawn attacks came on the last Sunday of May, when the capital celebrates Kyiv Day, the anniversary of its official founding 1,541 years ago. The day is typically marked by street fairs, live concerts and special museum exhibitions — plans for which have been made this year too, but on a smaller scale.
Kremlin did not respond to the attacks.
In a separate development, Russian forces intercepted two long-range Storm Shadow cruise missiles supplied to Ukraine by Britain, Russia's Defense Ministry said on Saturday.
The ministry also said it had intercepted shorter-range US-built HIMARS-launched and HARM missiles, and shot down 12 drones in the previous 24 hours.
Russia did not specify where the interceptions had taken place, but made the announcement in its daily defense ministry briefing.
Ukraine's Ministry of Defence did not immediately respond to a request for comment. Ukrainian officials have previously said that Western-supplied weapons would be used exclusively against Russian forces inside Ukraine.
Agencies Via Xinhua